With You Forever By Chloe Liese: Rooney is a law student who is all sunshine and happy vibes that is until she has an IBD flare up, the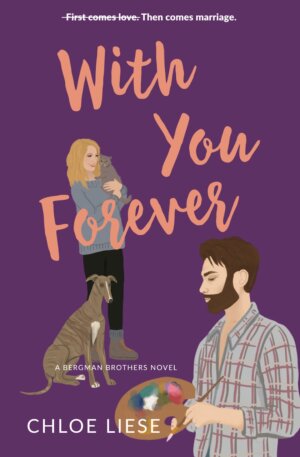 only thing that will help reduce her discomfort is some good old fashioned relaxation and absolutely no stress and anxiety. Which is exactly why when her bestie Willa offers her the Bergmans A Frame house for some down time, Rooney jumps at it. The only thing is Rooney never expected to be sharing the house with non other than grumpy artist Axel Bergman her long time crush! If sharing a house with her crush wasn't hectic enough Axel is convinced that the house isn't safe for Rooney with all of the repairs that is needed!
"Reading a book is just like opening your heart to someone . You won't know if you'll connect until you try."
All it took was for one game of charades to change everything for Axel Bergman. Grumpy pants artist Axel has been harbouring a not so small crush on his sister-in-law's bestie Rooney Sullivan for a while now, convinced that she wouldn't want to have anything to do with him Axel goes about avoiding her like the plague, that is until Rooney comes crashing into his world. After trying to avoid her for all this time it would seem that there isn't an aspect of his life that Rooney hasn't touched! With his family's vacation home in dire need of a facelift Axel has only one option left get married in order to get his inheritance, the only condition being he has to marry in order for the funds to be released. A marriage of convenience should be no issue after all Rooney is right there, Axel's only issue is that he is already half in love with his fake wife!
"I want every day, cramming as many lifetimes as possible into the one we've been given because finding you thirty years into my existence and only getting one chance to love you isn't nearly enough."
The Bergman series has well and truly stolen my heart! It has been a complete treat getting to follow each one of these characters on their journey to finding their happily ever after! From the first time we got to meet Axel in the earlier books I knew that his story would just melt my heart and boy oh boy was I right! Liese has truly out done herself with this grump meets sunshine/ marriage of convenience romcom! With You Forever was jam packed with so much of heart melting goodness, starting with both of our main characters and their covert feelings for each other!
I have always had a soft spot for Axel and let me just tell you this guy was everything! Not only did he nail the whole grouch but actually a big ole softie act but he was deeply connected to his family. Even though he felt that he wasn't good enough for his family or Rooney, he still showed his for them his love by fixing things and through his cooking. I think it was getting to see him learn that he is enough and that his people love him just the way he is is what made Axel one of the best Bergman siblings.
"Because I want us. I want you here, with me. Yesterday. A week ago. Forever."
As for our leading lady Rooney, I loved that she was such a strong female character. The thing I loved the most about her was that she was so real and relatable. One of the best aspects of Liese's books is that she always keeps things real and does not shy away from illnesses and issues that people face in their daily life. In this book we got to see both Axel and Rooney deal with their own person issues and grow with them. For Axel it was that he was on the Autism spectrum and how he faced and dealt with his triggers and different needs. Where as Rooney had chronic IBD, this is actually more common then most people realise. I found that Liese handled this entire topic from the embarrassment that people feel to their food triggers and stressors.
Together Axel and Rooney were just the cutest, I loved their chemistry and connection. Their relationship even though started out fake was very much real for both of them right from the start. Getting to see them cook together, having Axel braid Rooney's and the connection with the dog that Axel claims wasn't his, all added to making this book one amazing read. Also it was really fun getting to see the rest of the family and all the crazy antics that come with them!
With You Forever was just the warm hug that my soul needed! This book is an absolute must read, Liese has such an amazing writing style and way of making everyone feel included and understood, while delivering one heck of a heart melting romance.
Book Info:

Publication: September 14th 2021 | Chloe Liese | Bergman Brothers #4
Cozy up for a heartfelt, humorous, sizzling slow-burn in this marriage of convenience romance about finding love—and home—in the most unlikely of places.​
Axel
Rooney Sullivan is sunshine incarnate. Warm, bright, always smiling, she's everything I'm not and the last person I have any business desiring. Desperate to hide a hopeless attraction, I've done everything possible to keep my distance…until a charades game gone wrong brought that to a grinding halt.
Since then, steering clear of Rooney has been impossible. In a matter of months, she's kissed me speechless, commandeered my art career, and infiltrated not only my dreams but my home. The woman who was once avoidable has become the last thing I needed: temptingly within reach.
Rooney
Axel Bergman is a gorgeous grump who doesn't have the time of day for me. Thankfully, I've kept my crush under wraps…well, until I kissed him. Charades got away from me, okay? It was an accident! I haven't seen him since, which is for the best. My life is a mess, and the last thing I need is to embarrass myself further with the man who avoids me like that's his job rather than painting modern masterpieces.
It seems the universe, however, has a different plan. When Axel and I unexpectedly find our paths—and problems—converging, a marriage of convenience proves the perfect solution. At least, until I'm facing my most serious problem yet: a once-loveless marriage of convenience that's inconveniently become a love match, after all.
With You Forever is a sunshine and grump, marriage of convenience romance about a shy artist on the autism spectrum*, and a smiley smartypants who has a chronic IBD. Complete with combustible cooking lessons, interfering family and friends, and a steamy slow burn, this standalone is the fourth in a series of novels about a Swedish-American family of five brothers, two sisters, and their wild adventures as they each find happily ever after.