Today it is my pleasure to Welcome author
Jennifer Estep
to HJ!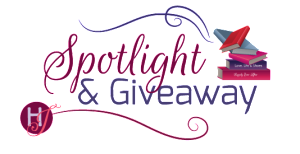 Hi Jennifer and welcome to HJ! We're so excited to chat with you about your new release, Tear Down the Throne!

Hello! Hope everyone is doing well.

Please summarize the book for the readers here: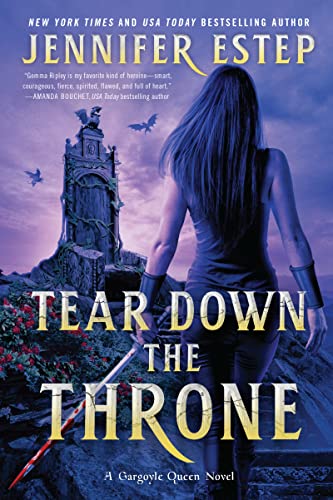 The Gargoyle Queen series focuses on Gemma Ripley, the crown princess of Andvari. To most folks, Gemma is known as "Glitzma," a pampered princess and a traveling ambassador, but secretly, Gemma is a clever spy and a powerful mind magier.
In Tear Down the Throne, Gemma is trying to get to the bottom of a plot against Andvari, and she journeys to a trade Summit between the various kingdoms. Further complicating matters are Gemma's feelings for Leonidas Morricone, a prince from an enemy kingdom.
But when a series of deadly attacks shatters the peaceful negotiations, Gemma realizes that someone is determined to tear all the royals down off their thrones – and that they just might succeed . . .

Please share your favorite line(s) or quote from this book:
I love writing epigraphs for my books that give readers a hint about the story to come. This is one of the epigraphs from Tear Down the Throne:
Any fool can tear down a throne. Keeping a crown on your own head is far more difficult.
—Maeven Morricone, current queen of Morta
Please share a few Fun facts about this book…
I always love writing about food in my books, so I always enjoy coming up with delicious-sounding dishes for the dinners, parties, etc. I also love all kinds of grilled cheese sandwiches. In Tear Down the Throne, Gemma Ripley's favorite food is a toasted gruyere cheese and apricot jam sandwich, so I thought I would share a recipe for it. Enjoy!
Gemma Ripley's Toasted Cheese and Jam Sandwich
Gruyere cheese
Apricot jam
Your favorite kind of bread
Pre-heat your oven to broil. Line a baking sheet with nonstick aluminum foil. Place two pieces of bread on the sheet, and toast them in the oven until they are golden brown.
Remove pan from oven, and flip bread over to the untoasted sides. Spread a layer of jam on each piece of bread, then top each piece of bread with the cheese.
Return the pan to the oven, and toast the bread until the cheese is melted.
Remove pan from oven, build your sandwich, and serve immediately.
Note: You can make this with any kind of cheese and jam that you like — Swiss, mozzarella, cheddar, etc. Just make sure you use a cheese that melts nicely.
What first attracts your Hero to the Heroine and vice versa?
Gemma and Leonidas met as children, so they've known each other a long time, and their families and kingdoms are bitter rivals. But despite the fact they are supposed to be enemies, they are very similar. Gemma and Leonidas are both powerful mind magiers, and they both have special relationships with the magical creatures in their lives. Gemma has her gargoyle, Grimley, while Leonidas has his strix, Lyra. So those similarities are some of the things that draw them together, even as their families, plots, and politics strive to tear them apart.
Did any scene have you blushing, crying or laughing while writing it? And Why?
I love, love, love writing fight scenes and figuring out how my heroine can use her magic and wits to defeat the bad guys. Here is a scene where Gemma realizes that things are not what they seem:
A faint creak of leather sounded, and a man stepped into view beside the trail marker at the top of the ridge. I froze, as did Reiko, who let out a soft, muttered curse. The two of us were completely exposed in the clearing, and there was no way he didn't see us.

The man was more than six feet tall, with short black hair, hazel eyes, and bronze skin. His body was thick and muscled, and he clutched a sword with the easy familiarity of a seasoned soldier. Even though it was only mid-afternoon, heavy stubble had already darkened his square jaw. Most people probably would have thought the man handsome. I might have too, if I didn't know how cruel, petty, vindictive, and vicious he was.

Just like the two Mortans we had seen earlier, this man was also wearing a purple cloak over a black tunic, leggings, and boots. A fancy cursive M surrounded by a ring of strix feathers—the Morricone royal crest—was stitched in gold thread over this man's heart, marking his importance and position.

Wexel, the captain of the Mortan royal guards, who was loyal to Milo Morricone.

Wexel sneered at me, then lifted his sword and brought it down in a sharp motion. Several more creaks sounded, and more than a dozen men clutching crossbows appeared along the top of the ridge.

My heart sank, and I cursed my own foolishness. Reiko had been right.

It was a trap.
Readers should read this book….
Folks should read Tear Down the Throne because it features:
– A fierce heroine
– Enemies-to-lovers
– Epic battles
– An evil queen you love to hate
– Gargoyles (obviously!)
What are you currently working on? What other releases do you have in the works?
Over the next few months, I will be working on copyedits, page proofs, and more for Conquer the Kingdom, Gargoyle Queen #3, which will be out on March 7, 2023.
I will be releasing Heart Stings, a novella in my Elemental Assassin urban fantasy series, as part of the Dirty Deeds 2 anthology on June 7.
I am also hoping to release a science-fiction romance later this year, along with a short holiday book in my Section 47 urban fantasy, spies-with-magic series.

Thanks for blogging at HJ!
Giveaway:

(1) One finished copy of Tear Down the Throne. U.S.  
To enter Giveaway: Please complete the Rafflecopter form and Post a comment to this Q:

Do you like enemies-to-lovers stories? What are some of your favorite fantasy books with that storyline?
Book Info:
Bestselling author Jennifer Estep continues her Gargoyle Queen epic fantasy series where magic reigns, alliances are tested, and a dangerous attraction could tear down a throne. . .
Crown princess. Clever spy. Powerful mind magier. Gemma Ripley of Andvari is all those things—and determined to stop an enemy from using magical tearstone weapons to conquer her kingdom.
Gemma's quest for answers leads her to a trade Summit between the various kingdoms. Among the other royals in attendance is Queen Maeven Morricone of Morta and her son, Prince Leonidas—Gemma's charming and dangerous nemesis.
Gemma knows that Maeven always has a long game in motion, and sure enough, the cunning queen invokes an arcane tradition that threatens the fragile truce between Andvari and the other kingdoms. Despite her best intentions, Gemma once again finds herself thrown together with Leo and battling her growing feelings for the enemy prince.
When a series of deadly attacks shatters the Summit's peaceful negotiations, Gemma realizes that someone wants to tear the royals down from their thrones—and that this enemy just might succeed.
Book Links:  Amazon | B&N | iTunes | kobo | Google |


Meet the Author:
Jennifer Estep is a New York Times, USA Today, and internationally bestselling author prowling the streets of her imagination in search of her next fantasy idea.
Tear Down the Throne, book #2 in her Gargoyle Queen adult epic fantasy series, will be released May 3.
Jennifer is also the author of the Crown of Shards, Gargoyle Queen, Elemental Assassin, Section 47, and other fantasy series. She has written more than 40 books, along with numerous novellas and stories.
In her spare time, Jennifer enjoys hanging out with friends and family, doing yoga, and reading fantasy and romance books. She also watches way too much TV and loves all things related to superheroes.
Website | Facebook | Twitter | Instagram | GoodReads |