Today, HJ is pleased to share with you

Andie J. Christopher's

new release: 

Thank You, Next

Alex Turner is never The One—but always the last one an ex dates before finding love—and now she's determined to find out why in this hilarious new rom-com.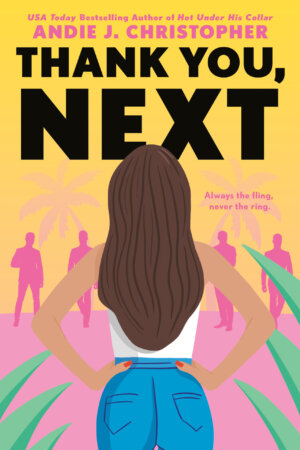 Single divorce attorney Alex Turner is watching reality TV when she sees her latest ex's new fiancée picking out her wedding dress. Yet again, the guy she dumped went on to marry (or at least seriously commit to) the next person he dates after her. Fed up with being the precursor to happily ever after, she decides to interview all her exes to find out why—starting with her first boyfriend.
Up-and-coming chef Will Harkness mixes with Alex like oil and vinegar, but forced proximity growing up means their lives are forever entwined. When Will learns Alex and her friends are going on a wild romp through Los Angeles to reconnect with her ex-boyfriends, he decides to tag along. If he can discover what her exes did wrong, he can make sure he doesn't make the same mistake with Alex.
On this nonstop journey through the streets of LA, Alex realizes the answer to her question might be the man riding shotgun…
Enjoy an exclusive excerpt from Thank You, Next 
Alex drove up to the building that would become Will's new restaurant; she didn't know where he lived anymore. She'd never been invited to the house he'd shared with his ex-wife, but she'd had the address for holiday card purposes.
All she knew about his current living situation was that he'd let his ex keep their little Los Feliz bungalow, and Lexi did not approve of Will's bachelor pad. Apparently, he'd reverted to sleeping on a mattress on the floor of a studio apartment. She guessed he was so busy with his new restaurant that he didn't have time to sleep and felt his home was not relevant.
Alex didn't like to think about where Will Harkness slept, because that would lead to her thinking about Will Harkness not wearing clothes. She would then think about whether Will Harkness had gotten more tattoos since she'd seen him at Lexi's last Labor Day barbecue. The one he'd attended with his ex-wife, who was nothing like Alex, because Alex was the opposite of Will's type. This was a point Will had made very clear when he'd rejected her. Thoughts about Will that led to anything other than what he was cooking for her and Lexi for dinner were entirely fruitless.
He was the most frustrating man she'd ever met, and she couldn't imagine that he had anything nice to say about her. She couldn't get the image of the two of them talking shit about her after she'd left out of her mind.
Not that she'd ever known Will to talk shit about her. He merely looked right through people he didn't like or no longer had use for.
Still, she sat in her car in the rare street parking spot she'd found on Fairfax for way too long. She didn't voluntarily run into Will. She tried to space out their encounters by weeks, if not months. She didn't spend time that she didn't have to spare thinking about seeing Will and Andrew together. She didn't turn their images over in her head, comparing one to the other. She did not think about how real and earthy Will was when compared to Andrew. And she most certainly did not recall that she'd first been attracted to Andrew because he and Will shared a certain shrewdness and way of solving problems and looking at the world that inspired her.
But her curiosity compelled her to figure out what they'd said about her. She would have to be incredibly persistent about getting that information from Will, but he was as prone to glossing over the truth to protect other people's feelings as Andrew was.
Plus, it would be weird if she contacted Andrew again after their last awkward meeting.
She got out of her car and walked around the building that would soon house Will's restaurant. The front door would be locked for a few more weeks, but the back would likely be accessible given the pace of deliveries at this point. It had been a dumb idea to wear heels today, but she hadn't exactly planned on skulking around in alleys when she'd gotten dressed. And she hadn't slept very well the night before, given all the Andrew-and-Will comparison matrices she'd been busy composing in her head. Honestly, she could write a treatise on the topic with how much thought had gone into it.
Predictably, she tripped and fell about twenty steps from the back door to the new restaurant, Solitudine—the Italian word for loneliness. For a few moments, she was frozen in shock, like when a baby fell and didn't know whether to get up and dust themselves off or start screaming for their mother. She felt searing pain from her injury—almost so much she froze. Tears hit her cheeks, and she picked up a grimy hand to wipe them off. And then she dragged a pebble across her face.
"Ouch."
"Are you okay?" Alex's spine stiffened. The last person she wanted to see was standing behind her, watching her sit down in the dirt. And there was a hint of amusement in his voice.
Before she turned, she wiped her face again with her other hand. And then she gathered all the dismissive, haughty energy that she could muster before looking at him. She was glad she did, because he looked good. If she were being honest with herself, she would admit that he always looked good, but she didn't want to be honest with herself at the moment.
He was the perennial enemy. Or actually, more of an irritant that she could never get to go away. Will Harkness was a chronic ailment that made her itch all over.
"I'm fine." She'd meant for the words to sound breezy, but they didn't. And he knew that.
He moved close to her and grabbed her upper arms. He was a lot bigger than her—a lot bigger than he'd been when they'd first met. She felt enveloped by him immediately. He smelled like herbs and expensive soap. When he stood up with her in his arms, the skin on his neck was so close to her lips that she could taste it.
That was why he was so irritating to her. She was so attracted to him that she forgot herself when she got too close. And despite her efforts to avoid him, he always popped up when she least expected it. It was a conundrum. One of the few she couldn't solve.
"Now you have me wondering if you're following me around and why." He still sounded amused, and that made her want to kick him in the balls. The only thing stopping her was that he'd picked her up off the ground and was now ushering her inside the back door to his new restaurant. Hopefully, he already had a first aid kit because she could feel blood running down one of her legs.
"These shoes are stupid."
"These shoes are expensive."
"And stupid." He still had ahold of one arm and she had to run on her tiptoes to keep up with him.
"You're tall. I don't understand what you have against flat shoes."
She hated when he noticed things about her. It meant that she couldn't keep up the lie that he didn't really see her and that's why he'd been indifferent to her charms all those years ago. "Do you have Band-Aids?"
A muscle in his neck ticked, and the corner of his mouth rose as he gave her a sidelong glance. He grunted, and when they got to the kitchen, he picked her up—like she was nothing, and she was not nothing because she was tall—and placed her on the counter.
Even though he was manhandling her, he was very gentle about it. She couldn't appreciate that. Wouldn't allow herself to appreciate that. But it was hard when she was busy trying not to appreciate the way his ass looked when he bent over to rifle through a cabinet across from where she was sitting. It was difficult not to appreciate how gentle he'd been with her when his white T-shirt, the expensive kind that you bought already looking broken in, stretched across the muscles of his back.
He'd gotten bigger since the divorce, but not in the dad-bod way one might have expected. The same thing happened with some of her clients. They realized that they'd have to go out and date again if they wanted to find someone new to have sex with, so they got trainers, did keto, and lifted heavy things. As though being hard on the outside could stifle any of the vulnerability that getting a divorce had exposed in their bodies.
A lot of the women starved themselves, and Alex had more than once had to have a talk about disordered eating with a client. Divorce was hard enough without being hungry the whole time. Alex wondered if Will worked out because his failed marriage made him seem soft. Knowing him, he wouldn't have thought about it much. If he'd no longer had his woman in bed with him to occupy his morning—she hated thinking about him with his wife, and she hated that she hated thinking about it—he would use that energy someplace else.
When he straightened and turned back to her, she said, "You look good," before she could stop herself. He kept advancing, and she had to crane her neck up to meet his gaze, which was still amused until he looked down and saw the wicked scrape on her knee. Then he scowled.
Something at her center clenched. She must have flinched and squeezed her legs together because Will put his hand on her thigh.
He'd never done that before. They'd never had the kind of flirty relationship that made a hand on the thigh appropriate— even though that kind of relationship was the only thing that Alex had wanted that first summer. Back then, every single punch on the shoulder had sent her spiraling through fantasies of what it would have been like to press her whole body against Will's.
For more than a decade, she'd ruthlessly cut off thoughts about Will's body. Why couldn't she ignore them now? Maybe it was because he'd made himself truly unavailable by getting married and now he was divorced. And now that she was having a moment of vulnerability, a scintilla of uncharacteristic emotion, she was open to those dangerous, useless feelings again.
"You really did a number on this knee." He crouched down to inspect her injury.
Excerpt. ©Andie J. Christopher. Posted by arrangement with the publisher. All rights reserved.


Giveaway:

One print copy of THANK YOU, NEXT for a U.S. only winner.
To enter Giveaway: Please complete the Rafflecopter form and post a comment to this Q:

What did you think of the excerpt spotlighted here? Leave a comment with your thoughts on the book…
Meet the Author:
USA Today bestselling author Andie J. Christopher writes sharp, witty, sexy contemporary romance about complex people finding happily ever after. Her work has been featured in NPR, Cosmopolitan, The Washington Post, Entertainment Weekly, and The New York Post. Prickly heroines are her hallmark, and she is the originator of the Stern Brunch Daddy. Andie lives in the Nation's Capital with a French bulldog, a stockpile of Campari, and way too many books.
Buy Link: https://www.penguinrandomhouse.com/books/647764/thank-you-next-by-andie-j-christopher/