Today it is my pleasure to Welcome author
Erika Kelly
to HJ!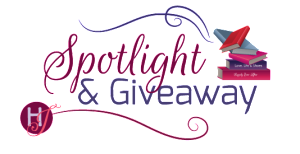 Hi Erika and welcome to HJ! We're so excited to chat with you about your new release, The Careless Boyfriend!

Thanks so much for having me!

To start off, can you please tell us a little bit about this book?: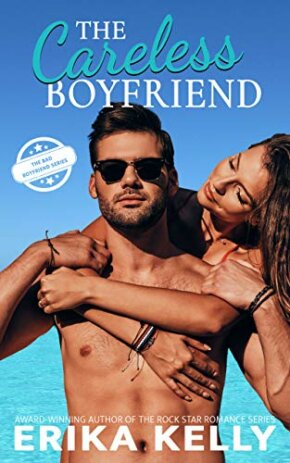 THE CARELESS BOYFRIEND is the third book in The Bad Boyfriend series. Gray Bowie's a champion surfer and snowboarder who gave his heart away in kindergarten. The problem is that the girl he loves always belonged to his best friend. When the situation reached a head senior year, Gray left town and never looked back.
Now, seven years later, he's on his way to a surfing competition, when his car crashes through the front of a house…the house where his childhood love is preparing her gowns to show at Bridal Fashion Week.
Gray will do everything he can to get her career on track. While working together, feelings develop, but right at the moment they start to fall in love, her ex comes back into town, and Gray just doesn't think he can stand to be the third wheel again.
She's his dream, but will he be hers?

Please share your favorite lines or quote(s) from this book:
"Brushing up against that tanned forearm, thick with muscles and covered in black ink, and listening to his deep rumble of a voice, drove her back to the days when she was the girl in the trailer, and he was the boy whose presence chased the shadows and scary noises away."
What inspired this book?
I started out as a screenwriter but grew frustrated with the medium. So, one day, I set my work aside to do a "creative exercise" that turned into a 650-page romance novel. It was about three childhood best friends. Two of them become romantically involved, and the third can't walk away because he's in love with the girl. It all comes to a head senior year… does this sound familiar? It's THE CARELESS BOYFRIEND! When I was developing the story for this book, my daughter–who's always loved that "creative exercise" suggested I bring the original story to life. So, I did! I'm so glad I got to do justice to the story of my heart.
How did you 'get to know' your main characters? Did they ever surprise you?
I don't really know my characters when I start writing. Sometimes, it takes several revisions before they come to life for me. That's one of the most exciting aspects about the process. It doesn't matter what details or traits I assign a character, she only comes to life as the story develops.
What was your favorite scene to write?
Knox grew up bullied in her small, mountain town. So, no matter how confident she is in her talent as a wedding gown designer, she still has a hard time with her self worth. About halfway through the book, Gray confesses his dark secret–that he'd loved her all their years growing up. It allows her to see herself in a new light. All this time she's thought of herself as a strong, confident woman, but the fact is that the bullies made a deeper impact on her than she'd realized. For the first time, she can see herself and the world without the bully lens.
"Gray knew her. He just did. And that made it easier to believe the bomb he'd detonated at her feet. Finally, after blocking out his confession for the past hour, she let it come flooding in.

I was in love with my best friend's girlfriend.

Shock waves rolled through her, slamming into every cell in her body. In love with me? Her brain sorted through snapshots from their time together, trying to catch a glimpse of his expressions. But what could she make of them? She could mold a memory into anything she wanted.

Gray didn't lie. He didn't have to—he had enough confidence and self-possession to own everything he said and did. Which meant…he'd loved her."
What was the most difficult scene to write?
Throughout the book, Knox is fighting to get her career back on track, but her former boss–who relies on her talent to stay relevant in this very competitive business, keeps setting up roadblocks. She works so hard, and she can't get a break. Plus, she's back in the town that bullied her. One night, she just falls apart. Right in front of Gray.
Fortunately, he handles it just right. He lets her bawl and doesn't try to fix anything.
"Pretty sure you've been in crisis mode your whole life."
"What does that mean?"
"You spent a lot of your childhood alone in that trailer, and I've been in there. Those sounds are creepy. Trucks roaring past, wind making it creak. Remember that night you called me because a pack of wolves was howling?"
She did. That had been terrifying.
"You never knew when the bullies would strike or whether your boyfriend was sober. There wasn't much about your life you could control. You moved to New York City and Paris by yourself, spent a year making dresses alone in a house on Maui, knowing that your ability to support yourself rested on your shoulders. I'm going to guess you spent every day worried about whether you'd finish in time or not have anything good enough."
"I did." For a moment the truth shone so brightly it blinded her, so that all she could do was live inside the rightness of it. "My whole life, everything has seemed critical, every problem life or death. You're right. I have been in crisis mode."
"And I think—I hope—for the first time tonight, you get that you're not alone anymore." He drew her so tight against him nothing could get between them. "Maybe that allowed you to break down a little."
"I didn't scare you away?" She used a teasing tone, but she wouldn't mind a truthful answer.
"I'm thinking you're not grasping the situation. All I've ever wanted was for you to see me for who I am."
"And who's that?"
"The one who carries your heart."
Would you say this book showcases your writing style or is it a departure for you?
THE CARELESS BOYFRIEND is classic Erika Kelly! It's emotional, sexy, and passionate with fun banter and interesting settings.
What are you currently working on? What other releases do you have planned?
Next up is the 4th and final book in The Bad Boyfriend series, THE THOUGHTLESS BOYFRIEND. It's about the brother least likely to fall in love and the princess who comes to stay at his resort.

Thanks for blogging at HJ!
Giveaway:

I'd love to give away a digital copy of THE HEARTLESS BOYFRIEND!
To enter Giveaway: Please complete the Rafflecopter form and Post a comment to this Q:

Like Gray, have you ever loved someone who didn't love you back?
Excerpt from The Careless Boyfriend:
"I believe you," Knox said.
"Sorry?" Gray looked so adorable, this big mountain of a man, wearing nothing but bright red boxers with a green Grinch printed all over them. His broad, hairy chest, so toned, so fit, those bulging biceps, and rock-hard thighs—my God.
This man had loved her.
"I believe you." This time she smiled because those were the three most powerful words she'd ever said.
"Still not getting it."
"I've been working through it subconsciously. I started with total dismissal. No way did Gray Bowie have feelings for me. Then I moved to, okay, yeah, you don't spend all that time with a pity project. You put on latex gloves and serve her a nice dinner once a year. You don't lie on her bed, feet against the wall, and talk about her dreams of being a fashion designer."
He watched her, like the glitter was settling and the image inside the snow globe was becoming delightfully clear.
"But then, the truth started to sink in. You had a busy life. Not just your competitions, but your brothers, your dad, and uncle. And then—bam—it rose right up out of my subconscious and smacked me across the face." She came closer to him. "Gray, you chose me over time with your brothers. Well, over a lot of things. And I didn't see it because of them. Of what bullies like Cady and Melissa trained me to believe. That I was trash. I thought flipping them the bird made me rise above it. I thought my little revenge plots made me invincible. But I didn't see how my impressions about myself and the world came from them. Gray, the idea that you loved me? It just didn't compute. A guy like you?"
His eyes softened, and he cracked a shy grin. Oh, Gray Bowie all vulnerable like that? That was hotter than anything she'd ever seen.
"I don't know how it would've changed my life if I'd seen the truth," she said. "But I can tell you it changes me now."
He didn't say anything, and awareness broke over her like a cracked egg. Don't forget that he walked away, stayed away for seven years. He'd had no intention of ever seeing you again.
Oh, God. He was talking about a childhood crush, and she was standing here gushing at him. "I mean, I know you don't love me anymore. Of course. Obviously. I'm just saying that you've given me a whole new perspective on my childhood, and it's pretty damn amazing. We're good, though. We can work together without you thinking that I'm, like…that I expect…you know, that I think you're still in love with me." She laughed, but it sounded as phony as it felt. "Anyhow. I just wanted to say I believe you. That's a big moment for me, not you, so I obviously shouldn't have woken you up to tell you. I could've kept that one to myself. So, anyhow. I'm a weirdo. Goodnight." She gave him a smile she was pretty sure could only be found in a Fun House hall of mirrors and turned to go.
But his years of training served him well, because his arm shot out, wrapped around her waist, and jerked her against his hot, hard chest. "Never keep anything to yourself." He leaned in until she could smell the toothpaste on his breath and the clean-linen scent on his skin. "I love every damn thing that comes out of your mouth."
And then he pressed those beautiful lips to hers, and her heart exploded. Desire, sharp and fierce, burst in her core, the current so strong it flooded every fiber and tissue in her body. Immediately, she lost herself in the feel of his smooth, warm skin and the command of his tongue as it took possession of hers.
Gray's kiss started with supreme confidence, making it feel like he was in charge, that she was along for the ride—a thrilling but controlled ride. One you knew couldn't go off the rails.
And then it faltered. He let out a sign that sounded utterly desperate. The power of his touch gave way to a tremble in his arms, and his body heated up to blistering.
His control snapped, and he turned reckless, wild. She'd never been kissed like this—like he needed to gobble her up but couldn't get all of her in at once. Like he needed to consume her, get his fill before she was snatched away. Everything about Gray—his scent, the way his strong hands roamed her back as though he couldn't believe he got to touch her—the passion in his embrace—lit her up, flipped on all the lights—and she wanted it. She wanted this torrent of yearning and desire and need.
Until those strong hands slid down and cupped her bottom and gave her a lusty squeeze. The press of his arousal against her stomach sent up warning flares—sex—and, God, sex with Gray Bowie?
Panic had her hands pushing him away. "I…" Her fingertips brushed across her sensitive lips.
Those blue eyes worked hard to read her, his chest pumping, arms still out so that if she took one step forward her bottom would fit snugly back in his hands.
And it struck her—like really hit her hard—how much she wanted that.
"I'm sorry. I…goodnight."
Excerpt. © Reprinted by permission. All rights reserved.

Book Info:
Gray Bowie broke the bro code: he fell in love with his best friend's girlfriend.
For years, he hid his feelings…until one terrible night, it all came to a head.
Since her life blew up in high school, Knox Holliday has spent her time honing her skills as a couture wedding dress designer. But, just weeks before her debut, a freak accident wipes out her collection. The culprit: her ex's former best friend, Gray Bowie.
Gray does everything he can to get her career back on track. As they work together, they find forgiveness and start to stitch together something that looks a lot like love. But, at the very moment they realize they have a chance for something real, her ex comes back to town, bringing opportunities Gray can't provide.
This time, Gray's not going to step aside, so he can only hope Knox will hold onto his heart.
She's his dream, but will he be hers?
Book Links: Amazon | B&N | iTunes | Kobo |

Meet the Author: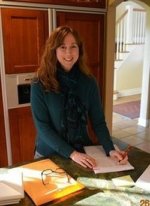 Award-winning author Erika Kelly has been spinning romantic tales all her life—she just didn't know it. Raised on the classics, she didn't discover romantic fiction until later in life. From that moment on, she's been devouring the genre and has found her true voice as an author. Over three decades she's written poems, screenplays, plays, short stories, and all kinds of women's fiction novels. Married to the love of her life and raising four children, she lives in the northeast, drinks a lot of tea, and is always waiting for her cats to get off her keyboard.
Website | Facebook | Twitter | Instagram | GoodReads |