Secrets Never Die (Morgan Dane #5) by Melinda Leigh is the fifth book in this author's Morgan Dane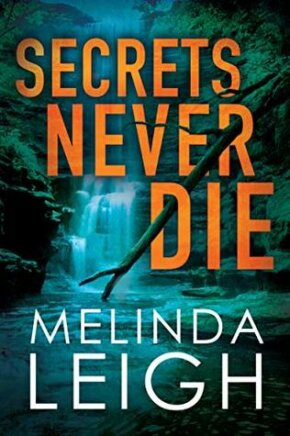 series. Once again readers are treated to lots of action and a fast-paced storyline filled with suspense and surprises.
Evan arrives home at 12:30 am, way past curfew. His mom's car isn't in the driveway so he assumes she is still at work. Finding no lights on is strange though. His stepfather always leaves the lights on when his mom works at night. Evan puts his key into the front door lock and hopes to sneak in without his stepfather catching him. Wait! What! The front door is unlocked. Can't be. His stepfather who is a retired deputy sheriff is very security conscious so the doors are always kept locked, especially at night. It's totally dark in the house. Something is definitely wrong here so Evan procedes with caution. What Evan walks into is a living nightmare. He sees a man shooting his stepfather and runs from the house. Is he being pursued? Can he get away? Then a gunshot and he feels pain in his shoulder and hears threatening words about his mother. Gotta keep running! Gotta get away! I'm dead for sure if I get caught.
What a fantastic beginning to this story. Evan has now disappeared so his mother calls Lance Kruger PI for help. Evan is on Lance's at-risk kids hockey team and she trusts him. He has a great reputation and she is sure Lance will find Evan. Where Lance goes his fiancee Morgan Dane goes also. Things always happen when these two are on the case.
The dialogue and interactions between the characters are very believable. It's always great to see what's happening with Morgan's three young daughters too, especially three-year-old Sophie. She is so cute! The case this time leaves very little time for Morgan and Lance to spend with the girls though. Lots of murder, mutilation, mayhem and mystery.
This is a sit down, get comfortable and get ready to read to the end because you can't stop reading kind of story. Melinda Leigh never disappoints!
Book Info:

Publication: March 19th 2019 | Montlake Romance | Morgan Dane #5
Morgan Dane and PI Lance Kruger fight for the innocence of a young murder suspect—if only they could find him.
When a retired sheriff's deputy is shot to death in his home, his troubled teenage stepson, Evan, becomes the prime suspect. Even more incriminating, the boy disappeared from the scene of the crime.
Desperate to find her son, Evan's mother begs PI Lance Kruger for help. She knows her son is innocent. Kruger and defense attorney Morgan Dane want to believe that too, but the evidence against the boy is damning. Just as the trail goes cold, another deputy vanishes. His shocking connection to Evan's stepfather throws the investigation into chaos as Lance and Morgan fear the worst…that Evan is the killer's new target.
With so many secrets to unravel, will Lance and Morgan find him before it's too late?