Today, HJ is pleased to share with you

Sinclair Jayne's

new release: 

The Christmas Sing Off

He's closed the door on music and Christmas. Can her voice be the key?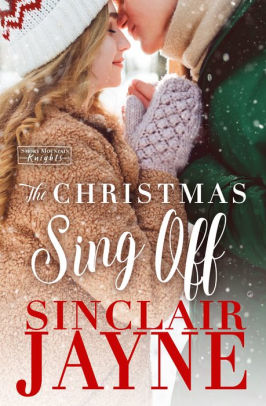 At the height of his fame, pop star Shepard Lake walked away. No one knows why, though rumors are rife. Creatively blocked, he seeks inspiration and a fresh start for his life and career by returning to his Tennessee roots. He finds far more than he bargained for when he is drafted to help with a small town Christmas festival.

Tyler Knight lives and breathes music, but a career as a songwriter remains a distant dream. When her sister asks her to return to their hometown, Sweet Tea, Tennessee, and help her with the town's Christmas Carol Sing Off, Tyler is thrilled to have a change of scenery and a chance to start over after a series of disappointments. Then she is paired with the infamous Shepard Lake who's too everything –handsome, confident, talented and way out of her league.

But is he? Will this Christmas be the one where Tyler gathers her courage to pursue her dreams of music and love?
Enjoy an exclusive excerpt from The Christmas Sing Off 
Shepard Lake just kissed me.
Kissed her hand at least.
She needed to get a grip. He'd been play-acting and she'd jumped fully into the act, pretending to be a servant for the hero who'd haunted her dreams with his guitar prowess and soul-bearing ballads he'd released on three of his solo albums.
Why had he disappeared from the charts? From public life?
Why was he so alone?
Sad, as if carrying a burden?
Her imagination cooked up scenario after scenario. Sutter had thrown them together. Why? Did Sutter think that Tyler couldn't handle the sing-off on her own? Or was it something more complex? Sutter often played chess with her plans whereas most people bumbled around playing casual, distracted games of checkers.
No way did she expect Shepard to help with something so mundane as preparing school choirs for a Sweet Tea Christmas tradition, but she wasn't going to let the kids or her sister down.
She might have left Sweet Tea at age eleven, but it and the people were still part of her.
He kissed me.
Shepard entered the cabin. She followed, but he stopped so abruptly she ran into his back.
"Sorry," she muttered, feeling her face flush as she inhaled a scent of forest, spice, and man. It was all she could do to step away so that she wasn't pressed against him in the cabin's entrance. She was embarrassed by her hungry reaction.
"Rest your ankle," he said quickly, helping her over to a deep charcoal-gray couch sectional. "This place is amazing," he said looking around at the open floor plan, wide, reclaimed wood flooring, modern kitchen with stainless steel appliances, along with a few vintage touches—souvenirs from the storied past of country music, some of which had been discovered when Dawson and his crew had started to restore the theater.
"I wasn't expecting something so…" His gaze kept quartering the room. "It's like the woods can come inside."
Tyler nodded. Her favorite feature was the large bay window with a window seat covered with a cheerful paisley fabric to match the cabin's gray, white and blue palette.
"I love the cabin. I know they keep it for recording artists if they want to stay close to the studio and work crazy-long hours, but I hope someday…" She closed her mouth with a snap of her teeth, barely managing to not slap a hand over her mouth. She'd nearly blurted out her dream of writing songs, recording them, and staying in the cabin when she did so.
He would laugh and think she was overtly hinting for him to help her.
He must get hit on all the time for industry help.
Probably why he'd taken months to get away to think and breathe and find inspiration.
Then she realized he was looking at her, his lean face kind, his whiskey-colored eyes warm, clearly waiting for her to finish her sentence, and Tyler felt a burst of happy surprise. Her family was so large and bold and creative that her voice was inadvertently run over by their competing ideas.
"Tyler?"
Something strange happened low in her tummy. It flipped like the time her sister Shane had dragged her against her will onto Thunder Mountain at Disneyland.
"Oh, nothing. I forget," she lied.
His hair was so thick and caramel colored in the light filtering through the windows. So many different strands of blond and brown weaving together. She wanted to touch it.
"I'll show you the bedrooms," she said and then immediately wished she hadn't. "Bed" seemed like a proposition. He probably got an endless stream of those, although she knew from Sutter's life that the internet gossip often had no relationship to reality, and often the "insiders" leaking information were trying to build on their own career and received money for "tips."
But sometimes there was a kernel of truth, and now that she'd met Shepard Lake, she was embarrassed that she'd read the gossip sites as avidly as she'd studied his lyrics, his songwriting techniques, and practiced his guitar riffs for hours on her own guitar.
She felt like a voyeur.
"Sorry." She popped awkwardly to her feet.
"There's no need to give me a tour, Tyler. I can find my way around."
Tyler could practically hear Sutter or her mother's admonishment about her lack of hospitality and their strongly worded encouragement that she had to stop focusing on her shyness because it was selfish. Instead she should always think of making the other person comfortable.
"There are staples you can use in the kitchen," she continued. Tyler walked over to the white quartz island. "I did the shopping the first day I arrived, as we had an artist and his producer here." She opened the fridge. "Milk, eggs, yogurt, cheese, whole wheat tortillas, homemade wheat bread and fixings for sandwiches and of course fresh salsa." She closed it. "Fruit in the bowl and in the cupboards…" she opened a door with a flourish "…rice, flour, oatmeal, pasta, tortilla chips and some cans and jars that Sutter buys locally at a farmer's market, so they're fresh and organic."
Shepard's expressive eyes again looked around the room. What he was thinking? Sure he'd been hiking for a while, but he owned mansions, vacation homes and stayed in five-star hotels. Was he disappointed and feeling like he was slumming? It didn't feel that way. His body was so still, his face carefully neutral.
"I can pick up anything from town for you if you want to remain under the radar."
"Pretty hard to remain under the radar if I'm helping you corral a passel of elementary and middle school children to sing Christmas carols."
Tyler slowly closed the cupboard. Was she really going to have to work with him? Risk his scorn or, worse, have the kids ignore her in favor of a famous pop star? She couldn't fault them. At that age she would have been over-the-moon giddy. Heck she was still feeling awed by him.
"You aren't really going to help out with the Christmas sing-off," she said softly, choosing her words carefully.
She didn't think she would hurt his feelings. And she didn't want to be unwelcoming. It wasn't his fault that she'd been looking forward to being the sing-off coach for the elementary and middle school kids. She realized with an embarrassed pang that she'd wanted to show off a little—for Sutter. And that was not an admirable trait.
She straightened her shoulders. She couldn't expect her family to stop treating her like a child if her emotional reactions and actions were those of a child.
But she also didn't think he'd want to help, and to have him be an unwilling participant with the children would hurt them—they would know. You couldn't hide your feelings from kids.
"You don't have to. Sutter just…" Tyler trailed off, not really sure of her sister's motivation.
"She was joking? She doesn't want my help?"
Something in his low voice reached inside of her and did…something. She couldn't quite describe it, but she felt breathless, and a little too warm.
"No, not that. Sutter just thinks…she just sees the world the way she wants to, and life generally falls in line with her wishes." Tyler rolled her eyes. "Of course she'd want your help. You're brilliant. Crazy talented, and you'd be a huge draw if word got out that you were helping. The sing-off does raise money for the public schools. The Sweet Tea music teacher, Carol Reynolds, had to take a sabbatical to help her mom in North Carolina. Sutter stepped in, but she also asked me to come out early this year and help."
"The sing-off is something you said you were looking forward to. I don't want to spoil your plans," he said in his deep drawl so earnestly that she felt ashamed about her territorial feelings, and doubly ashamed because he was so sexy that she had to force herself to keep her distance.
How could she possibly compete with him?
How could she possibly function with him so close?
"Do you want me to help?" he asked, his expression searching.
How to answer that?
"I…" The expression on his face was wary, almost like a puppy expecting to get disciplined. Tyler didn't understand him at all, but she could not reject him.
"Yes," she said shocked to realize that she did.
She definitely had doubts about how they would work together, but she lacked the heart to turn him away. She'd learn from the experience, and as she watched a tentative smile steal across his mouth, she thought that he might learn something too.
"Tyler, do you believe in fate?"

Shepard wrapped a plush gray towel around his waist and padded barefoot over to the washing machine to switch his clothes to the dryer and to put in a second load. He was washing everything except for one pair of jeans and a long-sleeve graphic vintage David Bowie concert tee.
It had been beyond lucky to have run into Tyler on the trail—literally. Was it possible that his luck was changing? That the chaos of his life, the feral animals growling in his head and heart, had finally savaged themselves enough to call a truce?
He toweled off his hair and pulled on his jeans, laughing at himself that he'd been so eager to wash everything, including himself, that he'd forgotten to pull out a pair of socks or boxers before he'd tossed as much as he could fit into the washing machine. Not like Tyler would know. There was a sweetness to her, an innocence he didn't want to risk with the crazy that had been his life and the uncertainty of his future.
Still, he'd invited her back for lunch to discuss the sing-off. And then he'd had to open his big mouth and ask her if she believed in fate.
Fate. He rolled the word around in his head. There was a song there. Would he ever be able to find his words again? And the music? He no longer felt the churning panic over his loss, but perhaps that was worse.
Maybe he was going about this all wrong. He hadn't forced himself to face his fears. He'd run. Meditated. Had given himself time and distraction. Maybe he had to force the music back. And a cabin with a fully equipped studio and a lot of privacy was definitely a way to do that.
He headed to the kitchen to plan out the lunch. He would seize the chance fate had offered him. Working with children was not something he ever thought he could do, but if he really wanted to start over and remake himself and his life, he had to do more than want it. He had to jump outside his comfort zone and embrace the different and scary.
And he wouldn't be required to create anything new so that everyone would see that he was a fraud—that he could no longer create. The Christmas carols would be old standards—not that he had much familiarity with carols, but he could do some research before the first rehearsal.
Cookies. Shepard deeply inhaled the fragrant vanilla and fruity scent. He saw a batch of twelve oatmeal and fried fruit and nut cookies cooling on a rack with another twelve inside a toaster oven with the timer down to thirty seconds.
Tyler had been busy, but she wasn't in the room.
He removed the cookies from the toaster oven to cool and peered in the fridge to see what he could offer Tyler for lunch. Quite a bit, actually. He began pulling condiments, lunch meats, dark, rustic-looking bread, cheeses and avocadoes and…arugula maybe? His stomach felt so empty the sides were rubbing together. He was tired of protein bars, trail mix, and turkey and beef jerky.
He plugged in the panini maker, drizzled a little olive oil on it, and palmed two of the oatmeal cookies for sustenance as he went in search of Tyler.
He didn't have to go far. At the other end of the house was a large, sliding panel door made of wood with metal fittings that made it look a bit like a barn door. This must lead to the studio. It wasn't closed completely so Shepard gripped the burnished metal handle. Already his palms were sweaty. He closed his eyes. Dug for confidence where there was none.
Opened the door.
Another door, this one soundproofed and wrapped in a thick, gray, rough material. Shut tight. He shook his head at his drama. It was a studio. No producer. No studio musicians. No hangers-on. No mom telling him what he needed to do for them. No mom's boy toy disparaging him and throwing his weight around like he was a somebody too.
Get over it. He reached for the handle—watch it be locked and all his turmoil was for nothing. But it slid soundlessly open.
A melody—just a riff really, played over and over, seamlessly—reminded him of water tumbling over rocks in an alpine stream. It reminded him a little bit of the song melody Tyler had been crooning this morning. He closed his eyes and let the music flow over him. Sweet. Sad. Calling him to come closer, to stay away, to unburden. He held his breath and waited for her to start singing. The voice he'd heard on the trail had snuck in his head and taken up residence. He had to hear it again. Her voice and the words had been like a key this morning. He needed her to turn the key and unlock the words and the music that were imprisoned inside of him.
Unexpectedly, his eyes burned. It has been so long since he'd created anything so pure and beautiful that crawled inside the listener's soul. He wanted to do that again. He had to.
He stepped more fully into the studio.
"Oh." The music stopped, and Shepard realized three things at the exact same time: Tyler had been playing the riff on a Gibson Hummingbird special edition guitar. She looked guilty and embarrassed. The studio was bigger and more tricked out than he had thought it would be.
"Sweet," he whistled, staring at her.
Her creamy complexion flushed even pinker, and he smiled, hoping he looked disarming instead of desperate.
"The voice on that Gibson has an appealing resonance," he said, impressed.
He took a step back, hoping to reassure her more, even though everything inside him urged him to go closer.
"I loved the riff," he said. "I don't recognize it. I guess Sutter is not the only musical talent in the Knight family."
There. That sounded friendly. Not like he was coming on to her. She was the last woman he should be flirting with. Not that he was going to flirt with anyone. He was taking a very extended and much-needed break from women, and he wasn't going to succumb now. He needed to focus on rebuilding his life.
Tyler was too sweet of a soul for him to play with. She had "keeper" radiating from every pore.
"I, um…" She looked down at the guitar body cradled tenderly against her body. "Sutter bought me this guitar when I went to college. Said every musician needs a gift of a special guitar they can fall in love with and grow old with." Tyler's long, slim, short-nailed fingers stroked the body of the guitar lovingly, and he wished that his body didn't react to her very innocent moves.
"Sutter's always been generous. She wasn't hitting it big yet although she was regularly getting studio work and selling songs. I was just a music major."
She stopped, still not looking at him, as if that said it all. And in a way, it did. He knew Sutter. Even as an unknown, busking in the streets of Nashville, she'd had charisma, star power.
"Just doesn't belong in that sentence," he said softly. She'd gone to college. He barely had any school.
"I'm not Sutter," Tyler admitted. "I'm not really a musician. Not like her." Her voice was soft. Confessional.
And that statement just about broke his heart.
Too close to home for him?
"I don't believe that, Tyler," he said, taking a step farther into the studio, his eyes focused on her, not the equipment.
"And I'm not like you," she admitted, her beautiful blue eyes so guileless it was all he could do to not wrap her in his arms, as if he had comfort to offer, as if he had answers.
"Tyler," his voice cracked. "I'm not like me anymore."

Shepard Lake was in the studio with her. Never in a million years had she ever dreamed of anything so epic happening to her. And now that he'd showered and shaved so that his lean, hungry face was clean, his jaw strong and angular with a deep cleft in his chin, and his dimples visible every so often, she felt a little breathless. He was even better looking than pictures she'd seen in social media and magazines. Even hotter and more charismatic than his music videos. He was tanner. Leaner, rangier. Everything.
And she felt conscious of herself as a woman in a way she never had before.
She felt too warm and her skin too tight.
But the tone in his gravelly, deep voice reached inside of her and made her heart feel pinched and her tummy weird.
"I'm not sure what you mean." She felt so breathless. And her voice sounded higher. Did she sound like a child? Why couldn't she be confident and smooth like Sutter? Or her sister Shane who could talk to anyone about anything? She'd been a counselor before she'd inexplicably—to Tyler anyway—switched to bartending in a small Montana town called Marietta before coming back to Sweet Tea a month ago to help Dawson get Prohibition—his hotel bar—up and running.
For a moment Tyler felt he wouldn't answer. Shepard prowled around the studio, looked at the soundboard, the large closet with additional instruments in case musicians needed anything extra.
"You know what happened to me, to my career." He stopped in front of her. His whiskey-gold eyes blazed fire, and for a moment she felt a little dizzy. She felt like he was accusing her of spying on him.
"No. Yes," she said. "I mean—" she ducked her head "—I have followed your career, been a fan." Her cheeks heated, but really half of the world at a minimum knew who Shepard Lake was and, conservatively, could hum along to more than one of his number-one hits.
God she was all kinds of awkward, but he was a star. He knew it. He was used to fans gushing. But she was trying not to gush.
"And, of course, I've missed your music and wondered when you'd next release." She shut up abruptly. Not many musicians wanted to be reminded of blank spots in their careers, but Shepard Lake was a superstar. He didn't have to prove anything to anyone.
Epiphany! "Oh. That's why you've been traveling so much. Volunteering and having new experiences and hiking and camping. For inspiration."
Wow. Just wow. She would never interrupt his creative process or spy, but just to be close to such creative genius!
"Maybe you can start working on some new material in the cabin. Sutter and Dawson are used to artists working here. They won't interrupt. You'll have time to write or lay down some tracks or…" It was a little daunting how still he was.
His face and body could be carved from stone.
"I was going to make sandwiches," he said. "Paninis. Do you eat meat? Cheese? Veggies? Are you vegan?"
Tyler blinked. Well, okay. He did not want to talk about music or his career. She could understand. Her own family didn't know that she wrote her own songs and sang them only in her bedroom at night. She never recorded any of them except on her iPhone.
"Yes, to everything." She dragged her wandering mind back to the conversation. "Except vegan."
He nodded.
"You were right. The fridge is fully stocked. Preferences?"
"Surprise me," she said.
His eyes flared a little, and she felt a rush of pleasure. She wasn't totally dull and predictable.
"My pleasure," he said, not moving.
Tyler hugged her guitar a little closer almost like she needed a barrier between them.
"Okay." She stood slowly, swung the guitar to the back of her body. "I just need to return this to my room and…"
"You don't keep it here so that you can play? The acoustics are sick. I can just imagine how that riff would sound amped. I won't bother you by listening to any recording sessions you do alone or with Sutter."
Record with Sutter? She felt a little sick just thinking of it.
"I don't record," she said stiffly.
He jammed his hands in his pockets, which made the faded, distressed jeans ride lower on his hips. And now her tummy felt weird for an entirely different reason. Her breathing kicked up along with her heart.
"I like your face without the beard," she whispered, which was not what she'd meant to say and "like" was a wildly inaccurate description of her reaction to his clean-shaven jaw. "I mean…I can see you better."
Could she sound any more starstruck or dumb?
He ran his lean, tanned fingers through his hair and then jammed his hand back into his pocket. He rocked back on his bare feet. "Tyler, I think you see me too well already," he said.
"What do you mean?"
He took a bite out of one of the cookies he held, and she felt a rush of pleasure that he'd seen them and had taken a few. He smiled, looked a little shy, and then held out one to her.
"Delicious," he said. "Let's eat."
He turned and walked out. Tyler put her guitar down and then picked it up again. They were going to talk about music, right?
It was time to seize one of life's opportunities.
Tyler deliberately brushed by his body as she walked through the door. The thrill shot to her toes. Make that two opportunities. Why not? She had two hands.
Excerpt. ©Sinclair Jayne. Posted by arrangement with the publisher. All rights reserved.


Giveaway:

Copy of ebook of The Christmas Sing Off and Tule Publishing swag
To enter Giveaway: Please complete the Rafflecopter form and post a comment to this Q:

What did you think of the excerpt spotlighted here? Leave a comment with your thoughts on the book…
Meet the Author:
Sinclair has loved reading romance novels since she discovered Barbara Cartland historical romances when she was in sixth grade. By seventh grade, she was haunting the library shelves looking to fall in love over and over again with the heroes born from the imaginations of her favorite authors. After teaching writing classes and workshops to adults and teens for many years in Seattle and Portland, she returned to her first love of reading romances and became an editor for Tule Publishing last year. Sinclair lives in Oregon's wine country where she and her family own a small vineyard of Pinot Noir and where she dreams of being able to write at a desk like Jane Austen instead of in parking lots waiting for her kids to finish one of their 12,000 extracurricular activities.