In All Fired Up (Road to Love #3) by Lori Foster, Charlotte Parrish is used to being around alpha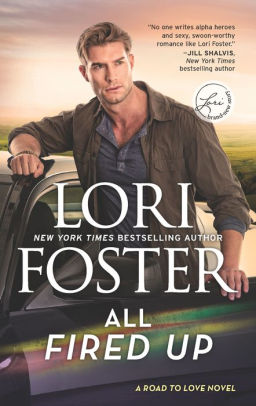 guys who mean well but who are set in their ways, seeing how she was basically raised with–and still works for–the Crews brothers, Brodie and Jack. She loves them like brothers but doesn't see herself ending up with a guy like them as The One. Somehow, though, when a man claiming to be Jack and Brodie's half brother shows up, Charlotte is instantly taken with him. Mitch proves over and over again that even though he's had a rough life, she can count on him. And her feelings grow for him every day. Can Charlotte get the handsome guy to stick around and give not only his long-lost family a chance, but a relationship between them as well?
Mitch crushed her close. "All my life, I've made a point of not wanting something that I didn't know how to get. But now I want you."
She tipped her head back to smile at him. "Seems you know how to get me."
Mitch wasn't really sure what to expect when he rolled into the small town where his half brothers live, hoping to meet them for the first time and possibly form a friendship with them. But being pulled into the tight-knit Crews family with barely a question asked was more than Mitch could have hoped for. And then there's Charlotte. She's managed to melt the heart of a distrusting ex-con like himself in no time flat. Knowing he's not the kind of man Charlotte should fall for, Mitch has thoughts of moving on after he spends time with Jack, Brodie and their terrific mom Rosalyn. But first he has to face down a bad guy from his past who tracks him down unexpectedly. And keep his new family safe in the process.
'There couldn't be a more incredible, wonderful, beautiful person in the entire world–and by some miraculous twist of fate, she was his.
Like his freedom, he would never, ever take her for granted.'
A heartfelt but exciting story of redemption, family bonds, acceptance, and of course love, All Fired Up was a wonderful addition to Lori Foster's Road to Love series.
'This family, *his* family, was completely loony, loyal to a fault, a little bloodthirsty and he loved them dearly.'
Lori Foster's books are my literary happy place. There's something about her writing voice that flows so easily and I especially love that she focuses on family, creating genuine-feeling characters. That couldn't be more true about the Crews family in this Road to Love series. They are hysterical more often than not, using humor to show affection as well as to get through the tough times. But the love they have for each other? Magical. I adored them all for how they opened their arms to our hero Mitch and included him in their family without blinking. Even though it brought danger to their door. That's just how the Crews operate.
Mitch won me over quickly–as did his sweetheart of a dog Brute!–and as much as I've loved meeting his half brothers Brodie and Jack in previous books…I don't know. Mitch might just be my favorite. His childhood was nothing short of horrible and after making one mistake which landed him in jail, he used the experience to make himself even more honorable and forthright than before. I thought it was cool that Mitch put himself out there, seeking out his half brothers to try to form a connection with them. It went a lot better than he planned, thanks to Jack and Brodie being awesome guys. But the whole thing between Mitch and Charlotte was so much fun. Let's just say that his half brothers made it difficult–in the most comical of ways–for the couple to date or have any alone time together. Sounds like real family, right? (lol)
Charlotte kind of surprised me when we got to know her better here. She's been in the previous two books of course (although you can read this as a standalone) but she was a lot more naive when it came to romance than I expected. And, honestly, I found it sweet and endearing. I had to chuckle that Charlotte was Mitch's biggest champion, cheering him on to interact with his newfound family but also pushing him to follow his dreams. Their romance might have been quite the slow burn, taking most of the story to get to the sexy parts, but given their situation with someone from Mitch's past out to get him and with Mitch learning to trust his family, it seemed realistic.
A tender yet passionate love story filled with the complications of family and even a hint of suspense, All Fired Up is sure to be a hit with readers.
Book Info:

Publication: Published November 19th 2019 | HQN Books | Road to Love #3
He's tantalizing trouble she can't resist…
Charlotte Parrish has always wanted a certain kind of man: someone responsible, settled, boring. Bad boys need not apply. But when her car leaves her stranded and a mysterious stranger with brooding eyes and a protective streak comes to her rescue, she can't deny how drawn she is to him. In town searching for family he's never met, Mitch is everything she never thought she wanted—and suddenly everything she craves.
Finding his half brothers after all these years is more than Mitch Crews has allowed himself to wish for. Finding love never even crossed his mind…until he meets Charlotte. She's sweet, warmhearted, sexier than she knows—and too damn good for an ex-con like him. But when his past comes back to haunt him, putting Charlotte—and the family he's come to care for—in danger, Mitch isn't playing by the rules. He's already surrendered his heart, but now he'll risk his life.