Today, HJ is pleased to share with you

Rebecca Jenshak's

new release: 

The Fake

Hi readers! So glad I can be here to tell you about my new release The Fake!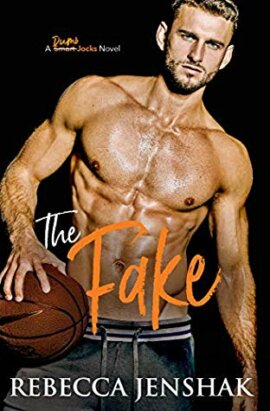 I've made a lot of dumb mistakes but none dumber than losing her.

Senior year. I should be partying and living it up with my friends before graduation, but one more mistake and I'm off the team.

Enter Chloe. She comes into my life at a low point, but she becomes the bright spot I reach for every day. She's the kind of girl who makes a guy want to be a better man. And for a while, I even start to believe I've changed enough to deserve her.

I've got my eye on the future, and I'm letting my past stay where it belongs.
But the thing about the past… it always comes back to bite you when you least expect it.
Enjoy an exclusive excerpt from The Fake 
Nathan's big hand rests on my bare leg. He's got these big, powerful, long fingers that really work for me.
"Anybody need another drink. Nathan?" Shaw asks and takes one step toward the house.
Nathan shakes his head.
Shaw gives him a confused look. "You've been milking that same beer for the last hour."
"Keeping tabs on me?" he asks and then follows it up with, "I'm not drinking much anymore."
Shaw laughs. "Riiight."
"Really?" I can't keep the surprise out of my tone. The way he drank the night we met, the tolerance, the fact he was carrying a freaking flask, I had him pegged for a total party guy.
"It's a recent development," he admits, looking a little embarrassed. Then, with a sexy smirk, he leans in. "One too many mornings waking up naked to some crazy girl kicking me out of her place."
He'd said it just to me, but Shaw must have been listening because he pipes in, "Beer goggles. I so get that, my man. I've woken up next to some real dogs. You too, huh?"
Without taking his eyes from me, Nathan shakes his head. "Nah, my beer goggles have just as perfect vision as I do."
"Awww," Sydney squeals with delight. I don't glance around but I know everyone is watching us.
I crowd his space, my chest pressed against his shoulder and my lips at his ear so to everyone else it looks like a sweet, private moment. "Laying it on a little thick, aren't we?"
He turns his head and brushes his lips against mine. "Learn to take a compliment, Chloe. I'm the type of fake boyfriend who likes to give them."
Excerpt. ©Rebecca Jenshak. Posted by arrangement with the publisher. All rights reserved.


Giveaway:

A Signed paperback of The Fake by Rebecca Jenshak. US only
To enter Giveaway: Please complete the Rafflecopter form and post a comment to this Q:

What did you think of the excerpt spotlighted here? Leave a comment with your thoughts on the book…
Meet the Author:
Rebecca Jenshak is a self-proclaimed margarita addict, college basketball fanatic, and Hallmark channel devotee. A Midwest native transplanted to the desert, she likes being outdoors (drinking on patios) and singing (in the shower) when she isn't writing books about hot guys and the girls who love them.
Stay up to date with all things Rebecca!
Newsletter: https://www.subscribepage.com/rebeccajenshaknewsletter
Website: www.rebeccajenshak.com
Amazon: https://www.amazon.com/Rebecca-Jenshak/e/B074F258NP
Bookbub: https://www.bookbub.com/authors/rebecca-jenshak
Facebook: www.facebook.com/rebeccajenshak
Facebook Group: https://www.facebook.com/groups/1523746940998401/
Instagram: www.instagram.com/rebeccajenshak