Today it is my pleasure to Welcome author
Amy Jarecki
to HJ!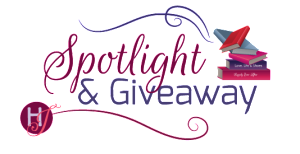 Hi Amy and welcome to HJ! We're so excited to chat with you about your new release, The Highland Rogue!

Hey! Thank you for having me. I'm super excited to be here!

Please summarize the book for the readers here: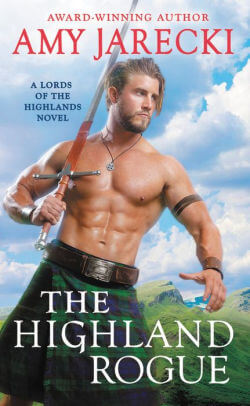 After fighting for his life, losing his ship, being thrown overboard, and washing up on the shore of a tiny island half dead, Kennan Cameron has nothing to lose and everything to prove. Thus far, the only thing that has kept him alive is his deep seated desire for revenge, until he's taken in by a strong-willed, redheaded lass who has a way of changing his priorities.

Please share your favorite line(s) or quote from this book:
Aye, he had become her heart, her courage. And she vowed to be his strength in his hour of need.

"She shivered beneath his fingertips. "Are you cold?"

"Nay," she replied, her breasts heaving—begging to be caressed, kissed, fondled, adored. Looking like a goddess, she tilted her face upward and gazed directly into his eyes.

When had she woven her way into his heart? Dipping his chin, he pulled her into his arms. "Then I aim to kiss you, lass.""
Please share a few Fun facts about this book…
This book is all about action and adventure on the high seas! It's stand-alone story, though part of a series with a Robinson Crusoe/Cinderella type heroine. It gets pretty steamy late in book. And though the hero desires paybacks, revenge, and sees duty before love, the heroine is tough and resilient and stands by him through thick and thin. You'll find a pirate theme and a hero sexy enough to wait for him to come to his senses.
What first attracts your Hero to the Heroine and vice versa?
The heroine has been stranded alone on a deserted island when the hero drags himself ashore. Though they're both pretty ragged, there's a hint of attraction between them which gradually grows stronger as the romance develops.
Did any scene have you blushing, crying or laughing while writing it? And Why?
I always have a difficult time writing love scenes, and Divana was always doing things that were entirely improper. *blushes* A wee snippet…
"Grinning like a hellcat, Divana strode toward the bed, red hair sweeping her shoulders while the shapeliest buttocks he'd ever seen swayed with her gait.

She peered over her shoulder and took ahold of the bedpost. "What about here? ""
Readers should read this book….
If they like sexy Highlander romances with plenty of action and adventure!
What are you currently working on? What other releases do you have in the works?
Right now I'm working on a contemporary romance with a football theme, sort of taking a little break from historicals. I'm thinking of self-publishing the book, titled DEFENSELESS, in late summer. I'm also excited to announce that next month I'm starting a new series set in the time of Robert the Bruce!
The Highland Rogue, the 8th book in the Lords of the Highlands series, releases on October 27th.

Thanks for blogging at HJ!
Giveaway:

One entrant will win a signed print copy of The Highland Rogue. Note: any overseas winner will receive the novel from Book Depository and a signed book plate from me to adhere inside their book.
To enter Giveaway: Please complete the Rafflecopter form and Post a comment to this Q:

What draws you to historical romance?
Excerpt from The Highland Rogue:
As she straightened, the ghostly sensation she'd felt on her neck returned full force. Gasping, she froze, her knees sinking into the sand.

A man crouched at the edge of the surf, his hands on his thighs, a dagger in one fist. Stark, bloodshot eyes stared at her while he panted through blue lips. Water dripped from his hair and clothing. Blood seeped across his stomach, spreading through the fibers of his shirt.

Clutching her shovel across her body, Divana sprang to her feet and skittered away. "Stay back!"

The man's eyes widened, though he made not a move. "Fire," he said, his blue lips quivering.

She glanced back to the bothy, smoke curling above it from the small blaze inside.

"Blanket," he said, his voice forceful and strained as he staggered closer.

"But—"

"Please," he bit out sharply, crossing his arms and shivering like seagrass bent sideways by the wind. "I-I'll nay harm you."

Divana gaped. She hadn't spoken to another soul in two years, and now a large, half-drowned, bleeding man appeared from the sea without a boat. But before she thought of something to say, the Highlander set off, weaving and stumbling toward the bothy, his back hunched, water bubbling from his woolen hose.

Gripping her shovel, she followed. Saint Columba, what ought she do? The wee shelter was her only refuge. "Stop! You mustn't go in there."

Completely ignoring her, the ragged man continued toward her home, walking like a drunkard.
Aye, it was the only place on Hyskeir one could escape the weather, though the thatch leaked and the wind whistled through the rushes—and on the coldest of winter's days, the fire did nothing to warm the tiny hovel.

She surged after him, ready to give him a good wallop. "That is me home. Mine, I say!"

The fiend didn't respond, just pushed inside through the worn sealskin shroud.

Divana stopped and stared. Good heavens, what was she to do now? Where had this barbarian come from? Why was he bleeding? Was he a pirate? By the look of him, he was half crazed. Worse, he'd barged into her home uninvited as if he owned the entire isle.

Regardless of what he'd said, what might he do to her? And why, after two years, couldn't someone arrive with a blasted boat?

She paced outside the doorway, clutching her beloved shovel.

Should I smack him atop the head? What if I hurt him? What if I killed him? What if he is a good sort? And how will I ken?

She shuddered, scarcely able to breathe. How could she hurt a man, even if he did barge into her home? She ought to at least try to ask some questions first. After all, the fellow had been wounded…but how had he sustained his injuries? What happened? Why?

What if she went inside and he tried to ravish her?

Divana's stomach turned over as she ran her fingers across her mouth.

That is me home he marched into like an overbearing brute. I ought not allow it. She pounded her shovel on the ground. I shan't be cast from me own hearth!

Divana inhaled deeply, summoned her courage, and marched through the doorway.
"Saint Columba's bones!"

The scoundrel had removed his doublet and shirt and crouched over the peat fire with his hands extended. His bare back was riddled with white scars, and a vicious wound on his shoulder bled. When he turned, it wasn't the mat of blond curls on his chest that drew her eye first. The man's well-muscled stomach had been sliced open from flank to flank. Och, he'd been through the wars for certain.

Divana clenched her shovel tightly. "Do not come near me."

His complexion green, he rubbed his trembling hands. "I need a blanket."

"Ah…" What should she do? Help him? Blast it, of course she should. Never in her life ought she turn her back on a soul in need. Not like her kin had done to her. Divana's gaze shot to her pallet and the only blanket that wasn't threadbare. "Very well, but ye cannot stay. This is me home."

Saying nothing, he swayed and dropped to his haunches. Is he sick with the fever?

"Did ye not hear me?" she asked, her fingers twisting over the worn wooden shaft.

"I'll pay…," he mumbled, his head lolling.

A man of means? Not that money would be of any use here. She tilted her chin upward and narrowed her eyes. "If ye have coin, then why have ye washed up on the beach like a lump of driftwood?"

"Pirates attacked…" A lock of his tangled hair fell over an eye. "Please. The blanket."

"Pirates?" That single word made a shiver course across her skin. Divana had heard tell about pirates pillaging and plundering the high seas. They were ruthless and savage. They were murderers.

'Tis a wonder he's alive.

Without a moment's hesitation, Divana took the coveted plaid from her pallet and held it out. "Use this, but as soon as ye've dried, ye must leave me be—"

As she handed him the blanket, he slumped to the dirt floor, his eyes closed. Worse, she spotted yet another wound—big, ugly, and bloody, looking as if a sea monster had tried to take a bite out of his thigh.

Puckered skin in the shape of an arc riddled his flesh like minced meat. Something shiny and white gleamed from one of the fissures. Leaning, Divana looked closer, then plucked away a tooth and held it up. Good Lord, this man hadn't just been set upon by pirates, he'd suffered a shark attack.

"Are ye awake?" she whispered.

When he didn't budge, she draped the blanket over him. Who was this soul? From whence had he come? Had he a good heart or bad? What horrors had he seen that had brought him to this remote isle? And now that he was there, what should she do with him?

What if he died?

Dear Holy Father, please. Not another!
Excerpt. © Reprinted by permission. All rights reserved.


Book Info:
THE DANGER TO HIS LIFE…
After a vicious attack on his ship, Sir Kennan Cameron washes ashore on a deserted Scottish island, nearly dead. But he soon finds he's not as alone as he thought. Kennan knows he can't stay, but neither can he leave the brave and bonny lass who has nursed him back to health—even if she is from a rival clan.
IS NOTHING COMPARED TO THE DANGER TO HIS HEART
Abandoned by her family, Divana Campbell is both terrified and relieved when a rugged Highlander drags himself from the surf. Trusting Kennan is her only chance for survival—and by the time they arrive at his castle, she can barely imagine life without him. But as the heir to a powerful chieftain, Kennan could never marry the likes of her.
Together, they'll brave tempests, pirates, betrayal, and ruin. But soon Kennan must decide what matters most: his thirst for vengeance or the woman who's won his heart.
Book Links: Amazon | B&N | iTunes | kobo | Google |


Meet the Author:
Known for her action-packed, passionate historical romances, Amy Jarecki has received reader and critical praise throughout her writing career. She won the prestigious 2018 RT Reviewers' Choice award for The Highland Duke and the 2016 RONE award from InD'tale Magazine for Best Time Travel for her novel Rise of a Legend. In addition, she hit Amazon's Top 100 Bestseller List and earned designation as an Amazon All Star Author. Readers also chose her Scottish historical romance, A Highland Knight's Desire, as the winning title through Amazon's Kindle Scout Program. Amy holds an MBA from Heriot-Watt University in Edinburgh, Scotland and now resides in Southwest Utah with her husband where she writes immersive historical romances.
Website | Facebook | Twitter | Instagram | GoodReads |