Today, HJ is pleased to share with you

Emma Hart's

new release: 

The Introvert's Guide to Blind Dating

Blind dating: the act in which you date a stranger and hope it's not the kid you once babysat. And try not to freak out when it's your one-night stand from two weeks ago.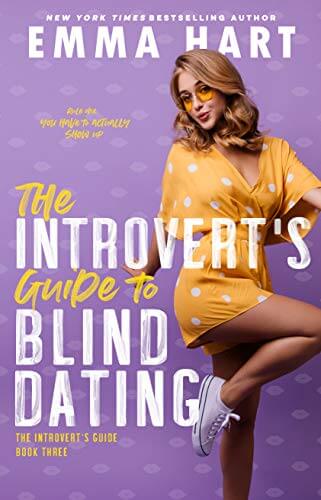 As the last woman standing, I, Piper Carter, am officially a loner.
Apparently, that means it's time for me to get out there and find myself a man. My protestations that I have no time for it falls on deaf ears and the next thing I know, I'm on a blind date with someone my best friends assure me will be perfect for me.
Maverick Donovan, the guy I, uh, know very, very well…
After one conversation that makes my disdain for this setup very clear, the superstar playboy author asks me for only one thing: my help with his research for his next novel.
Turns out, the heroine in his next hot romance is the owner of a bakery, but all his ill-fated efforts are baking is the batteries in his fire alarm.
I agree. I'll create some recipes for his leading lady, and he'll credit me and my store, giving me the recognition I need to help me on my way to franchising.
If only we didn't have to spend almost every free waking moment together to make it happen.
I don't want to give my heart to the guy with a trail of broken ones behind him, but there's a fundamental problem with that plan.
I'm pretty sure I'm doing just that…
Enjoy an exclusive excerpt from The Introvert's Guide to Blind Dating 
It was annoying that I was daydreaming about what he looked like naked.
Ugh.
Apparently, I was a whore for more than just carbs.
I was an ab whore, too.
But sit me down and slap me silly, I was all about a man who loved books.
Which meant that Maverick was danger with a capital D.
I had to come up with a way to explain to Holley why this date hadn't worked. I knew I couldn't just say he wasn't the right guy for me because we both knew he ticked all my boxes of the kind of guy I liked.
If he were anyone else, I'd consider dating him.
But he was exactly the kind of guy my ass needed to stay away from. I knew enough about him to know that he was a womanizer, the guy of guy who flitted from woman to woman, and while I myself wasn't against a lifestyle like that, I wasn't interested in dating someone who was.
Especially when that someone could write smoking hot sex scenes from a male perspective.
Why was it so much hotter to read sex in a male perspective than a female one?
Excerpt. ©Emma Hart. Posted by arrangement with the publisher. All rights reserved.


Giveaway:

5 e-copies of The Introvert's Guide to Online Dating
To enter Giveaway: Please complete the Rafflecopter form and post a comment to this Q:

What did you think of the excerpt spotlighted here? Leave a comment with your thoughts on the book…
Meet the Author:
Emma Hart is the New York Times and USA Today bestselling author of over forty novels and has been translated into several different languages.
She is a mother, wife, lover of wine, Pink Goddess, and valiant rescuer of wild baby hedgehogs.
Emma prides herself on her realistic, snarky smut, with comebacks that would make a PMS-ing teenage girl proud.
Yes, really. She's that sarcastic.
Amazon US: https://amzn.to/33u95cq
Amazon UK: https://amzn.to/34mDBEi
Apple Books: http://emmahart.pub/TIGTBD-apple
Nook: http://emmahart.pub/TIGTSD-Nook
Kobo: http://emmahart.pub/TIGTBD-kobo
TBR: https://emmahart.pub/tigtbd-gr