In Battle Royal (Palace Insiders #1) by Lucy Parker, When Sylvie Fairchild was a contestant four years ago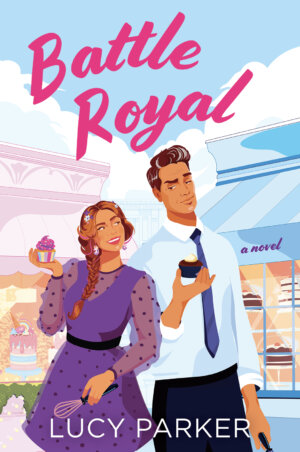 on the TV show Operation Cake, she never imagined she would score fans across England and soon be able to open her own bakery in Notting Hill. The successful launch of Sugar Fair showcases her fantastical, colorful creations. Although Sylvie's competition across the street, Dominic De Vere, is not a fan. Her former judge on the show, Dominic stands by tradition in every elegant–but bland-looking–cake De Vere's puts out. So her imaginative designs are the antithesis of all he strives for. Okay, it also doesn't help that one of Sylvie's creations on the show went badly awry, making Dominic a YouTube sensation for a while. And caused him to vote her off the program.
'That first soft touch of Dominic's mouth–why did it feel like turning the corner in the labyrinth and finally, finally seeing a glimmer of the right path?'
With a royal wedding just announced and every well-known London baker scrambling for a chance, Sylvie and Dominic both want to be at the top of the list of contenders. It gets awkward when they become rival judges on the new season of Operation Cake, again proving how different they are. Dominic can't see how Sylvie's work could ever be considered by the royal family. But he can't take for granted his family's history with them, either, considering Princess Rose isn't exactly traditional. Between their animosity soon becoming sparks of attraction, a royal mystery they both want to solve, and their pasts still creeping into their daily lives, Dominic and Sylvie have their work cut out for them. Perhaps if they team up–in more ways than one–they can both be satisfied with the end result.
"Four years ago, if someone had told me that one day I'd never find greater comfort than in the sound of your voice and the scratch of your stubble, I'd have questioned their sanity."
So lightly, so easily, she could say things that he'd never forget.
Battle Royal was romantic comedy deliciousness! And not just because of the decadent desserts our main characters created. Lucy Parker added a whole heaping amount of heart, heat–in and out of the kitchen–and hilarity to the start of her all-new series.
"No need for the jealous alpha wolf act."
Coolly, he said, "Jealousy is a destructive, pointless emotion and a complete waste of energy."
"Fairly annoying, then, that it's seeping from your pores right now?"
"Very."
Charming, witty, and offbeat, Battle Royal really seemed to have a little bit of something for just about every romance reader in it. From the yummy friction between Dominic and Sylvie to their public competition shenanigans for the royal contract to tragic family pasts and even a *couple* of threads of romance, Lucy Parker packed a lot into one story. And it all added up to be one entertaining time.
I think what surprised me most was how much I truly came to like Dominic once his standoffish Mr.-Darcy-like ways were explained. He was the epitome of a brooding hero with a good heart. As you can guess, Dominic's childhood had everything to do with his attitude and I think readers will end up loving the scenes from his POV. It was eye-opening to see Sylvie from his perspective. And I found it heartwarming how she, and others in his life, tried to help Dominic open up emotionally, finally deal with some family issues, and believe that it was okay to show affection. Parker wove in some funny, memorable moments that paired up nicely with the more emotional bits, showing Dominic (and Sylvie) in a raw but relatable way.
Sylvie was a fantastic heroine. I loved her grit and determination as well as how much she honored and cherished her "found" family she surrounded herself with at her bake shop: Sugar Fair. Speaking of that Notting Hill shop…wow! Parker's description of it brought to life a magical place that was whimsical and sweet, just like the crew Sylvie worked with. After her own personal losses early in life, her go-to became work. I thought she was shown in a genuine light–and even though it wasn't always flattering, it was real, with Sylvie making mistakes but ultimately learning valuable lessons from them.
If you love enemies to lovers romance, baking competition shows, British humor, and tragic backstories then you'll fall head over heels in love with Lucy Parker's Battle Royal.
QOTD: There's no doubt Battle Royal is a Foodie love story–with a good dash of Royal romance as well. Have you read either trope? If so, are there any that stand out to you?
 
Book Info:

Publication: Expected publication: August 17th 2021 | Avon | Palace Insiders #1
Beloved author Lucy Parker pens a delicious new romantic comedy that is a battle of whisks and wits.
Ready…
Four years ago, Sylvie Fairchild charmed the world as a contestant on the hit baking show, Operation Cake. Her ingenious, colorful creations captivated viewers and intrigued all but one of the judges, Dominic De Vere, the hottest pastry chef in London. When her glittery unicorn cake went spectacularly sideways, Dominic was quick to vote her off the show. Since then, Sylvie has managed to use her fame to help fulfill her dream of opening a bakery, Sugar Fair. The toast of Instagram, Sugar Fair has captured the attention of the Operation Cake producers…and a princess.
Set…
Dominic is His Majesty the King's favorite baker, the go-to for sweet-toothed A-List celebrities, and a veritable British institution. He's brilliant, talented, hard-working. And an icy, starchy grouch. Learning that the irksome Sylvie will be joining him on the Operation Cake judging panel is enough to make the famously dour baker even more grim. Her fantastical baking is only slightly more troublesome than the fact that he can't stop thinking about her pink-streaked hair and irrepressible dimple.
Match…
When Dominic and Sylvie learn they will be fighting for the once in a lifetime opportunity to bake a cake for the upcoming wedding of Princess Rose, the flour begins to fly as they're both determined to come out on top.
The bride adores Sylvie's quirky style. The palace wants Dominic's classic perfection.
In this royal battle, can there be room for two?