Second Chance with Her Guarded GP by Kate Hardy: It's high time life throws nurse practitioner Gemma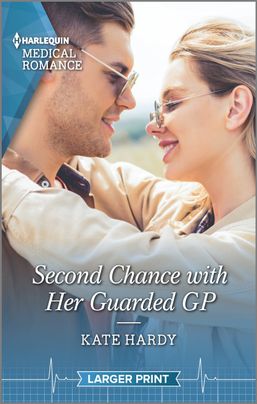 Baxter a happy ending. After having her heart and trust pushed and battered to the extreme by her own family, Gemma is now more focused of making others happy and hiding behind her happy smile. This is exactly how she finds herself smack bang in the path of the new hottie GP in town, determined to hustle Ollie Langley out a sizeable donation Gemma has her work cut out for her especially when it comes to Ollie. But with such a sizzling connection will these two finally be able to help each other stitch each other's heart back together?
I absolutely love a good medical romance and this is definitely what Hardy delivered in this cute second chance love story. Both main characters had very distinct personalities and have faced heart break in their past, I think to a large extent this is what made them connect so naturally and gosh did they have a connection!
I really liked Gemma, she had such a cheerful, happy go lucky vibe about her, granted she used this to a large extent as a shield to protect her already bruised heart but it wasn't entirely all an act. My heart really went out to her with still holding a candle for some kind of reconnect with her family even though it has been so long since everything went down.
Now for our hero Ollie, now this guy had me on the fence. On one hand I liked that he helped bring out another more real side to Gemma but he had a whole turn around in behavior which threw me for a major loop. However never fear everything works out in the end and Hardy wraps up the novel perfectly.
Overall Second Chance with Her Guarded GP was an interesting read that I would definitely recommend to romance fans, this medical romance will have you hooked right from the first chapter.
Book Info:

Publication: August 24th 2021 | Harlequin Medical Romance |
A fresh chance at happiness…
with the new doc in town?
Nurse practitioner Gemma Baxter's sunny disposition hides a heart broken by the cracks left in her family after the loss of her sister. She escapes by focusing on charity fundraising and plans on hustling new, sexy GP Ollie Langley for a donation! The reserved doc is the opposite to daredevil Gemma, who soon realizes Ollie's hiding a heartbreak of his own… Perhaps the only way to heal themselves is together?
A Twin Docs' Perfect Match novel