Today, HJ is pleased to share with you

Emma Hart's

new release: 

The Introvert's Guide to Online Dating

Online dating: the act in which you try to avoid the catfishes and D pics. And try not to get caught hooking up with your best friend's brother.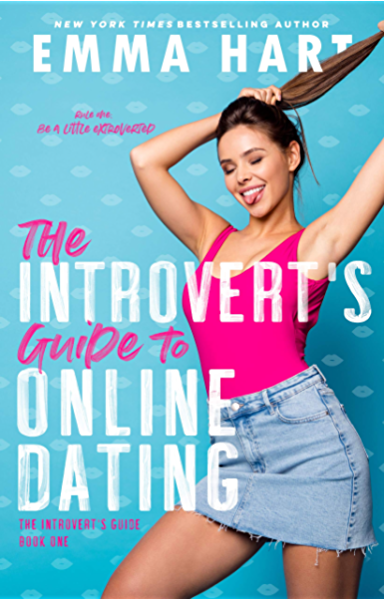 With all my best friends off the market, it's time that I, Tori Sussex, join them.
So where better to find my future husband than the internet? It's great. I can get all the awkward stuff out the way and already know if I'm going to like the guy before we meet in person.
It's a shame nothing is ever that simple.
My relationship with Colton Lane is the very definition of complicated—dirty little no-strings-attached hook-ups we've somehow managed to keep secret from all our friends for the past six months. We're bound to get caught, and if I'm serious about dating, I only have one choice.
Call it quits. End our little covert booty calls for good. Tell him that this garage is closed.
It should be easy. It should be cut and dry.
And I'm sure it would be… If only I wasn't in love with him.
Enjoy an exclusive excerpt from The Introvert's Guide to Online Dating 
"Grandma, you can't make clay penises," I hissed, reaching over to stop her molding the clay into a very lopsided replica of male genitalia.
Grandma stuck her tongue out of the corner of her mouth and expertly batted my hand away. "This was your idea."
"Yes, but I thought you'd make a bowl or a cup or a vase." I glanced down at her playing with the clay cock. "Not a penis."
"We were told to make what we know, and Rosie took the boobs. God knows why. Hers are down by her knees."
"Better than yours being by your ankles! You tuck them into your socks, you old wench!" Rosie shot back from four tables away.
"All the better to beat you with, you—"
"That's enough." Oscar stepped forward with his hands on his hips, his engagement ring glinting on the fourth finger of his left hand. "If you can't behave, you won't be taking part in the craft sessions this summer."
Grandma pouted. "But I'm working so hard."
"Agatha, your sculpture looks like the owner of the penis needs to visit the doctor."
Rosie cackled.
I took another look at Grandma's penis—there's something I never thought I'd say—and tilted my head. Oscar was not wrong. I knew what she was going for, but I was pretty sure the, uh, head, was way bulgier than it needed to be.
Yeah.
It needed a doctor.
I needed a coffee.
Shaking my head, I told her I'd be right back and escaped the craft room. It was a relatively new addition to the senior home, and had once again left us all wondering where the hell they got all their money from.
I mean, they'd just added twenty chickens.
Who the fuck needed twenty chickens?
And who was cleaning out all these birds?
I started at the sound of a long, loud crow coming from somewhere outside.
"Ah. That's Colonel Sanders."
I turned and met Stacy's eyes. "Who the hell calls a chicken Colonel Sanders?" The nurse sighed. "The same seniors who have named the hens Margaret Hatcher, Eggatha Christie, Amelia Egghart, and Yolko Ono. Not to mention Princess Laya and Hen Solo. Oh, and there's also Kelly Cluckson and Hen Stefani." She paused. "It's getting a little weird, actually."
Getting? Getting? It had gotten weird when they'd named a duck Quackie Chan, for the love of God.
Excerpt. ©Emma Hart. Posted by arrangement with the publisher. All rights reserved.
Giveaway:

5 kindle copies of The Introvert's Guide to Online Dating
To enter Giveaway: Please complete the Rafflecopter form and post a comment to this Q:

What did you think of the excerpt spotlighted here? Leave a comment with your thoughts on the book…
Meet the Author:
Emma Hart is the New York Times and USA Today bestselling author of over thirty novels and has been translated into several different languages.
She is a mother, wife, lover of wine, Pink Goddess, and valiant rescuer of wild baby hedgehogs.
Emma prides herself on her realistic, snarky smut, with comebacks that would make a PMS-ing teenage girl proud.
Yes, really. She's that sarcastic.
Amazon US: https://amzn.to/3jzZo1w
Amazon UK: https://amzn.to/30AmGNy
Apple Books: http://emmahart.pub/TIGTOD-apple
Nook: http://emmahart.pub/TIGTOD-nook
Kobo: http://emmahart.pub/TIGTOD-kobo