Tycoon's Unexpected Caribbean Fling by Ella Hayes: Joel Larsson is devastated after his engagement is broken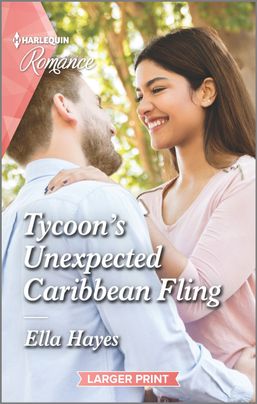 off by Astrid, who he has known forever. One of his good friends decides Joel can be helped by a trip to a private Caribbean island. Joel will have plenty of time to sail and enjoy the warm climate. He is surprised when he meets Emilie. She has taken on a short contract as a personal chef on the island.
Emilie has also run away after her long term relationship that was to lead to marriage exploded along with her share in a bistro. She is hoping this time away from home will clear her mind and let her map a different future.
Although both Joel and Emilie are still stinging from their recents hurts, they can't help being attracted to each other. Can they have a fling and move on after their time on the island?
Joel is extremely wealthy, but is portrayed as a caring man. He has had to deal with family issues, which is difficult on many levels for so many people. I liked how the author include not only his Swedish roots, but his mother being half English. The Swedish words included were a perk. It is always nice to get new perspectives. Of course, most of us know the word "Skol", especially if we have watched programs involving Vikings.
Emilie seems to have worked hard to have gotten ahead as a chef. I could feel her heartbreak knowing all her plans have been crushed. She is a determined young woman, in many ways. The reader can see she will survive in the long run.
The love story between Lars and Emilie starts out as cautious at first, but chemistry can't be denied. You want to root for them all along the way. The pacing of this tale is perfect.
This is my first novel by Ella Hayes, but I am joining her many fans.

Book Info:

Publication: April 1, 2021 | Harlequin Romance |
Is she the missing piece…
…that could fix his damaged heart?
Billionaire Joel Larsson is no stranger to the spotlight. But when his engagement implodes, all Joel wants is to get away. Cue a solo trip to a private Caribbean island! Yet, when he comes face-to-face with Emilie Clayton—Joel's far-too-beautiful personal chef—things get complicated… Joel may be tempted to open the door to a fling with Emilie—but is he strong enough to keep his heart locked away?