Today, HJ is pleased to share with you

J. Lynn Bailey's

new release: 

The Light We See

Thank you so much for having me, Sara!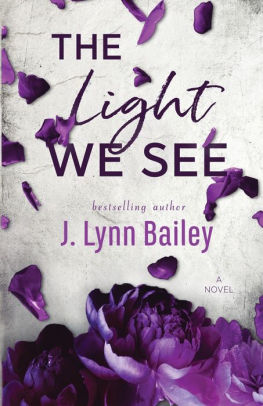 From Carpinteria, California, we left.
In Arizona, we barely spoke.
In New Mexico, I gave him a promise that I knew I couldn't keep.
In Texas, we slept under the stars.
In Oklahoma, he told me a story I wouldn't soon forget.
In Louisiana, he gave my soul a voice.
Between Arkansas and Mississippi, we took full advantage of an opportunity.
In Tennessee, I studied his face.
In Kentucky, he introduced me to his parents.
In Ohio, he found my heart.
In West Virginia, we drank whiskey and told ourselves that truths are better left untold.
In Maryland, we felt the weight of the night.
In Pennsylvania, his wife called.
And in New York, I asked myself one question:
Would he be able to let me go when it was time?
Enjoy an exclusive excerpt from The Light We See 
If you had asked me what it was like before I met Luke, I would have answered, Easier. After you read my story, you might not agree. In fact, you might get angry. You might stomp your foot. This story might break your heart, but life is full of choices we don't get to make and missed opportunities. I don't regret a single moment with Luke. Sometimes, I miss him so much that I beg myself not to pick up my phone just to hear his voice again. Make the phone call I know I'll regret come morning when the sun begins its rise again.
You might ask yourself why I did it. Sometimes, we're put in unfathomable situations, forced to make choices that eat away at us in the end. How we're able to justify the wrong, rectify the right. But this story isn't about regret; it's about living life in the present moment—at least, that's what Luke taught me. It's about forgiveness. Because in the end, when the clock begins to slow and our bodies are taken to a time that simply cannot remember, we'll know joy. Joy is the feeling we get when we set our burdens free. When we clean up our past and our souls become whole again. When we finally just let go. Luke taught me that the benefits of loving far outweigh the price we pay to allow our hearts to give, and in return, we receive something so pure, so untainted, so beautiful in the end. For, at the end of our days on this earth, it is love that sets us free.
Excerpt. ©J. Lynn Bailey. Posted by arrangement with the publisher. All rights reserved.


Giveaway:

Signed paperback of The Light We See. US only.
To enter Giveaway: Please complete the Rafflecopter form and post a comment to this Q:

What did you think of the excerpt spotlighted here? Leave a comment with your thoughts on the book…
Meet the Author:
J. Lynn is a bestselling author who hates to talk about herself. Loathes it.
More importantly, she's the mother of two beautiful children and a wife to her high school sweetheart. She's also a mother of two extremely needy cats, Leo and Vinni, and an Australian Shepherd named Grizz. She lives with her family in a small town tucked away in the redwood forest, located on California's northern coast.
J. Lynn is quite boring. But in case you're wondering, she loves coffee. A lot. If she had to live in yoga pants every single day of her life, she'd be totally fine with that. Clean sheets on Sundays, and a warm cozy towel after a hot shower are musts. PINK is her favorite color. She loves Brussels Sprouts and office supplies.
Buy links for The Light We See
Amazon: https://amzn.to/2lv2iM0
Apple Books: https://apple.co/2KqQBP5
Barnes & Noble: http://bit.ly/332qZkd
Kobo: http://bit.ly/2MARHuz