Today it is my pleasure to Welcome author
Jodi Thomas
to HJ!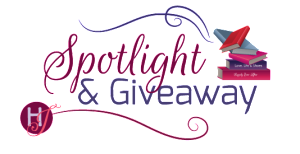 Hi Jodi and welcome to HJ! We're so excited to chat with you about your new release, The Little Teashop on Main!
Please summarize the book for the readers here: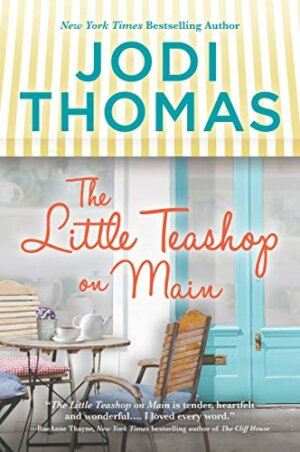 When I first thought of writing THE LITTLE TEASHOP ON MAIN, I knew it would be a story of one man, Jack, who loved three women. One is his best friend, one whom he'd grown up with sharing all the secrets of childhood, and the third he thinks will be the love of his life.
What surprised me as the book developed were all the twists and touching moments as the three women in his life become close thanks to a princess tea they have when five years old. As the years passed, the tradition became a ritual.
I had a great time traveling through all the lives filled with laughs and growing pains. The people in my books come alive to me. I hope they will also for my readers. So make yourself a cup of tea, relax and step into my home town.

Please share the opening lines of this book:
August 1988

Zoe O'Flaherty danced on the tile floor of the sunroom as if it were a grand stage. Her sunshine red hair floated like a cape as it brushed against multicolored geraniums in full, late summer bloom.
In her five-year-old mind, today was a perfect day, even if it was raining outside. The best day in her life. Better than Christmas or even Halloween.
Today, Zoe was having her first real tea party.
Please share a few Fun facts about this book…
Some say this book is about three women who share a close friendship and it is. But from the beginning I wanted to write the story of one man and how he loved three women. There are different kinds of love between a man and a woman.
My granddaughters love dressing up in old hats and boas and having tea in my little sunroom at the back of the house. From the time they were three the tea (or snack time) became a must.
Now they are 9 and 7 but they still drop their backpacks at the door and rush over to have tea.
As THE LITTLE TEA SHOP ON MAIN is releasing I'm booking teas all over the panhandle of Texas. Libraries, bunches with book clubs. It is such a relaxing thing to do in this world on the run.
Please tell us a little about the characters in your book. As you wrote your protagonist was there anything about them that surprised you?
The book opens and ends with Jack. He's a good guy who spends his life trying to understand three women.
To his neighbor, shy, timid, Emily, he's a friend. As children, Jack is her only friend. The one person a lonely little girl can talk to.
To Zoe, Jack is her first boyfriend and over the years they remain close. When high flying Zoe falls to earth, Jack is the one who she turns to.
Strong, independent Shannon is Jack's one true love. Only from high school through college and into their lives in the Air Force, the time never seems right.
I always fill my books with many people. They also have their own stories. One of those stories is Shannon's father, Mack and Zoe's mother, Alex. Both single parents, they become friends and finally lovers. Readers will love their story weaving though the book.
If your book was optioned for a movie, what scene would you use for the audition of the main characters and why?
The scene when Shannon and Jack pull off the road to wait out a storm. They are driving back to college and have been arguing. Suddenly inside the parked car they share a snow globe moment. A tender moment out of time.
What do you want people to take away from reading this book?
That friendship can be a powerful force in one's life.
I believe if you have one friend that follows you through the highs and lows of your life, you are much blessed.
What are you currently working on? What other releases do you have planned?
My new novel is set on a ranch. Three brothers run the huge ranch that functions like a small town. Each brother has his strengths and weaknesses but when trouble comes, they stand together.
A few years ago I spent a day with a rancher. We rode around in a pickup over rough ground, not roads. He explained how running a ranch worked through the seasons. I learned a great deal about what it takes to operate the ranch, but most of all I learned how he felt about the land. Ranchers don't see themselves as owning the land. They see themselves as caretakers of the land.

Thanks for blogging at HJ!
Giveaway:

Paperback copy of MORNINGS ON MAIN by Jodi Thomas (US/CAN).
To enter Giveaway: Please complete the Rafflecopter form and Post a comment to this Q:

How do you think your life has been changed due to a friendship you've had? What do you think is the most important trait you look for in a friend?
Excerpt from The Little Teashop on Main:
Shannon took long strides as she splashed through puddles of rain on her walk from the dorm to the mess hall the ca¬dets called Mitch's. She'd been on the Air Force Academy campus—eight miles north of Colorado Springs—for three months, and every day, every hour, her home in Laurel Springs seemed farther away.
In her mind, she was walking Main. Passing A Stitch in Time, where Mrs. Larady had her quilt shop, and Hidden Treasures, which was packed full of gems no one seemed to want. And the bookstore, run by a white-haired man who smelled of pipe tobacco and Old Spice. She even missed the creek that ran through town, a wild spot woven into the build¬ings that she'd been afraid of when she was small.
Somehow, walking through her hometown in her mind always grounded her. This month the leaves would be turning in her Texas town. Big oaks and wide willows along Willow Road would offer a gentle rain of color as the season changed. The hundred-year-old houses, each in a different style, al¬ways seemed to shine in fall. The road everyone called School Street where three buildings, elementary through high school, stood in a row.
Shannon missed her silent room in the house her father had bought when she was born. Her grandmother's place was three doors down. She missed her friends back in Laurel Springs.
She even missed her dad's never-ending questions. If she took a stand on anything from politics to movies, he'd make her defend it. He might not agree with many of her ideas, but he listened.
No question was off limits for Dad. Except once, when he'd asked if she'd gotten her period yet. They'd both blushed so badly they'd agreed never to talk of it again. All sex educa¬tion for her was left to the internet and friends who were as clueless as she was.
Last summer she and her two best friends laughed about being the three oldest virgins in town. A few in their senior class were pregnant or planning June weddings. But Emily, Zoe and Shannon all wanted to explore the world before they settled down to breed, as Zoe put it.
They'd planned their escape as carefully as prison lifers with shovels. Zoe would go to New York and become famous. Emily would pick a private church school as far away from her mother as possible and finally be able to breathe. Shannon would attend the academy and learn to fly. Then she'd live all over the world, and her two friends would plan trips to see her.
High school dreams, Shannon thought now. The academy, though she loved it, was ten times harder than she'd thought it would be. She woke, slipped on sweats and ran four miles, showered and started her classes with drills and more exercise sliced in between. She ended the day never done with her list.
She remembered how summer had flown by while she and her friends planned and packed and talked. Then, as the air began to cool, they drank tea in Zoe's mother's tiny apart¬ment. The Farewell Tea. The sad tea. All three agreed they'd follow their dreams and come together for their ritual. Their Farewell Teas, like the Hello Teas, would last a lifetime. They would break out of an ordinary life and fly.
"Someday," Zoe had promised, "the town will put up a billboard saying that the three of us once lived here. Extraordinary women. Best friends."
Excerpt. © Reprinted by permission. All rights reserved.


Book Info:
A rainy-day ritual—a tea party between three little girls—becomes the framework of not only their friendship, but their lives.
Redheaded, curly-haired Zoe is openhearted, kind and free-spirited, and dreams of becoming a famous actor in New York City. Shy Emily struggles with mental health but has the heart and soul of a writer. And Shannon—tall, athletic, strong—has a deep sense of loyalty that will serve her well when she heads off to military college.
As Zoe, Emily and Shannon grow into women—forging careers, following dreams and finding love—they'll learn that life doesn't always unfold the way they want it to, but through it all, the one constant is each other, and their regular tea parties. And when the unthinkable happens, the girls must come together to face the greatest test of all.
A deeply moving novel about the family that raises us, the hearts that nurture us and the great friendships that define our lives.
Book Links: Amazon | B&N | iTunes | Kobo | Google |


Meet the Author: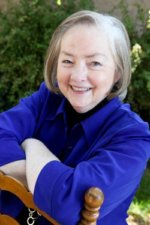 ​With millions of books in print, Jodi Thomas is both a New York Times and USA Today bestselling author of over 50 novels and countless short story collections. Her stories travel through the past and present days of Texas and draw readers from around the world.
In July 2006, Jodi was the 11th writer to be inducted into the Romance Writers of America Hall of Fame. With five RITA's to her credit, along with National Readers' Choice Awards and Booksellers' Best Awards, Thomas has proven her skill as a master storyteller.
Honored in 2002 as a Distinguished Alumni by Texas Tech University in Lubbock, Texas, Thomas also served as Writer in Residence at West Texas A&M University in Canyon, Texas.
When not working on a novel or inspiring students to pursue a writing career, Thomas enjoys traveling with her husband, renovating a historic home, and "checking up" on their grown sons and four grandchildren.
Website | Facebook | Twitter | Instagram | GoodReads |