Best Kept Secrets by Tracey S. Phillips is a thriller with lots of mystery and suspense. The characters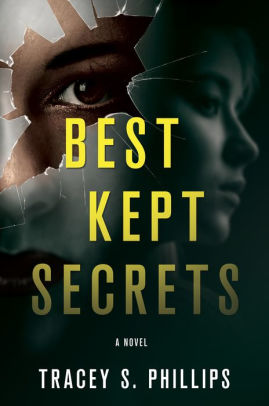 are all well developed.
Morgan Jewell's best friend Fay, disappeared and was found murdered the summer after they graduated from high school. The murderer was never found. Morgan was devastated and after getting a degree in criminology she joined the police force. Morgan has been haunted by her friend's death throughout her career. She is called to a crime scene where the murder victim has been beaten with wounds eerily similar to Fay's.
The investigation is complex and at times leads to more questions than answers. Is there a serial killer on the loose?
I didn't connect with Morgan though. She was too disorganized and frantic. I like her partner, Donnie better. He was the mellow to her harsh. He was the rational one to Morgan's crazy.
This book is written from the perspective of Morgan and one of the suspects. It also goes back and forth from the present to the past. This technique is not my favorite but it works quite well in this story. Watch out for a surprise ending!
Book Info:

Publication: October 8th 2019 | Crooked Lane Books |
Best friends tell each other everything.
Even their deepest, darkest secrets–pinky promise.
Right?
Morgan Jewell and Fay Ramsey are enjoying their last summer together before college. Fay is shy, with a controlling mother, and Morgan is the perfect, wild, loud-mouthed yang to Fay's ying. But when Fay is found dead, Morgan's entire world crumbles.
Years later, Morgan is still haunted by the abrupt end to her best friend's life. She knew Fay held a secret in those final days, but Morgan, now a homicide detective, has failed to make a picture out of the crooked puzzle pieces she left behind. Nothing makes sense. The leads have run dry. Until she's called to the scene of a murder: a woman whose body is left mangled, too similar to Fay's to ignore.
Could it be? Morgan vowed to do right by Fay. This is the case she's been waiting for to set her back on the killer's trail. But the closer she gets, the harder it forces her to confront the memories of herself and her best friend. What was her secret? What got her killed? Maybe Morgan didn't know her at all.