Today it is my pleasure to Welcome author
Kerri Maher
to HJ!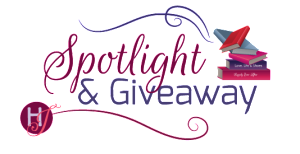 Hi Kerri and welcome to HJ! We're so excited to chat with you about your new release, The Paris Bookseller!
Please summarize the book for the readers here: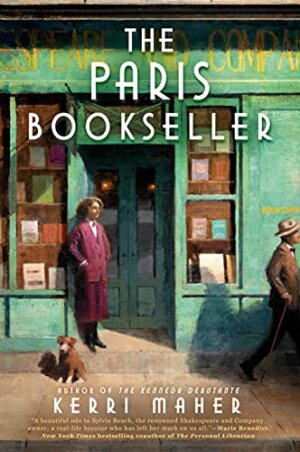 The Paris Bookseller is the story of American entrepreneur and visionary Sylvia Beach and her world-changing bookstore Shakespeare and Company, which was the home-away-from-home of the Lost Generation writers of the 1920s. As if that wasn't enough, she also published James Joyce's watershed novel Ulysses after it was convicted of obscenity and banned in a trial in New York in 1921. Sylvia and her store helped remake the post-war world through literature, and the singular and progressive life she led with her romantic and business partner Adrienne Monnier, who owned the French-language bookshop across the street from hers, looks remarkably modern to us today.

Please share the opening lines of this book:
It was hard not to feel that Paris was the place.

Sylvia had been trying to get back for fifteen years, ever since the Beach family had lived there when her father Sylvester was the pastor of the American Church in the Latin Quarter and she was a romantic teenager who couldn't get enough of Balzac or cassoulet. What she remembered most about that time, what she'd carried in her heart when her family had to return to the United States, was the sense that the French capital was brighter than any other city she'd been in or could ever be in.
Please share a few Fun facts about this book…
I am so lucky to have been able to travel to Paris in the early stages of my research for this novel, in the summer of 2019. Certainly, I could have written the book without the trip; after all, I'd been to Paris before, and the internet is a veritable treasure trove of photographs and 3-d experiences to help me envision the city.
But. Retracing Sylvia's steps up and down the rue de l'Odeon, exploring her neighborhood, eating exquisite French meals (with a good friend of mine, just like Sylvia would have done!), drinking Parisian coffee that I made in my tiny rented apartment kitchen, visiting the Rodin Museum and Sacre Coeur and the D'Orsay, and walking all over the city till my legs ached … all of that really helped me feel into what it would have been like to be Sylvia, an American who couldn't believe her luck to call Paris home.
Let's talk a little more about the apartment I stayed in because that was truly magic.
When I was looking at Airbnb for week-long rentals, I stumbled on one that called itself "James Joyce Flat." It was way out of my price range, but I couldn't resist contacting the owner, introducing myself and my novel, and asking if indeed James Joyce had stayed in the apartment, and if he had, would it be possible for me to take a quick look at the place if not stay there. Stars aligned, and we had a marvelous back and forth, in which he explained that no one knows which of the flats Joyce stayed in, but it was one of the apartments in the buildings surrounding a small private courtyard on the rue Cardinale Lemoine. Not only that, but it was the flat Joyce and his family borrowed the summer of 1921 from the French poet Valery Larbaud, a very good friend of Sylvia's! So it was a place Sylvia herself would have visited for the many years she knew Larbaud, a place she actually mentions in her memoir.
Well. At that point, I was ready to blow my budget to stay there, but fortunately, the owner lowered his price a little and I booked it. It was worth every penny. Not only was the courtyard and apartment charming and so authentically Parisian—in the way of struggling artists, nothing grand—I could quite literally feel the ghosts of the Joyce family and Larbaud. Knowing that I was walking up the same cobbled path, under the same trees, was nothing short of magical. And! A plaque told me that just one block up the street was where Ernest and Hadley Hemingway first lived when they arrived in Paris.
How could I not be inspired by all of that?
Especially when you add in the croissants.
Please tell us a little about the characters in your book. As you wrote your protagonist was there anything about them that surprised you?
Though there were many essential minor characters that were enormous fun to write, like Ernest Hemingway, Gertrude Stein, and Ezra Pound, the three main characters are Sylvia Beach, Adrienne Monnier, and James Joyce. Before I started my research, I had no idea how essential to Sylvia's life Adrienne really had been; not only did they live quite as a married couple, and very happily for many years, Adrienne's store was Sylvia's inspiration as well as her support when the going got tough. Together, La Maison des Amis des Livres and Shakespeare and Company functioned almost as one store, though they were located across the street from one another—one featuring French avant-garde writing, the other the latest and most progressive books and poetry in English. They attracted French and American intellectuals who were likewise inspired by Franco-American cross-pollination. James Joyce was an essential fixture in Sylvia's world for most of the 20s, especially when they were united in the rebellion of publishing his illegal tour de force, Ulysses. Sylvia's relationships with Adrienne and Joyce evolve in many triumphant and poignant ways, and I was always impressed by Sylvia's resilience and optimism in the face of tremendous adversity.
If your book was optioned for a movie, what scene would you use for the audition of the main characters and why?
As it happens, I am going to be a featured guest on a documentary, Remarkable Feminists, about the six amazing women behind the publication of Ulysses, including Sylvia and Adrienne (the other four of whom are also characters in my novel), and since they are casting real actors to play characters like Nora and James Joyce, I'm honestly just looking forward to seeing what they do with the material! It's produced by Jane Applegate and directed by Margaux DuPont, and it will use animation as well as experts' explanations and narrative scenes. I so am excited to see it in 2022!
What do you want people to take away from reading this book?
My wish for this novel is that it transports readers to Shakespeare and Company and reminds them of the many reasons why bookstores and libraries matter, as meeting places of neighbors and artists, as loci of literary thought, and as support networks for the act of reading itself. I hope it inspires them to venture into their towns to get books from their local booksellers and librarians who, like Sylvia, take pride in placing exactly the right book into a patron's hand, changing their lives forever.
What are you currently working on? What other releases do you have planned?
Well, since this novel covers the 1920s and early 1930s, and my first novel was set in the late 1930s and early 1940s (The Kennedy Debutante), my second mostly in the 1950s (The Girl in White Gloves: A Novel of Grace Kelly), I feel like I've kind of done the first half of the 20th century (lol – I may well return to these decades someday!). So, for my fourth historical, I'm diving into the very early 1970s with a group of women's lib activists. It's my first go at historical fiction that is not biographical, and I'm excited about it. I'll be revealing more on social media, in particular Instagram, later in 2022!

Thanks for blogging at HJ!
Giveaway:

1 print copy of THE PARIS BOOKSELLER.
To enter Giveaway: Please complete the Rafflecopter form and Post a comment to this Q: This is one of the questions I ask my guests on the [email protected], my IG Live series of short, fun interviews with writers (if you love Fiona Davis, Kate Quinn, Kimmery Martin and the like, I hope you'll check out my archive, #5at5wkm), and I'd love to know readers' answers, too: If you were to put on your Sylvia Beach hat and open your own indie bookstore, what 3 writers (living or dead) would you invite to read?
Book Info:
The dramatic story of how a humble bookseller fought against incredible odds to bring one of the most important books of the 20th century to the world in this new novel from the author of The Girl in White Gloves.
When bookish young American Sylvia Beach opens Shakespeare and Company on a quiet street in Paris in 1919, she has no idea that she and her new bookstore will change the course of literature itself.
Shakespeare and Company is more than a bookstore and lending library: Many of the prominent writers of the Lost Generation, like Ernest Hemingway, consider it a second home. It's where some of the most important literary friendships of the twentieth century are forged—none more so than the one between Irish writer James Joyce and Sylvia herself. When Joyce's controversial novel Ulysses is banned, Beach takes a massive risk and publishes it under the auspices of Shakespeare and Company.
But the success and notoriety of publishing the most infamous and influential book of the century comes with steep costs. The future of her beloved store itself is threatened when Ulysses' success brings other publishers to woo Joyce away. Her most cherished relationships are put to the test as Paris is plunged deeper into the Depression and many expatriate friends return to America. As she faces painful personal and financial crises, Sylvia—a woman who has made it her mission to honor the life-changing impact of books—must decide what Shakespeare and Company truly means to her.
Meet the Author:
Kerri Maher is the author of The Girl in White Gloves, The Kennedy Debutante, and, under the name Kerri Majors, This is Not a Writing Manual: Notes for the Young Writer in the Real World. She holds an MFA from Columbia University and was a writing professor for many years. She now writes full-time and lives with her daughter and dog in a leafy suburb west of Boston, Massachusetts. Learn more online at kerrimaher.com.
Website | Facebook | Twitter | Instagram | GoodReads |