Today it is my pleasure to Welcome author
Ruby Barrett
to HJ!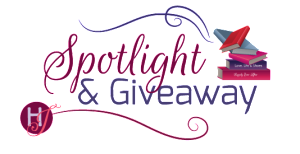 Hi Ruby and welcome to HJ! We're so excited to chat with you about your new release, The Romance Recipe!
Please summarize the book a la Twitter style for the readers here: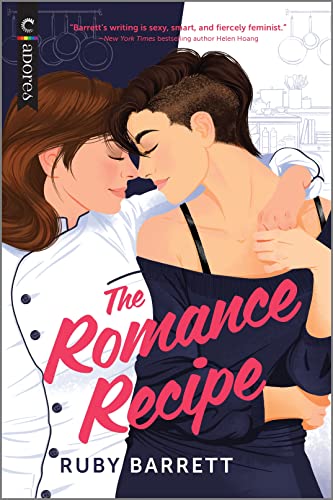 Foodies
Reality TV
The hard one (who's secretly soft)
The soft one (who's tough when necessary)
Only one walk-in freezer

Please share the opening lines of this book:
A restaurant has a certain indefinable quality on a good night. With every seat filled, it's loud. The bartenders sling drinks with panache. The front of house staff moves around each other like dancers, while the bussers are more like ghosts, slipping in and out so fast you never notice there was a table waiting to be flipped. Expo quality controls every single morsel so that the plates are always Instagram-worthy, and nobody has to wait more than twenty minutes.
Please share a few Fun facts about this book…
The book was originally titled While It's Hot.
The playlist I made for this book features songs mostly from queer or women artists, with heavy influences from King Princess and Girl In Red.
I relied heavily on my best friend, who's worked in restaurants for most of her life, for research for this book.
Sophie and I are both Canadian.
The reality TV show Amy and Sophie enter is loosely based around a now cancelled show, where a food critic visited four restaurants in different cities and provided one winner with a glowing review.
What first attracts your main characters to each other?
They don't get along well at first. They're both sad just for different reasons but they're both hard workers and that is what initially attracts them both. They work hard and they're passionate about food. This is something that keeps them grounded to each other throughout the book.

Using just 5 words, how would you describe the main characters love affair?
Supportive, complementary, heavily food based.

The First Kiss…
Forbidden, revelatory, in a kitchen.

Without revealing too much, what is your favorite scene in the book?
My favourite scene in this book is when Amy realizes she's in love with Sophie through her brother Wes's own explanation of how he knows he loves his girlfriend, Corrine (Wes and Corrine were the MCs of my debut novel, Hot Copy). Here's a snippet:
"…I don't know how I knew that I loved her. I just know that one day I woke up and I wished Mom was alive. I mean, I always wish Mom was alive but that morning I wished she was alive so she could meet her," Wes says.
I nod. My stomach hurts. "Yeah." I shrug. Of course I'd want Mom to meet Sophie.
"I know how I know I'm still in love with her though," he says. "Corrine makes me feel like a Saturday in July at Fenway. When I've had exactly one beer. And one hot dog with mustard." He gets a far-off look in his eyes. "And you're there and Jer's there and the Sox win." He shakes his head, smiling. "Yeah. That's how I know."
"Wesley," I say, my face gravely serious. I cover his hand with mine. "Never tell your girlfriend that she makes you feel like baseball, okay?"
He laughs, throwing his head back. At least three people stop to watch him be obnoxious. "What's your favorite thing in the whole world?"
"I couldn't possibly pick one favorite thing in the whole world. My favorite what? Favorite food? Favorite sport?" But even as I deny it, I can see it. Or feel it, more like. Warm sun, the green haze of my apartment in the morning. Breakfast.
"Baseball, a beer and a dog, and Fenway Park. That's my favorite thing in the whole world. Corrine makes me as happy as my very favorite thing. Happier, actually. She's like…" He rubs his chest. "Hot dogs and a sunburn and laughing and that…" He clucks his tongue in an audible imitation of a bat hitting a ball. "Crack the bat makes. She makes me feel what all those things feel like, right here."
The back of my throat burns, the first warning that I'm going to cry on this uncomfortable wooden bench in a chain restaurant. "Don't you have to go pee?" I ask, looking out the steamy coffee shop window.
He sits for a moment before he gets up, leaning across the table to kiss the top of my head, because he is a good brother despite being a little bit gross and obnoxious. He knows when to leave me to have my Emotions.
In the whole wide world, my favorite thing would be a stack of pancakes, the tinny sound of music coming from this crappy old laptop, the humidity in my apartment fogging up the windows. Maple syrup and a full stomach and all the leaves pointing toward the sun. That's what Sophie makes me feel like.
If your book was optioned for a movie, what scene would be absolutely crucial to include?
Amy's father causes a huge scene in their restaurant and normally confrontational Amy panics and freezes but Sophie comes to her rescue, setting a boundary for Amy and removing her cruel father from the restaurant. This moment is really crucial for them as a couple because Amy would consider herself the "protector", so to have Sophie play that role for her, really showed her that she can trust with Sophie and that she's safe with her. In my mind, I see her father angry and red-faced and Sophie calm and still amongst the chaos, and Amy looking at Sophie like she hangs the moon. I think that would all translate powerfully on screen. Here's a snippet:
His guests shift in their seats, avoiding my eyes. Embarrassed, even though it's him who should be ashamed, a quiet voice in a small place in my heart says. And I know it's true but when he's like this, it doesn't matter what he should be. All that matters is how mortifying it is to be his daughter. It's bad to know your father thinks so little of you; it's devastating for other people to know it, too.
Wes would never have begged him for anything but I'm mad at my poor brother nonetheless, only because in this moment, it's easier to be mad at him than at this man in front of me who's far more deserving but also more terrifying.
"You…you're…"
He shakes his head. Like he has anything to be disappointed about. "You had so much potential, Amy."
I resist the urge to smack my palm against my temple, to dislodge this hellscape dream from my brain. This is about vegetables, right? My father looks like he wants to disown me for a cruciferous veggie. Of course, that's not what it really is. He's looking for any reason to be cruel, to make himself feel better. And time after time, I let him. I open my mouth, praying for words to come.
All the things I've never said but wish I could—You're a shit dad. I never want to see you again. You don't deserve me—lie shriveled and brown like the pruned leaves of my plants.
"Mr. Chambers," Sophie says, suddenly beside me. My heart stutters somewhere near the back of my throat. She leans over the table, taking plates away and passing them to Drew and Maggie, who walk them back to the kitchen.
"Thank you so much for visiting Amy & May's. I heard this was your first visit." She's taken off her cap and stuffed it into the chest pocket of her coat, the strings hang out the top. I focus on them as they dangle. Her long, thick hair is pulled back in its usual tight bun, but a few wisps frame her face. It's probably just the lighting but right now she glows.
"Unfortunately, it will also be your last. We don't tolerate the abuse of our staff. No matter who you're related to."
Readers should read this book …
If they like foodie romance, high heat, reality TV themes, or if they enjoyed books like: Love and Other Disasters by Anita Kelly, D'Vaughn and Kris Plan A Wedding by Chencia Higgins, and The Charm Offensive by Alison Cochrun.
What are you currently working on? What other releases do you have planned?
Currently, I'm working on another queer romance! I also have an SFF romance that I hope to self-publish within the next year.
Thanks for blogging at HJ!
Giveaway:

One (1) trade paperback copy of THE ROMANCE RECIPE by Ruby Barrett (shipping is limited to continental US and Canadian mailing addresses).
To enter Giveaway: Please complete the Rafflecopter form and Post a comment to this Q:

If you had to cook one dish for your culinary hero, what would it be?
Excerpt from The Romance Recipe:
A restaurant has a certain indefinable quality on a good night. With every seat filled, it's loud. The bartenders sling drinks with panache. The front of house staff moves around each other like dancers, while the bussers are more like ghosts, slipping in and out so fast you never notice there was a table waiting to be flipped. Expo quality controls every single morsel so that the plates are always Instagram-worthy, and nobody has to wait more than twenty minutes.
A good night smells like the signature cocktail and the house special, perfectly paired.
A good night smells like money.
Tonight is not a good night.
"I'm done, Amy."
Chad throws his white chef's coat onto the hostess stand, sending a cup of pens flying and toppling the tablet displaying the seating chart off its stand. Maggie yelps, righting the tools of her hostess trade.
I cover the phone receiver with my palm. "Chad. What the— So sorry. Can you hold another moment?" I say into the phone. "You're done what?" I hiss at him.
He slaps his Sox cap onto his head. "Here. I'm done here." He rips open the front door, letting in the smell of cold and rain.
The customer on the other end of the line has hit a rhythm that seems like she did not, in fact, hold for another moment. "I don't see the problem," she says. "Give the table away," the woman says.
As if I would be having this conversation with her if there were anyone I could give the table away to. The door slams shut behind my sous-chef, and the few people who are currently in the dining room stare. Which I'm sure was his intention.
I am putty, slowly pulled apart by a line cook and absentee reservations.
"We have a twenty-four-hour cancellation policy that I reminded you of on our confirmation call," I say, my Customer Service Voice cracking under the strain of wanting to run after Chad. I sound like the Stevia version of myself, artificially sweet—and not as good as the real thing, if I do say so myself. "If you can't keep your reservation we'll have to charge you the twenty-five-dollar cancellation fee."
As if twenty-five dollars will cover the hundreds this table was probably going to spend.
The tabletop set for ten guests sits pride of place at the front of the room. Framed by the floor to ceiling window, the empty table is reflected back at me, so really it looks like twenty empty place settings. The visual equivalent of poking a finger in an open wound.
"Listen." The woman who was supposed to be here with her nine friends forty-five minutes ago drops her oops I forgot act. "We're not showing up. And your cancellation policy is nice and all but you never asked for my credit card and I'm not giving it to you so no, you can't charge me for the table anyway. But if you keep harassing me…"
I left her one message asking where she was.
"…I might be forced to leave a less than stellar review."
The worst thing restaurant owners ever did was decide that the customer is always right. Customers can be right. Sometimes. So can a broken clock twice a day. Doesn't mean I'm going to give it free food. And it certainly doesn't mean I'm going to let myself and my business, that I've spent years preparing for and countless hours building, be bullied by a no-show.
"You know what?" I turn toward the wall, hunch over the phone to spare Maggie this "do as I say, not as I do" behavior. "Leave your bad review," I hiss. "I don't give a shit. We don't need your business."
A damned lie.
She laughs like a person who wears coats made out of puppies. "Are you sure about that?" The line goes dead.
That went terribly, but the great thing about running your own restaurant is that you never have a second to stop and think about how you could have handled that better.
Or that maybe you should have listened to your head chef when she suggested taking down customer credit cards at the time of booking a reservation, for situations just like this.
Or to pee.
Or breathe through the sick feeling in your gut.
Because there's always another crisis to deal with.
I grab Chad's chef's coat and run out the door after him.
He slouches against the window of the brunch place next door, cigarette glow lighting his face. I knew he wouldn't go far. He'd want a chance to tell me his side. I dodge the crowd of umbrellas on the sidewalk, holding his coat over my head to get to him.
"What the hell." I'm breathless from that ten-foot sprint. "You're quitting in the middle of a service?"
His gaze slips away from mine and he shifts on his feet. Suspicion prickles the back of my neck.
"She's gonna be the end of this place, Ames." He waves his hand around, the ash drifting toward me. I step back. "She's all…" He throws his cigarette on the ground. "She's all show," he says in disgust.
"Why don't you come back inside and we can talk things through with Sophie?" I suggest with more artificial sweetness than I gave the no-show on the phone.
He sighs and shakes his head with a quick jerk.
Chad came with me from our old restaurant and has been with me since I first opened Amy & May's. He's been loyal and hardworking, and that's the only reason I gave him a second chance on our zero-tolerance harassment policy. But his second chance is burning up with the cherry at the tip of his cigarette.
I punch his coat into a ball and toss it at his chest. "You did it again, didn't you? I vouched for you, Chad," I hiss.
Excerpts. © Reprinted by permission. All rights reserved.


Book Info:
"Ruby Barrett's writing leaves me breathless." —Rosie Danan
A fiery restaurant owner falls for her enigmatic head chef in this charming, emotional romance
Amy Chambers: restaurant owner, micromanager, control freak.
Amy will do anything to revive her ailing restaurant, including hiring a former reality-show finalist with good connections and a lot to prove. But her hopes that Sophie's skills and celebrity status would bring her restaurant back from the brink of failure are beginning to wane…
Sophie Brunet: grump in the kitchen/sunshine in the streets, took thirty years to figure out she was queer.
Sophie just wants to cook. She doesn't want to constantly post on social media for her dead-in-the-water reality TV career, she doesn't want to deal with Amy's take-charge personality and she doesn't want to think about what her attraction to her boss might mean…
Then, an opportunity: a new foodie TV show might provide the exposure they need. An uneasy truce is fine for starters, but making their dreams come true means making some personal and painful sacrifices and soon, there's more than just the restaurant at stake.
Carina Adores is home to romantic love stories where LGBTQ+ characters find their happily-ever-afters.
Book 1: Hot Copy
Book 2: The Romance Recipe
Book Links: Amazon | B&N | iTunes | Goodreads |


Meet the Author:
Ruby writes steamy romances about big feelings.
She loves to read romance, lift weights, drink tea, watch The Office, stress bake, host overly large and elaborate meals, and cackle with her friends.
She lives in Ottawa, Canada with her tiny queen (read: daughter), and her husband (who she kisses a lot).
You can find her at www.RubyBarrett.com.
Website | Twitter | | Instagram |