Today it is my pleasure to Welcome author
Mariah Ankenman
to HJ!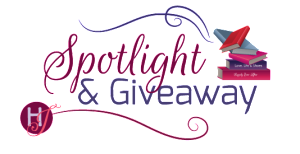 Hi Mariah and welcome to HJ! We're so excited to chat with you about your new release, The Wedding Dilemma!

Hello, book lovers!

Please summarize the book a la Twitter style for the readers here: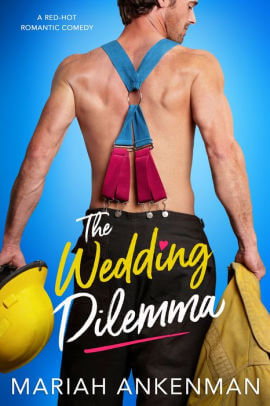 An accident-prone artist is rescued from a failed body cast art project by a sexy firefighter, only to discover he's going to be her new stepbrother! They have to help plan wedding parties together while fighting off the volcanic attraction they feel, but he's keeping a secret that could ruin everyone's happily ever after.

Please share the opening lines of this book:
"Ma'am, the fire department is on the way. Remain calm and stay on the line with me."
Tamsen Hayes clutched the cell phone tight to her ear, wincing as the movement pulled her sensitive skin.
"Thank you," she spoke into the phone, trying her best to remain as still as possible. Every slight movement caused the plaster paste that had hardened to a cement-like substance on her body to pull and tug at the skin and fine hairs covering her chest and stomach. She stared down at the offensively bright white cast covering the front of her from just below her clavicle all the way down to her belly button.
Please share a few Fun facts about this book…
The meet cute was inspired by an episode of Rescue 911 I watched way back in the 90's.
A lot of Tamsen's accidents were inspired by my real life accidents (but I'm not telling you which ones, lol).
Pub quiz is featured predominately because I used to play all the time and I miss it so I live vicariously though my characters.
I learned about passion painting in college and always wanted to put it in a book. I knew Tamsen was the perfect character to bring my idea to life.
The trivia bar they go to is a mash up of two of my favorite pub quiz bars in Denver.
What first attracts your Hero to the Heroine and vice versa?
Parker saves Tamsen from another artist disaster with professionalism and kindness. Plus, he's a hot firefighter, what's not to love!
Tamsen is a bright burst of energetic sunshine that Parker can't seem to stop smiling around. She has this air of happiness around her that just draws him in.

Using just 5 words, how would you describe Hero and Heroine's love affair?
Forbidden, fun, falling in love.

The First Kiss…
"Tamsen," he growled out a warning, but she ignored it, making the tiny motion again. He grabbed her hips, meaning to put some distance between them, but instead he pulled her tighter, ground himself closer.
"Parker," she moaned his name, gaze hazy with lust as she stared up at him. "Kiss me."
Hell, he couldn't fight this anymore.
He dipped his head, lips crashing down on hers. It wasn't a gentle kiss. It was hot and raw and so damn good, it nearly blew his head off. He felt her arms snake around his neck, fingers digging into his hair. Her touch was electric. Every bit of him felt alive in a way he never had before.
Without revealing too much, what is your favorite scene in the book?
The Passion Painting scene, for sure. Here's a tiny snippet of it:
She opened two of the paint jars, red and a deep teal color. Dipping her brush in the red, she brought it to his chest and swiped the brush over his nipple and down his stomach. The soft touch of the bristle felt like a charged wire, electrifying his skin. There didn't seem to be any rhyme or reason to her brush stroke, so he reached over and dipped his brush in the teal, repeating her movement. He circled her nipple with the color, swirling the brush around her breast and down to her belly button.
Tamsen tipped her head back and let out a throaty moan. Unable to hold it off any longer, Parker grasped the back of her neck, crushing his lips to hers, tasting the sweetness of her mouth. It was even better than he remembered. Her lips were soft and warm. He drank in the sweetness of them, the absolute decadence, each brush of her mouth against his stoking the fire raging within.
He wanted more, and at the same time, he simply wanted this. Hours of kissing Tamsen. Feeling her melt into him as their mouths learned each other's. She kissed him back, her tongue brushing against his with the same erotic stroke her paintbrush had done to his body.
After a moment, she pulled back, dipping her brush again and once more painting him with a sensual care he never imagined an art instrument could achieve. And so it went, stroke for stroke, color upon color, until their bodies were covered in swipes of vibrancy.
"Now what?" he asked as Tamsen set her brush back on the table with the box and paints.
She lifted the strip of condoms, ripping one off and opening the foil packet. "Now comes the fun part."
His smile grew. "So far, it's all been fun."
"I agree."
If your book was optioned for a movie, what scene would be absolutely crucial to include?
The meet cute, or meet disaster as I like to call it. It set's the tone for the whole story:
He stepped forward. "Ms. Hayes?"
Hello, handsome! The firefighter knelt in front of her. She nodded, because she couldn't form words at the moment. She stared into the most beautiful brown eyes she'd ever seen, so pale they almost looked golden. His brown hair was short and slightly mussed. Not in an unkempt way, but in that charming roguish way men managed to pull off. He had a long blade of a nose and a sharply cut jawline, but his lips were curved in the most charming smile. A smile that made her heart race while at the same time putting her nerves at ease. It would be just her luck to have the sexiest firefighter in all of Colorado see her at her most embarrassing moment.
Fan-freaking-tastic.
"I'm Kincaid. How are you doing?"
"I've been better," she said, finally regaining her composure and finding her voice.
Kincaid let out a small laugh, the sound enveloping her like a warm, cozy blanket. Wow. If firefighting ever fell through, the guy could make a fortune with his own ASMR channel.
"Why don't you tell us what happened?"
Did she have to? She really, really didn't want to admit to her own foolishness. Especially not in front of her personal fantasy come to life. Scratch that. If this were her fantasy, she and Kincaid would be on a private beach with cold drinks in their hands and nothing but the warmth of the sun on their skin.
Readers should read this book …
If you're looking for a laugh-out-loud, steamy read that will have you falling love then The Wedding Dilemma is the book for you!
What are you currently working on? What other releases do you have planned?
Currently I'm working on books 2 and 3 of the Mile High Firefighter series. O'Neil's story is coming up next followed by the third book which will feature everyone's favorite firehouse duo, Ward and Díaz.
Thanks for blogging at HJ!
Giveaway:

$20 e-gift card to The Ripped Bodice Bookstore
To enter Giveaway: Please complete the Rafflecopter form and Post a comment to this Q:

Would you rather be rescued from an embarrassing moment by a sexy firefighter, but have it caught on tape and go viral on social media? or Be rescued from an embarrassing moment by your friend who is sworn to secrecy, but now you have to do their laundry for an entire year?
Excerpt from The Wedding Dilemma:
As she moved through the small throng of people and tables, the person in the chair to her right suddenly pushed back to stand. She quickly pivoted to her left to avoid collision but ended up hitting a solid brick wall. The drinks in her hands sloshed, threatening to spill the delicious alcohol
meant to help them unwind from a hard day, but years of working in the fast-paced world of serving kicked in. A little shuffle and clever balancing and the liquid righted in the glasses. Only a small drop spilled over the side of her drink and rolled down the glass.
"Impressive, Tamsen."
Uh oh. She knew that deep, rumbly voice. She turned to the brick wall, which turned out not to be a brick wall at all but the very hard chest of one Parker Kincaid.
What the hell is he doing here?
"Parker! What are you doing here?"
He smiled, the sight making her thighs clench together. "Same thing as you, I imagine. Drinking and pub quiz." "You do pub quiz?"
"Yup. The crew from the station goes every week." He motioned to a table full of buff-looking men and women. "At least those of us not on shift."
Well, this was just perfect. Here she'd been looking forward to a night out with friends to get her mind off the very man who just happened to be standing right in front of her. What the hell had she done to karma lately for it to be such a bitch to her?
"Oh, that's nice. Yeah, my friends and I go every week, too."
He cocked his head. "Huh, I don't remember seeing you here before."
"Oh, that's because we used to go to Cap Hill, but then it closed down and we've been hitting up all the different bars trying to find the right fit. It's hard because a lot of us work odd schedules, and finding a night that works for all of us is tricky. We've been doing it for over a year now and, not to brag, but we're really good, so we don't break up the team, and my roommate Cora found this place that holds trivia the same night Cap Hill used to, so it works out for everyone and…"
She trailed off when she noticed Parker's wide grin as he stared at her.
"And I rambled again. Sorry. I tend to do that when I get nervous."
Curiosity lit his eyes. "Do I make you nervous, Tamsen?"
"No," she lied through her teeth. "I just feel bad because I've been too busy to text you about getting together to plan our parents' party."
He frowned at the mention of the dual wedding shower they were supposed to plan together. Jeez, what was this guy's issue with weddings? Maybe he was just weirded out by his mom getting married again. She'd admit it felt a bit strange to her, too, because she'd only known her father as a single man, but she was happy for him. Wasn't Parker happy for his mother?
"It's been one day, Tamsen." He pasted that carefree smile back on his face. "I think you're off the hook, etiquette-wise."
"I hope your team is prepared to get their butts kicked tonight," she teased because she really didn't want to talk about their parents, weddings, party planning, or anything that reminded her how off-limits this man was to her.
His tongue came out to graze along his top teeth, and she had to hunch her shoulders, hoping her nipples weren't poking through her top. Good grief! One tiny glimpse of the man's tongue and they were harder than diamonds. Perfect little turkey timers. Ding, ding! She was ready.
"Your team is that good?" he asked.
Dragging her thoughts away from the dirty, dirty gutter they were rolling around in, she lifted her chin. "The Lumbersnacks held the winning streak at Cap Hill for six months straight."
He rocked back on his heels, shaking his head. "I'm sorry, did you say The Lumbersnacks?"
"Yeah." She pointed to her shirt then indicated the table where all her friends sat. Staring at her and Parker with rapt attention, not even trying to hide their nosiness. That was going to be fun when she got to the table.
"Are you all woodworkers or something?"
She shook her head. "No, we thought we'd capitalize on the hipster culture with a funny pun. What's your team called?"
"Most Extinguished."
She laughed. Of course it was. "I get it, because you're all firefighters."
He tapped the end of her nose with a finger. "You got it."
The simple touch sent a zing of electricity straight through her body all the way down to her good parts. If they ever touched in the way she fantasized, in the ways they did in her dreams, they'd start a fire even he and all the Most Extinguished members couldn't put out.
"Well, I…um…better get over there."
He nodded, winking as she moved to leave. "May the best team win."
"Don't worry, we will."
His laughter followed her all the way back to her table where, judging by the eager expressions on her friends' faces, she was about to suffer the inquisition of The Lumbersnacks. Oh boy. Tamsen set down Cora's drink and took a healthy gulp of her own as she sat, five sets of curious eyes all on her. She swore she could feel a sixth, and when she turned her head, sure enough, there sat Parker, across the room, his hot gaze trained on her. When he saw her looking,
he lifted his own drink and… Winked.
Her entire core tightened, and she took another drink to cool off the suddenly skyrocketing temperature in her body.
This was going to be a very long night.
Excerpts. © Reprinted by permission. All rights reserved.


Book Info:
My life has always been pretty predictable. Run into burning buildings, save those in distress, be a hero. Shoot the shit with my fireman buddies, come home, and do it all again tomorrow. Little did I know that a random SOS call from a woman stuck in a plaster cast with nothing underneath (I swear I only caught a flash of her smokin'-hot body) would throw me for a complete loop.
Until I see the flighty artist again. At my mom's engagement party. To her dad.
Suddenly the unpredictable woman I couldn't stop thinking about is my soon-to-be-stepsister. Yeah, the same one I mortified when I accidentally saw her a tiny bit naked. This should make family gatherings way more interesting.
Except when your mom's as loaded as mine is, you can never fully let your guard down when a guy comes sniffing around. So I can't help but be suspicious, even though his daughter's the perfect blend of beautiful and wild. The more time we spend together, prepping for our parents' wedding, I start to wonder if there's nothing wrong with having a little bit of fun in the meantime. But if she knew I was investigating her dad on the side, she would never forgive me…
Book Links: Amazon | B&N | iTunes | Goodreads |


Meet the Author:
Bestselling author Mariah Ankenman lives in the beautiful Rocky Mountains with her two rambunctious daughters and loving husband who provides ample inspiration for her heart-stopping heroes.
Mariah loves to lose herself in a world of words. Her favorite thing about writing is when she can make someone's day a little brighter with one of her books. To learn more about Mariah and her books, follow her on social media or sign up for her newsletter.
Website | Facebook | Twitter | | Instagram |