Today, HJ is pleased to share with you

Sonali Dev's

new release: 

The Wedding Setup

From USA Today bestselling author Sonali Dev comes a heartfelt short story about one woman's journey of self-discovery and what it means to be happy.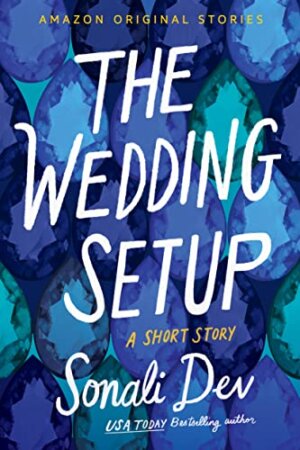 Ayesha Shetty lost her brother seven years ago, the same time she lost everything else important to her: her dreams, her fierce independence, and the man she loved. Not wanting to see her mother hurt anymore, she put her wild self away and became the dutiful daughter her mother needed and took on her brother's role in the family business.
Now her best friend's big, fat Indian wedding is a chance to get away from her endless duties at the restaurant and maybe even have some fun (if she remembers how). But a setup arranged by her mother, with a doctor no less, is the last thing she needs. The fact that he checks all her mother's boxes just makes everything better…and worse.
Then Emmitt Hughes shows up. Her brother's best friend. The love she once chose over family duties and her responsibilities. The one she asked to leave, and who did. The one who knows the real Ayesha. Torn between a love from the past that could cost her the only person she has left and her sense of obligation to her mother, will Ayesha find the strength to stop thinking about what everyone else wants and finally put herself first? Or is the old Ayesha truly gone for good?
Enjoy an exclusive excerpt from The Wedding Setup 
She stepped away from him. "Why are you here,Emmitt?" She hadn't meant for the question to slip out.

"It's Bela and Eddie's wedding," he answered simply.

Bela and Emmitt had always loved each other. The summer that Emmitt and Ayesha had finally gotten together, right after she'd graduated high school and he'd graduated college, the most beautiful summer of Ayesha's life, Bela had convinced her parents to let Emmitt stay in their basement.

Emmitt's father had moved back to California, and there had been nowhere for Emmitt to live while he worked at Mangalore Stew with Ajay before they both headed off to grad school.

"I wish you hadn't come," she wanted to say, but his eyes were too vulnerable, too filled with seeing her again, and she couldn't.

Turning away from the seismic pull of him, she shoved down everything that had tunneled up from the deepest parts of her and returned to the backyard.

Music blasted out of speakers strategically placed to make conversation impossible. "No thinking. Only dancing," Bela had decreed.

Excellent plan, Bela!

"There she is!" Sarita Auntie, Bela's mother, said as she rushed at Ayesha. Her silk palazzo pants and flowy kurta were covered in so much gold sequin that you could barely decipher the purple beneath it.

Behind her came a gaggle of aunties, all in variously colored ghagras and saris, all apparently participants in an all-out sequin war.

"How beautiful she looks!" the auntie who was clearly winning the sequin war said as she pulled Ayesha into a hug. The others followed, swallowing Ayesha up in clouds of Estée Lauder and Chanel, air kisses, and voluptuous compliments.

The Tragic Shetty Girl was out in public, and they were committed to supporting her.

Then Emmitt stepped out into the yard, and Sarita Auntie let out a gasp. "Amit! Beta! When did you get here?" She pulled him into a hug and winked at Ayesha. "I mean Emmitt. Ehm-mitt. Sorry, sometimes your uncle rubs off on me. Oh ho. See, all this wedding excitement has made my brain go phut." She made a splattering action with her hands. "Ayesha, there's someone I want you to meet." She spun around."Where is he? Ladies, did we lose Dr. Samrat?"

And just like that, a hunt was launched. A game of telephone commenced, messages passing from guest to guest in search of the doctor. Tall, thin, dark skinned . . . or maybe fair skinned, with a mustache . . . or maybe no mustache. Glasses . . . did he have glasses? How tall was he again?

"They're trying to set you up with someone named 'Some Rat'?" Emmitt said, and Ayesha turned, meaning to glare at him.

He wasn't wrong. It was pronounced "Some-raat." And now she had to deal with the visual of a rat in scrubs. Groan.

"Hilarious, Amit!" she said. How did he even know it was a setup? Before she could ask, Bela's dad hurried up to them.

"How can your auntie lose a grown man?" he asked. "I've tried a few times, and I can't seem to wander off even for a moment." He was carrying a crate of wine that looked heavy.

Emmitt took it from him. "Where do you want it?"

"These need to go back down to the cellar."

"The cellar," both Ayesha and Emmitt said together.

Heat rose up Ayesha's face even as Emmitt's neck flushed under his collar.

"Yes, you both know the cellar in the basement." Raj Uncle looked confused. "Do you remember where it is?"

Emmitt cleared his throat and nodded, words obviously eluding him.

Of course he knew where the cellar was. They both did. They knew it quite well, actually. It was where Emmitt had first kissed her. More accurately, it was where she had first kissed him. Smashed her lips into his, almost cracking their teeth in her artless enthusiasm. But he'd turned it into something beautiful. He'd always turned all her messy, impulsive, unfettered emotion into something beautiful.

Raj Uncle snapped his fingers between them. Ayesha blinked. Emmitt swallowed.

"Ayesha, do you want to go down and show Amit where it is? In case he's forgotten."

"No!" Ayesha stepped back. The last thing she needed was to go anywhere near that cellar with him. "He hasn't forgotten."

Bela's dad shook his head as though she were a prized doofus. Was everyone a matchmaker now? And had he not received the memo about who the intended match was?

"She's right," Emmitt said. "How could I forget anything about your home after your generosity, Dr. Gupte?" With that, he headed into the house.

"Make sure you prop the door open when you go inside. That door locks you in otherwise," Raj Uncle called after him, then turned to Ayesha. "I suppose you're going to go off in search of this gynecologist now?"

Ayesha nodded. "We can't just let him be lost. Aren't you worried something might have happened to him?"

Bela's dad, who'd taken Ayesha with Bela and him to all the father-daughter dances after her father died, patted Ayesha's cheek. "He's not the one I'm worried about."
Excerpt. ©Sonali Dev. Posted by arrangement with the publisher. All rights reserved.


Giveaway:

Digital copy of THE WEDDING SETUP by Sonali Dev
To enter Giveaway: Please complete the Rafflecopter form and post a comment to this Q:

What did you think of the excerpt spotlighted here? Leave a comment with your thoughts on the book…
Meet the Author:
USA Today bestselling author Sonali Dev writes Bollywood-style love stories that explore universal issues. Her novels have been named best books of the year by Library Journal, NPR, the Washington Post, and Kirkus Reviews. She has won numerous accolades, including the American Library Association's award for best romance, the RT Reviewers' Choice Award for best contemporary romance, and multiple RT Seals of Excellence; has been a RITA finalist; and has been listed for the Dublin Literary Award. Shelf Awareness calls her "not only one of the best but one of the bravest romance novelists working today." She lives in Chicagoland with her husband, two visiting adult children, and the world's most perfect dog.
Buy Link: https://amzn.to/3pWDqM8