The Italian's Bargain for His Bride by Chantelle Shaw is a fast paced marriage of convenience adventure which has edgy drama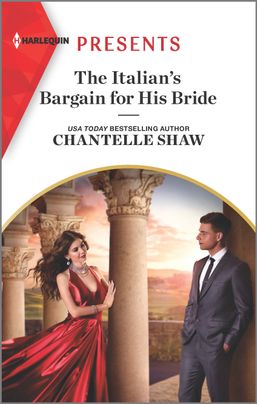 and dastardly family in the background chasing the heroine's millions to enhance the rocky road of love for Daniele and Paloma.
When Paloma's beloved Grandfather dies, Daniele is in hot pursuit to track her down before Paloma's dodgy uncle convinces the board that she is unworthy to take over her Grandfathers empire. Thinking he'll find her in some resort he's shocked when he's sent on an all out rescue mission when Paloma's been kidnapped by the gangs in the third world country she's voluntary teaching. But all is not as it seems and Daniele suspects there's more to Paloma's kidnapping than meets the eye.
In amongst the drama of Daniele uncovering the truth is a beautiful story of family dynasties and loyalties. Paloma has always had feelings for Daniele but is doubtful two failed marriages would be helpful to convince the board of her competency. Daniele is convinced their marriage of convenience will be successful and not a failure like her first marriage. There is something in it for both of them and at the same time Daniele can protect Paloma while she becomes of age to inherit the family empire.
I really enjoyed this story and I would have given it 5 glowing stars but I couldn't quite get past the age difference. I wish Paloma was a little older. That's a personal feeling and doesn't detract from the story or the romance. I thought Daniele was an exceptional Presents Hero. Paloma was enjoyable and I loved her refreshing outlook and no holds barred attitude. The fact they were both attracted to each other for sometime helped build the foundations to them falling in love and I thoroughly enjoyed the ride. Daniele also has family troubles and I really enjoyed how the author resolved that.
Absolutely adored this story.
Book Info:

Publication: Jan 22 | Harlequin Presents |
New bride Paloma Morante can't ignore the pull of attraction to Daniele Barado. She also can't ignore the shame of his one-time rejection or that she had to agree to his convenient terms…
Self-made tycoon Daniele will protect Paloma from her uncle's plan to steal her inheritance. In return, he'll gain the social standing he lost when his aristocratic mother abandoned him. Their vows are for show. But the heat that ignites behind the closed doors of their Tuscan palazzo is definitely, wildly, not!