Today, HJ is pleased to share with you

Daniella Brodsky's

new release: 

To Love

Hello Readers! OMG. You are not going to believe the chemistry between Aiden and Oliva in TO LOVE! Fake relationships are so much fun.
I'm a reader as much as I'm a writer, and when the action takes on a life of it's own and I'm just as surprised as anyone to see what Aiden and Olivia get up to when they're thrown into the increasingly stressful position of being in a very public fake relationship . . . well, you know I've got a ripper on my hands.

And this one's got attraction, conflict and a very satisfying HEA to boot. One-click this baby NOW!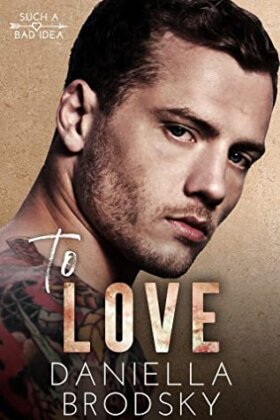 Don't ask how I ever agreed to be his fake girlfriend…
And then fiancée…
But from our very first kiss the line between real and fake is fuzzy at best.
The first time I saw him, another woman threw a drink in his face.
That should have been a sign.
As if I needed another one, he also turns out to be my boss.
But he made me an offer I couldn't refuse.
How hard can it be to fake it, especially when it feels like we're not faking at all?
I can do anything for three weeks, right?
It's not like I'm going to let myself fall in love with a man
who's been officially named Sydney's Most Wicked Billionaire Playboy.
No matter how many times he winds up in my bed.
Then we tell each other our real reasons for the sham.
And it becomes impossible to pretend I'm pretending.
Confused? Try being me.
Especially when Aiden looks at me like I'm the only woman in the world, his strong muscles looking divine and his fingers working their magic as they trace my curves.
Enjoy an exclusive excerpt from To Love 
Mine is a story as old as the hills: girl meets boy. Boy brings girl as far across the globe as physically possible. Boy screws secretary on first week cohabitating with freshly emigrated girl. Girl sells all man's belongings for one dollar on e-bay and finds herself Down Under with no friends, no family and no will to confess to the hole she's made for herself.

Thankfully, I have a job. A very good job. Best one I've ever had. I'm a data geek. As a marketing research analyst, I look at all the facts and figures before big decisions are made, so that there are no mistakes.

Yes, the irony is not lost on me.

But Corey had the badboy hair, the stupidly perfect washboard abs, the Australian accent that had an effect on this small-town American girl, and he was the smartest guy I'd ever met. How was I to know he'd use it for evil?

I trusted people. This was my kryptonite. But that ship has sailed.

"Another champagne?" the bartender asks.

I nod, trying to discreetly wipe my buffalo wing sauced mouth with a serviette, AKA a napkin.

I have eaten all but three chips, which are called French Fries back in New York. I swipe all three of them in two fingers and down them with the dregs of my champagne, as Steve, the bartender delicately places a fresh flute of bubbles in front of me.

I'm emotional eating. I'm not above admitting it. And it makes zero sense, since I just suffered through the kind of spin class that hurt so bad five people left early. But I didn't. I fucking stayed. Just so I could binge on 2000 calories, or however many kilojoules.

The fat spike did improve my mood for a minute. But it's starting to dip again with a sip of the second champagne, which, despite initial appearances, is nearly flat. I let the liquid pool on my tongue and crane my neck to see what's going on in this hotel, which we would call a bar back home.

It's pretty packed for a Wednesday at 8pm, but they're airing the footy game starring the local team, which half the guys are wearing the lime green jerseys in support of, so it makes sense.
There're a lot of group chants: no! and bloody useless! and come on, mate! And I'm starting to smile at it, the culture of my neighbors in my new home, when one scream drowns out the rest.

"Never again!" It's a woman's voice. And it's coming from a table at the far corner under one of the large televisions suspended from the ceiling. Since many eyes are already focused that way, we all witness as the tall, thin, whisp of a woman stands, her chair screeching, and picks up a glass of water and splashes it in the face of the man sitting opposite her.

Now everyone applauds and there's a fair amount of laughter. Good on ya, lass! and a bunch of wolf-whistles accompany the woman's exit before everyone goes back to a clearly contentious call in the match.

Except me.

The guy is mopping water from his face and expensive-looking shirt with a bunch of serviettes. My first thought is, I'm sure he deserved it. He doesn't seem too phased by the woman's departure. He's certainly not going after her, nor is he disputing whatever she must have accused him of.

He's stupidly hot. Like the kind of bloke who could steal a girl away from any of the Hemsworth brothers without even trying.

He catches me looking and flashes a lopsided smile that is less asshole-ish than it should be, given the situation.

I watch as he makes his way to the bar and takes the seat alongside me.
Excerpt. ©Daniella Brodsky. Posted by arrangement with the publisher. All rights reserved.


Giveaway:

Two paperbacks of TO LOVE shipped to winners from amazon
To enter Giveaway: Please complete the Rafflecopter form and post a comment to this Q:

What did you think of the excerpt spotlighted here? Leave a comment with your thoughts on the book…
Meet the Author:
Daniella Brodsky is the bestselling author of a dozen contemporary romance novels–one of which has been adapted by Disney as the film, Beauty & The Briefcase, starring Hilary Duff (I know, right?!).
She writes sexy, swoony romance with hot alphas, which often takes readers into far-off destinations. This is because she's lived all over the world, from New York to London to Sydney and Honolulu. She lives in Australia, and lots of her alpha males are Australian because let's face it: they're hot. And the accent doesn't hurt either. That's why she married one.
Daniella is an adjunct Creative Writing Lecturer at James Cook University and edits and teaches fiction craft at her Captain Cook Studio. A native New Yorker, she lives in Canberra, Australia, with her husband, two daughters, and a beagle who has eaten so many things she shouldn't have, she's lucky to be alive. Stop by and say hello at her facebook page at https://bit.ly/2MUr0RC.


Book Info:
This is a Fake Fiancé, Billionaire Romance with a very emotional HEA, featuring a smokin' hot Aussie billionaire and the down-on-her-luck fake fiancée who just might be everything he's ever wanted! 1-Click NOW.
Don't miss out on this hot-as-hell series full of billionaires, pretend boyfriends, enemies-to-lovers twists and turns and hot-as-hell forbidden romance! The Such a Bad Idea series can be read in any order and introduces readers to the drop-dead gorgeous Wheatley Brothers, who feature in all three books.
SUCH A BAD IDEA SERIES
BOOK 1: TO LOVE: Fake romance
BOOK 2: TO WANT: Enemies to lovers
BOOK 3: TO DESIRE: Forbidden relationship
One-Click TO LOVE Now!
AMAZON US: https://amzn.to/31SlJRF
AMAZON UK: https://amzn.to/31TvT4I
AMAZON AU: https://amzn.to/2EXneF9
AMAZON CA: https://amzn.to/31XAenv