A Princess for Christmas by Jenny Holiday: For most people Christmas is a happy joyful time to be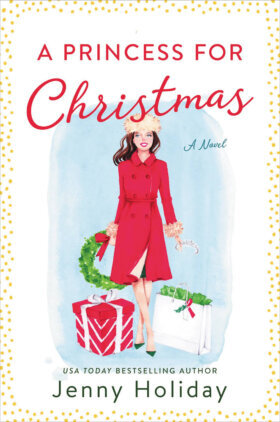 with family and just chill, well that's not the case for these two very different individuals, but it is exactly these differences that bring this unlikely pair together. Leo Ricci is just trying to keep his head above water, to say that he is finding these uncharted waters as pseudo dad to his younger sister hard would most definitely be an understatement. After the untimely death of both their parents a few years ago during the Christmas period, Leo has stepped in to care for his younger sister Gabby, but easy it hasn't been which has prompted Leo to get creative with his ways to get his sister to talk to him. It is one of these car ride chat sessions that led Leo and Gabby to stumble upon Marie.
"I am entirely in earnest. And there's a Cocoa Ball in the evening—though that's not for children."She wasn't sure why she added that qualifier. It wasn't as if Gabby, whose eyes had grown comically wide, would be around to be told she couldn't attend the ball. "Oh my god, you are from a fake Hallmark country,"Leo deadpanned.
Princess Marie of Eldovia has her hands full, not only is she trying to bring her father out of his depression after the death of her mother but she is also trying to save their country's watch empire. Which is what lead her to New York just before Christmas, with the mission to sweet talk on of her country's biggest buyer's not to cut his order by half, Marie has her work set out for her more so now that the car company that was supposed to chauffeur her to the harbor is a no show. Which only prompts Marie to do the most unprincess like thing, try to hail a cab.
"And there it was. Those arms. Stepping into them was like lowering herself into a thermal spring in the mountains. Warmth where there had been cold, relief where there had been tension."
With his sister insisting they stop to help the princess and his own weakness for helping damsels in distress, Leo pulls up to see if the girl needs any help, which much Leo's surprise she just hops into the cab and rattles of her destination in a rather snooty manner. As it would turn out the bossy little miss is actually a real life princess, and I need for a driver. The two strike up a deal for Leo to drive her around to all her appointments over the next few days, which brings the unlikely pair closer while they realise that they have a lot more in common than they expected. With her stay in New York drawing to a close Marie throws caution to the wind and invites Leo and Gabby to spend Christmas with her at the castle in Eldovia. But the question is how will Marie mix her royal life of glitz, glam and rules with her Bronx cabbie and his bubbly sister, and what will the King have to say about these unexpected guests?
"So he surrendered to this madness, this beautiful madness. This wanting. Let himself melt, as heat shot through his body despite the cold. It had been so long since he'd kissed anyone, and having that heart-shaped mouth under his was so improbable and, frankly, it was making him crazy. So was the no-holds-barred enthusiasm with which she was returning his kiss."
I loved this book!! Jenny Holiday has fast become one of my favorite authors, I was absolutely taken with her work from The Mermaid Inn and Paradise Cove and I have to say her latest offering A Princess For Christmas has not disappointed. There is just something about they way Holiday builds her novel that you automatically feel like you are a part of the characters journey. I absolutely loved this feeling and getting invested in Leo and Marie's journey.
"She was in love with him. Her stupid, naive heart had opened right up to him. Marched right over to his rough-gentle hands and laid itself inside them."
Now on to our two main characters, I loved their dynamic and the back and forth banter. But what really got me was that even though they came from such vastly different backgrounds they were both going through very similar issues in their day to day life. I liked that they bonded over their mutual loss and that was part of what brought them together. I loved Leo, not only did he give up following his own journey in order to take care of his sister but he cared for her so selflessly. I found the relationship between Leo and Gabby super cute and quirky. As for our princess Marie, I really liked that she wanted to make a difference and that she wanted to fight for her own happily ever after, but I will say that my heart broke for her seeing the way her relationship with her father diminished. Though I have to say the cutest character has to go to Gabby, I found that she brought so much life and laughter to this story so much so that she even cracked the hardest shell.
A Princess For Christmas is the perfect mix of Hallmark movie, romance novel and angsty royal drama. This was a cute, easy read that had me rooting for the princess right from the beginning. I absolutely loved the way this book wrapped up, not only do we get a super sweet ending but it fell into place very naturally. Now I have to say I do hope that Max and Dani will be getting a book of their own, there were definitely some vibes coming of these two.
Book Info:

Publication: October 13th 2020 | Avon |
Leo Ricci's already handling all he can, between taking care of his little sister Gabby, driving a cab, and being the super of his apartment building in the Bronx. But when Gabby spots a "princess" in a gown outside of the UN trying to hail a cab, she begs her brother to stop and help. Before he knows it, he's got a real-life damsel in distress in the backseat of his car.
Princess Marie of Eldovia shouldn't be hailing a cab, or even be out and about. But after her mother's death, her father has plunged into a devastating depression and the fate of her small Alpine country has fallen on Marie's shoulders. She's taken aback by the gruff but devastatingly handsome driver who shows her more kindness than she's seen in a long time.
When Marie asks Leo to be her driver for the rest of her trip, he agrees, thinking he'll squire a rich miss around for a while and make more money than he has in months. He doesn't expect to like and start longing for the unpredictable Marie. And when he and Gabby end up in Eldovia for Christmas, he discovers the princess who is all wrong for him is also the woman who is his perfect match.