In The Surgeon's Surprise Baby by Tina Beckett, when Luca Venezio and Elyse Tenner ended their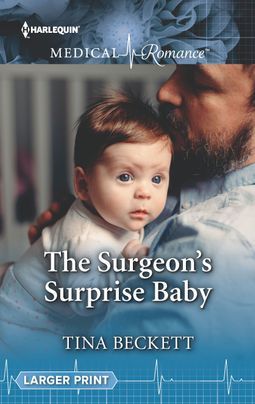 relationship, he decided to move back to his home country of Italy. However, when Elyse arrives in town with a baby in tow, Luca can't turn her away, especially when he learns the baby is his. Spending time with his child is what Luca wants and as they begin to spend time together again, Luca finds himself falling for Elyse all over again. Will they get their second chance at forever?
"I wasn't going to do anything that might put her at even more risk."
"And telling me would have done that?" He dragged a hand through his hair.
"I was talking more about physical stress but, yes. Inside I think I was afraid of jinxing the pregnancy. As if telling you might cause everything to fall apart, and I'd lose her. I didn't see any reason for us both to grieve if she didn't survive."
Ms. Beckett is a wonderful author whose books I normally find easy to get into, but although this story starts off brilliantly with the prologue by introducing the relationship between Luca and Elyse and seeing how everything falls apart between them in that moment, I found this story took me a little while to warm up to because of the heroine and the choices she made in the past and whether she'll make the right choices now. Really, her indecisiveness was a little annoying and I couldn't help but feel sorry for Luca. However, in saying that, I loved the moment the hero and heroine are reunited and the hero meets his daughter.
As for the dialogue, I absolutely loved this story from the hero's POV and couldn't get enough of Luca. He's smart, hard-working and I liked his determination to win the heroine over because she's always been the woman for him despite everything that happened between them and Luca believing she betrayed him in some way. Was him losing his job in the past her fault? While the heroine, she's resilient, courageous and I liked that she took a chance on the hero, even knowing that he might not be ready to be a father after everything he said to her in the past that made her feel that way about him. I also liked the decisions the heroine made throughout this story, even though she reacts a little too quickly to certain situations that could definitely use the hero's input. Will Luca feel differently about Elyse once he learns her secret?
Why are you here, Luca?"
"Isn't it obvious? I love you."
Oh, God, she was right. But it was too late. She shook her head, the tears coming faster. "It's not going to be enough."
Overall, Ms. Beckett has delivered a good read in this book where the chemistry between this couple was strong right from the beginning and only gets stronger as this story progresses; the romance was delightful; and the ending had me worried for this couple's happy ever after because there seems to be plenty of miscommunication and family interference that sends the heroine into a tailspin and scared to give forever with Luca a chance. Yet, in saying that, I loved that the hero wasn't willing to let Elyse go, especially after learning the truth of the heroine's heartbreak and the reason for her desire to run from him. Will Luca be able to convince Elyse that he wants a future with her? I would recommend The Surgeon's Surprise Baby by Tina Beckett, if you enjoy medical romances, the second chance romance trope, the surprise baby trope or books by authors Amalie Berlin, Charlotte Hawkes, Annie O'Neil and Amy Ruttan.
Book Info:

Publication: June 1st, 2019 | Harlequin Medical |
He doesn't believe in second chances…until one knocks on his door!
When neurologist Luca Venezio's romance with surgeon Elyse Tenner ended as passionately as it began, he returned to Italy little knowing he'd left part of himself behind… Until Elyse arrives from America with their baby daughter and upends his world! Luca's rocked by the bond with his little girl and how much he's missed Elyse. Can they overcome the distance between them that's more than merely miles?