Today it is my pleasure to Welcome author
Lindsey Frydman
to HJ!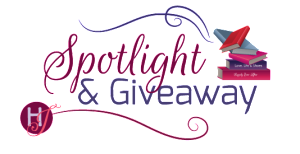 Hi Lindsey and welcome to HJ! We're so excited to chat with you about your new release, To Whatever End!

Hey there!

Please summarize the book a la Twitter style for the readers here: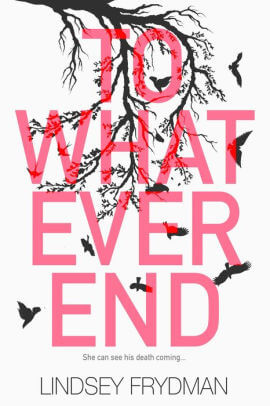 A contemporary love story with a small paranormal twist: What happens when you've found the one, only for the future to show him dying in your arms?

Please share the opening lines of this book:
I didn't come to the museum to admire some guy; I came to admire the artwork. Honest.

But he's got his attention fixed on a small pad of paper, his pen furiously scribbling away at it, and I can't tear my eyes from him. A mess of unruly brownish-gold hair falls across his forehead as he taps his foot against the tile.
Please share a few Fun facts about this book…
To Whatever End is set in my hometown of Dayton, Ohio – where the weather is not much fun.
Quinn's grandma is a retired librarian, just like my late grandmother was.
This story idea came from a simple writing prompt about the ability to see the end of your relationships with one touch.
TWE is the only book I've written that doesn't feature a character name I ganked from League of Legends. 😉
This book took one month to draft, five months to sell, and four years to release.
What first attracts your Hero to the Heroine and vice versa?
Griffin, sitting in the corner of the museum, with his earbuds, paper, pen, and intensity, immediately catches Quinn's attention. His good looks and charm have her itching to touch him, to see if her visions finally show a happy ending. The visions never show anything worth smiling about – this is why she should stick to oogling artwork instead of guys.
He's curious to find they both came to the museum for creative inspiration. Also, how many girls visit a museum on a Tuesday, summer afternoon? (Especially ones who get adorably flustered.)

Using just 5 words, how would you describe Hero and Heroine's love affair?
Playful. Catastrophic. Creative. Intense. Kismet.

The First Kiss…
Griffin closes the gap I'd made and kisses me, grasping my face in his hands like he's been waiting all day to do this. Inside his modestly decorated living room, I fall head over heels for a guy I haven't known that long. I don't want it. I don't want to like his lips pressing against mine, or my hands wrapping around his waist, or his fingers moving in my hair. Emotions complicate things. He wasn't supposed to kiss me.

Too late for that.

I grip his T-shirt—don't know when I became the shirt-gripping girl, but here I am. I let him tug me even closer, revel in the feel of his wandering hands across my lower back and his tongue exploring my mouth. My heart pounds like fireworks are going off inside my chest, like all my adrenaline might launch us off the ground.
Without revealing too much, what is your favorite scene in the book?
In one of my favorite scenes, Quinn asks Griffin to surprise her with something "super cool". His surprise surprised even me!
"Wait. I thought we were going somewhere."

"We are."

I give him an odd look he doesn't see because he's still walking, and my feet are solidly planted on the cement.

After another moment of hesitation, I move again and pick up the pace until I'm beside him.

He smiles at me. "I'm full of surprises. You'll see."

He slows his step once we make it to the end of the street and turns to me, pulling his hands from his pockets. Two fingers hold a bright blue piece of chalk. He offers it to me.

I twist my head, inspecting it like it's really something more than chalk, and perhaps my eyes are deceiving me. "What's that for?"

Griffin kneels, placing his fingers against the rough sidewalk. Then he uses the piece of chalk to draw a large arrow pointing forward. He stands and looks at me, offering the blue chalk.

"I'm still confused. Is that the point?"

His laugh does things to my heart that I wish it would stop doing. "No. It'll all make sense. Every so many feet, we're going to draw an arrow on the sidewalk."

"And then…?"

"Then you'll see."

My lips twist with suspicion.

"You know, if this isn't a good surprise, you don't get to see my photos, right?"

"The deal was to surprise you. I don't recall any mention of whether or not my surprise had to be good." He lifts both shoulders, spreading his fingers wide. "Be careful what you ask for."

Crap.

"Fine," I say, taking the chalk from his outstretched hand. "I'll be more careful next time we make a deal."

He smiles.
If your book was optioned for a movie, what scene would be absolutely crucial to include?
Griffin cooks a Thanksgiving dinner for Quinn – in July .
Unable to help myself, I giggle and cross my arms. "You know it's not Thanksgiving, right?"

Griffin sets the pan with a turkey in it on top of the stove. He laughs and spins around, oven mitts still on. "Yeah, of course. But this is basically all I know how to cook. Other than mac and cheese. Are you telling me you are the only American who hates Thanksgiving? Is that your fatal flaw—a hatred of food? I figured there was something, but this?"

"You sound like Olivia. So freaking dramatic." I smile and scratch my ear. "Also. You look ridiculous. Your oven mitts don't even match."

"Ouch." He pouts as though I actually offended him while he pulls them off.

"You have no idea how glad I am that you're not wearing an apron to top this whole scam off."

Griffin's face pinches. He's genuinely confused. "Scam? Wait. And what's wrong with aprons?"

I lift a hand to motion toward the fully baked turkey. "Who cooks this kind of meal for a date with one other person? On a random Thursday? In July?"

His eyes and mouth twitch as he considers whatever is going on in his head. "Griffin James Howell." He sticks out his arm. "Five foot eleven. Chronic knuckle cracker. Guitar player. Lover of turkey. Also, I cook when I'm nervous."
Readers should read this book …
If you're into quirky flirting, playful, witty banter, century-old curses that can't be explained, and a hint of magic with your romance.
What are you currently working on? What other releases do you have planned?
My next release will be a YA science fiction romance, called Project A.I.D.E.N. I'm also working on a few stories featuring psychic powers, magical doors, astral projection, and all the kissing.
Thanks for blogging at HJ!
Giveaway:

I'm giving away a $15 Amazon gift card and a signed paperback copy of To Whatever End.
To enter Giveaway: Please complete the Rafflecopter form and Post a comment to this Q:

Throughout the book, Quinn and Griffin make jokes about things that may or may not be cliche in regards to romance. What is your favorite romantic cliche?
Excerpt from To Whatever End:
The soft tinkling of music invades my thoughts. Guitar music.My eyes snap open. Didn't Griffin say he plays guitar?

It's got to be coincidence. Guitar playing is common—cliché. Any one of my neighbors might own a guitar. In fact, I'd bet money that a handful of them do.

I scrub a hand down my face. Coincidences are something I don't believe in.

My heart thrums, my palms slicken with sweat, and I take a deep breath, considering the possibilities of what might be around the corner. Maybe it's some random neighbor.

Or maybe not…I do what the only logical next step is. Stand and inch my way off the patio. I take another deep breath. Freshly mowed grass and the smell of earth invade my nose. All my senses are on high alert.

A few more hesitant steps later, I make a right around the corner of the nearby apartment building. Guitar music grows louder, the chords drifting through the air. After a few more cautious steps, I see a hunched form sitting on a neighbor's patio. Guitar perched on his lap. The faint light from the streetlamps gives away his tall, broad form, and when I close the distance, I note longish locks falling over his forehead. Judging by the stack of broken-down boxes on his patio and the fact that I've never seen him around here before, I'm guessing he just moved in.

For minutes, I stand there, still as a statue, listening to the music and watching his head gently bob as his fingers gracefully strum the strings. Quick notes come from the guitar, and it's like I'm listening to an encoded message, trying to understand the meaning.

Griffin lifts his head, uses one hand to brush the hair from his eyes, and takes one-point-five seconds to see me standing there. He's sitting a couple yards away, because out of all the apartment complexes in town, he has to live here—it's the universe's insurance, in case I'd decided not to visit the museum again. The universe is nothing if not full of coincidences that aren't coincidences at all.

The universe, I'm convinced, conspires to ruin me.

Shit.

Flipping shit.

Then again, maybe I should be thanking the universe; getting to know Griffin will be so much easier when he lives only yards away. And getting to know him must be the first step in me helping to save him.

"Quinn?"

I move my hand from my mouth and run it through my hair, taking a breath to compose myself. "Uh. Hey. Yeah, Quinn. Hi. Griffin, right?"

"Right." He gently sets the guitar on the ground beside him and stands. I'm still frozen, unsure what to do or say. Despite the perfect weather, it now feels like it's a thousand degrees outside. It's a dreadful mix of heated embarrassment and the fact I can't stop staring at his long, lean body.

Griffin shuffles forward, tipping his head. Since I'm still not moving, he comes closer until he's merely two feet away, and I can see his stunning grin, those eyes that speak volumes. Eyes that say how intrigued he is to see me.
Excerpts. © Reprinted by permission. All rights reserved.


Book Info:
Quinn Easterly is cursed. With one touch, she can see the end to someone's life. Everyday deaths, and ones that haunt her in her daydreams. Ones that have always proven impossible to prevent. She has finally learned to go about life as usual until she meets Griffin.
With one touch, she sees a death she simply cannot ignore. Not this time. Not when, dying in her arms, he whispers three simple words that change everything.
Even if Quinn can't change the future, can't save him, she at least has to try. Even if it means taking the bullet meant for him.
Book Links: Amazon | B&N | iTunes | Goodreads |


Meet the Author:
Lindsey writes about heart-stopping romance, rule-breaking heroes, and everyday magic. She lives in Ohio (where the weather is never quite right). Her BFA in Photography and Graphic Design has granted her a wide assortment of creative knowledge that serves mostly as inspiration. When she's not crafting stories, you'll likely find her spending waaay too much time on Pinterest, gaming, or performing in a burlesque show—because she enjoys giving her introversion a worthy adversary. (Plus, it's the closest to Broadway she'll ever get.)
Website | Facebook | Twitter | | Instagram |