Harlequin Junkie's Top 20 Reads of 2020!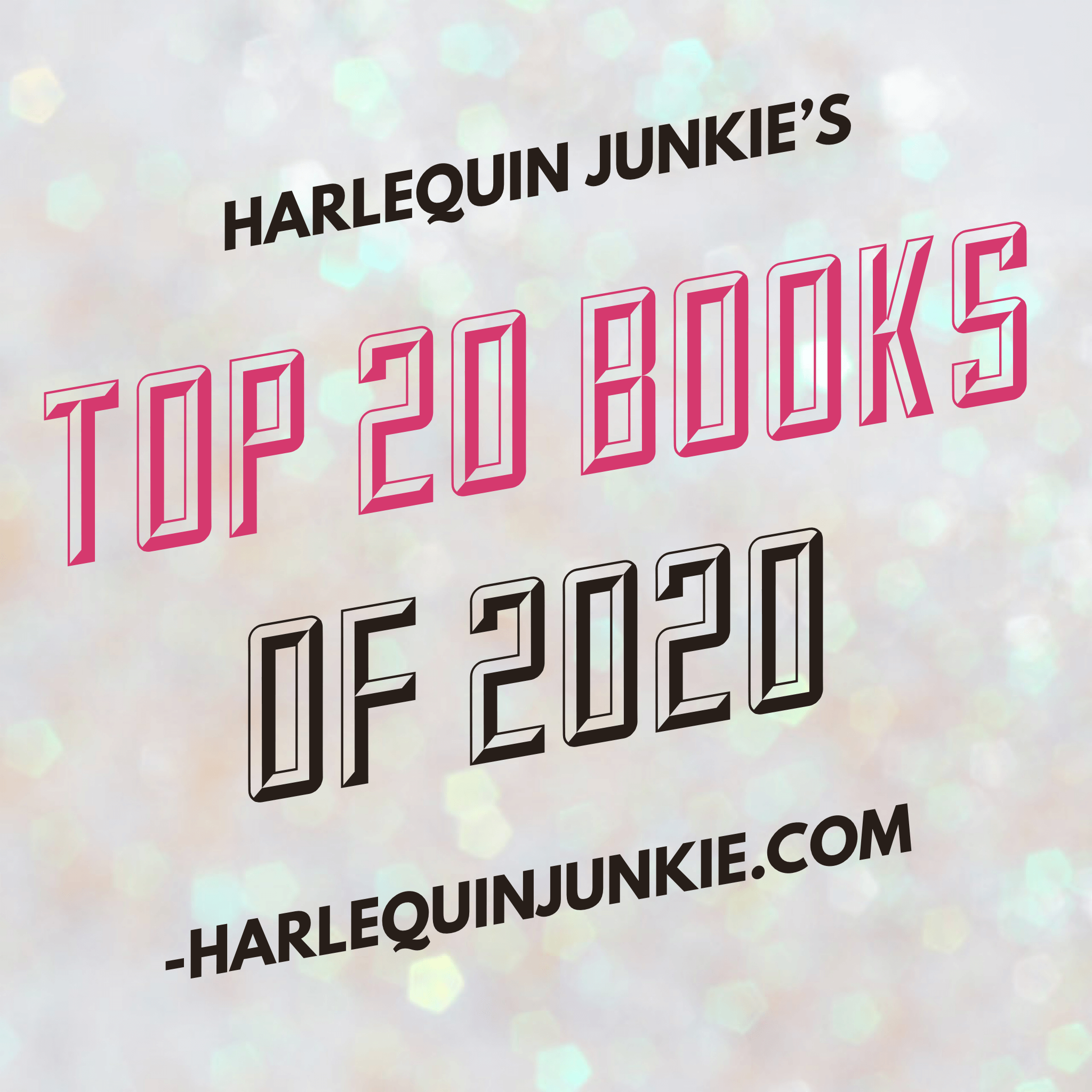 Every time we are asked to put together a top # list it seems like such a daunting task at first. We have a bit of a panic attack as to how we are going to choose between all the  great books we've read (we read a lot here) – and then, just like that a light bulb goes off, we get that tingling feeling, our hearts race and we KNOW, we know what books made our hearts sing…what made us smile and what books surprised us…


There were so many brilliant books published in 2020 that helped us in part to get through such a trying and daunting year that was 2020. Thank You to ALL you authors for your wonderful and thought provoking stories… We look forward to what you have in store for us in 2021!
Without further ado…
Here are our Top 20 reads of 2020 – in no particular order: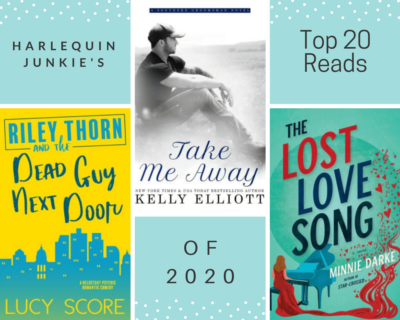 1. Take Me Away by Kelly Elliott
An incredible romance that will make you cry, laugh, and swoon repeatedly, Take Me Away captured my heart completely and solidified why I keep coming back for more of Kelly Elliott's deeply emotional novels. Take Me Away wowed me at every turn. Beautifully written, with everything from devastating loss and secrets to the joy of love rediscovered, Kelly Elliott gifted her readers with a powerhouse of a romance. Read Full Review Here

2. Riley Thorn and the Dead Guy Next Door by Lucy Score
What an experience! Riley Thorn and the Dead Guy Next Door had a laugh-until-you-have-tears-in-your-eyes level of comedic timing, sweet & swoony romance, a kickass mystery plot, and one of the most memorable, lovable, offbeat cast of characters I've read in a long time.I know going into a Lucy Score romance that I'm guaranteed some laughs. But I somehow forget *exactly* how funny her books truly are until I'm in the pages, giggling myself silly. And Riley Thorn and the Dead Guy Next Door just might be her most hilarious adventure yet. Riley Thorn and the Dead Guy Next Door was Lucy Score at her delightful, witty best and an absolute blast of a rom-com murder mystery that I wanted to start all over again as soon as I finished reading. Read Full Review Here.

3. The Lost Love Song – Minni Darke
The Lost Love Song is beautiful and sublime, capturing the very essence of what it is to give your heart to someone, to have it filled to bursting and simultaneously have it shattered to pieces. This is not a quiet or gentle read, and whilst it starts out ordinary enough, before you know it you are in the throws of a crescendo that is deftly metered by one brilliant action kernel to the next. Undeniably, this will not be one that will remain on dusty shelves in back rooms for long – like every brilliant song you have ever heard and experienced, this book simply must be shared. Read Full Review Here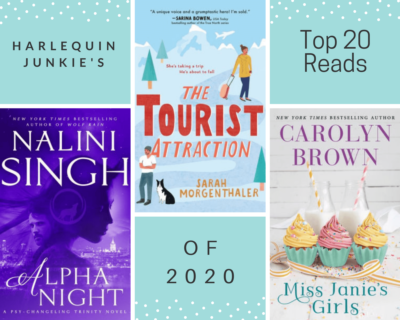 4. Alpha Night by Nalini Singh
Absolutely Epic. That's the only way to describe Alpha Night. Nalini Singh never ceases to amaze me with her heartfelt, thrilling novels, but the pairing of alpha wolf Selenka Durev and Arrow Ethan Night was utter perfection. If you've been following the original Psy-Changeling series and/or the new season of it, Trinity, then you know things have been evolving from book to book since the fall of Silence. This latest installment showed the next sneaky steps the Architect and the Consortium took to further their cause. Alpha Night is a prime example of why Nalini Singh is one of the most popular authors today. With her incredible attention to detail, stories that host a myriad of emotions, and characters so tangible they could be standing in front of you, Singh's work is a must for fans of contemporary fiction. Read Full Review Here

5. Miss Janie's Girls – Carolyn Brown
Carolyn Brown's latest Women's Fiction book, Miss Janie's Girls is bittersweet, poignant and yet very inspirational. This book is full of love and it made my heart happy to see Teresa and Kayla achieve happiness. I never finish a Carolyn Brown book without warmth in my heart and happiness to lift me up. Carolyn Brown's books are like coming home again and feeling on top of the world. Read Full Review Here

6. Tourist Attraction – Sarah Morgenthaler
I loved this book from start to finish. I can't not begin to tell just how taken I was with this cute romcom. Set in the small town of Moose Springs, Alaska. I not only fell in love with Graham and Zoey but also the beauty of Alaska. These two hand my heart melting from the very start. I will openly admit, I shipped them hard! They could not have been anymore better suited for each other. Sarah Morgenthaler did a fabulous job at painting the picture if Moose Springs, so much so that I felt like I was right there with Zoey experiencing its beauty. Overall I loved The Tourist Attraction! I highly recommend that every romance lover out there gets their hands on this beauty! This has been one of my favourite books of 2020 so far. Sarah Morgenthaler did a brilliant job, I can not wait for her to take us back to the picturesque Moose Springs. Read Full Review Here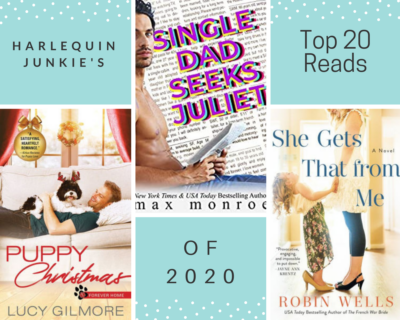 7. She Gets That From Me – Robin Wells
From beginning to end, She Gets That from Me, is a sensational read that taps into the nature of love, whether blood is thicker than water, and whether we really do have the opportunity to choose who we consider to be our family. In many ways, this was a true song of the resilient nature of love and family. Undoubtedly, the overarching tones of hope, and patience will move any avid reader who is looking for a contemporary love story whose hearty rhythm beats like classic chamber music. Summarily, I highly recommend readers take stock of this one and listen closely to the beautifully honest and tragically human notes within as it is certain to sing to any soul. Read Full Review Here

8. Single Dad Seeks Juliet – Max Monroe
I LOVED reading this latest offering by Max Monroe, these ladies write romance gold. Jake might just be my new favorite book boyfriend to date! There was nothing not to love about this sweet and caring dad. Not only was Jake a great dad with looks for days but the guy was genuinely a nice person. I absolutely loved the relationship that he had with Chloe and how they were their own little crew. As for Holley, oh my gosh, this quirky loveable character was everything, I absolutely loved hearing her crazy internal monologues and watching her ogle Jake. But what really sold me on this book was the absolutely ease with which these two characters fitted into each others lives and their hilarious adventures. Single Dad Seeks Juliet was hands down one of my favorite reads of 2020, this book had me laughing from start to finish and rooting for this couple to finally find their way to each other. I can not wait to see what Max and Monroe have planned for Garrett's story one thing I know for sure it will be brilliant. Read Full Review Here

9. Puppy Kisses – Lucy Gilmore
A heist, a chase, sweet puppies and lots of fun and sexy times will have readers laughing out loud and loving this story.I loved the first two books in Lucy Gilmore's Forever Home series, Puppy Love and Puppy Christmas but this one, Puppy Kisses, is my favorite.The dialogue in this book is what makes it so outstanding. The quips back and forth between Dawn and Adam are filled with provocative sexual innuendo while they flirt with each other and this made me smile all throughout the story. Ms. Gilmore's voice is so attractive to me in this type of story. Her writing style is the perfect blend of serious and fun. This seems to be the end of the series as all three sisters have found a HEA. I can't wait to see what Lucy Gilmore has in store for her readers next. Read Full Review Here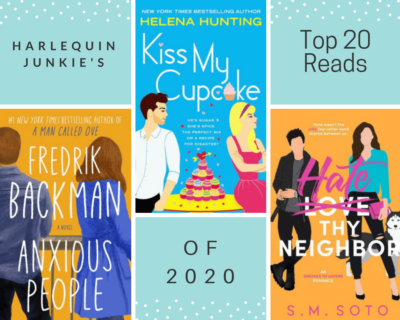 10. Kiss My Cupcake – Helena Hunting
This book is super cute and funny! Kiss My Cupcake is the perfect enemies to lovers romance and any fan of this trope is in for a true treat with this latest offering by Hunting. From the moment we meet Blaire and Ronan you can feel their electric chemistry, their instant hate for each other only fuels their steamy insta attraction and let me tell you when they finally go give into that attraction it is explosive! Overall this enemies to lovers romance by Hunting is hands down one that I would read again. Blaire and Ronan will have you laughing out loud at their hilarious antics and falling hopelessly in love right long with them. Read Full Review Here

11. Anxious People- Fredrick Backman
Occasionally in life, a book will fall in your lap, for which you have utterly no expectation nor any background knowledge about, and 10 pages in, you'll feel like you have entered a profound world of storytelling wherein your heart may stop beating if you can't devour it all at once.
Anxious People will break your heart and somehow manage to fill it within the one breath, and from moment to moment, this becomes an entirely compulsive read that dishes up some significant insight. I highly recommend you leap into this one feet first, because undoubtedly, it's impact is sure to leave your mind humming and your heart singing for days, if not a life time. Read Full Review Here

12. Hate Thy Neighbor – S.M. Soto
Hate Thy Neighbor was a steamy hilarious enemies to lovers novel that had me hooked from the very beginning. I loved this multi-layered novel and that it touched on some very real issues that woman face in the work place. But really Travis was such a huge jerk! He really deserved that kicking that Roman gave him. I loved that Soto added a layer of mystery in the novel and showed that not all is doom and gloom. Overall Hate Thy Neighbor was a brilliant enemies to lovers novel that highlights that there is sunshine in even the darkest places, it's all about the way we choose to see the situation. Read Full Review Here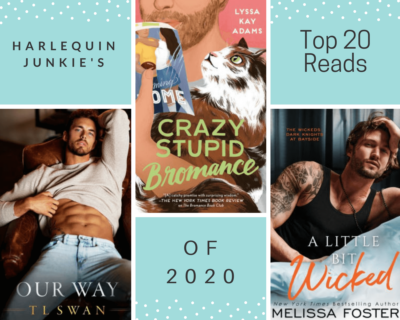 13. Our Way by T.L. Swan
Mind. Blown. Our Way grabbed my heart from page one, stomped on it and tore it apart multiple times–but author T.L. Swan carefully pieced it back together and left a big old grin on this reader's face with the charming HEA she delivered. A severe lack of communication and entertaining dramatic reactions made Our Way unlike any other contemporary romance I've read in quite some time. With every new twist Swan threw at her characters, she took readers on an incredibly challenging ride that was worth absolutely every single gasp, tear shed, sigh, and giggle. Read Full Review Here

14. Crazy Stupid Bromance – Lyssa Kay Adams
Lyssa Kay Adams is a pure genius! This woman can do no wrong with romance, her Bromance Book Club series is by far the best romcom series I have read to date and they keep getting better with each book! Crazy Stupid Bromance was a brilliant read, one that I did not want to end. I loved the easy going nature of Noah and Alexis relationship and how comfortable they were with leaning on each other, this only made leading into their relationship more organic. Please do yourself the favor of reading not only Crazy Stupid Bromance but the entire series, every romance lover needs these books in their lives! I can not wait to see what Adams has planned for with the Russians story, one thing I do know is that it will be brilliant! Read Full Review Here

15. A Little Bit Wicked – Melissa Foster
This is the first book in The Wickeds: Dark Knights of Bayside series. If you are looking for a truly romantic story, this is it! This story has some slow spots especially in the beginning, so slow I almost gave up on it. But, boy, I sure am glad I didn't. This story has got to be one of the most romantic love stories I have ever read. The dialogue throughout this story was super entertaining whether it was teasing between Dark Knight members, brothers and cousins or the teasing and flirting between Justin and Chloe.For a non-motorcycle club story fan this turned out to be a great read and I look forward to more stories in this series. Read Full Review Here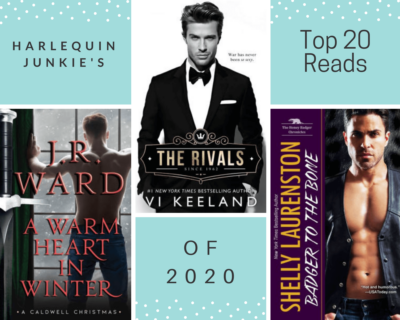 16. A Warm Heart in Winter – J.R. Ward
A holiday-themed romance–Black Dagger Brotherhood style–that left me an emotional wreck in a good way, A Warm Heart in Winter was a bittersweet tale filled to the brim with family and love. So. Much. Love. How does J.R. Ward do it? I mean, eighteen books into the BDB series and each story still seems fresh while continuing the overall story arc and drawing us fans more than willingly along for the ride. I've honestly got to say that Blay and Qhuinn's romance (which is M/M) is one of my favorites to learn more about in some time. J.R. Ward continues to be one of the most consistent authors in terms of writing quality, world-building, and characterization–and, of course, overall awesomeness. A Warm Heart in Winter is a novel not to be missed by BDB fans. Read Full Review Here

17. Badger to the Bone – Shelly Laurenston
Badger to the Bone is the third book in Shelly Laurenston's Honey Badger Chronicles series. It's typical Shelly Laurenston all the way. There's mischief, madness, mayhem and lots of shifting going on in Shelly Laurenston's latest honey badger fun fest, Badger to the Bone. There's lots of action, twists and turns and plenty of surprises too. It was great to see so many characters from previous books in the series and other Shelly Laurenston series too like The Group's Dee-Ann Smith and Cella Malone, the crazy shifter Blaine with her spastic dance moves, Charlie's bear shifter mate Berg and his triplet sister and brother, and Stevie's panda shifter mate Shen still munching on bamboo shoots all the time and many more. I loved this book! Read Full Review Here

18. The Rivals – Vi Keeland
A delicious enemies-to-lovers romance with the kind of sexy banter and antagonistic teasing that made me fan my face while laughing out loud, The Rivals just might be my favorite Vi Keeland book to date.Holy hotness!! Vi Keeland was on fire with this standalone romance. It had a little bit of everything for readers: family history and feuding which led to Weston and Sophia being enemies; office romance, as they were battling each other to finish the hotel's valuation and outbid the other. Vi Keeland always brings the heat, but The Rivals pushed things to a whole new level. Incredibly entertaining and down right dirty, I fell in love with Weston and Sophia as they fought their attraction while hitting family drama at every turn. Read Full Review Here.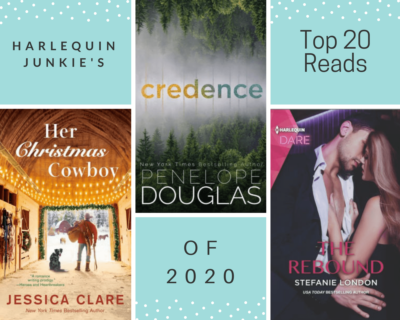 19. Credence – Penelope Douglas
Like a steam train driving into the depths of anyone's soul, Credence is definitely not a quiet book that will lie on any shelf too long. Compelling, and at times sublime writing, carries the overarching themes of trauma, abandonment, loss, into a sea of Deliverance-like waves that could potentially crush an idle unsuspecting reader. Power is fluid of course, and Credence did everything in its own to remind its reader of this – but at times I felt it ran risks that I think are fundamentally questionable. What a journey it is. Beautiful, peaceful, savage, barbaric, raw and probably most importantly honest. Hence, I found this to be a really conflicting read that I think I might ponder for a few days – so well done Penelope Douglas.
Summarily, this is a compelling read and I highly recommend folk 'rip it off' like a bandaid and take a couple of glasses of good wine to work out where they stand. Read Full Review Here

20. Her Christmas Cowboy – Jessica Clare
This is such an entertaining, sweet romance with some heat to it too. There's plenty of Christmas spirit in the story with the Christmas Carnival, decorating Christmas trees, Christmas shopping and Christmas parties. I look forward to the next book in the series. Read Full Review here

Honorable Mention: The Rebound – Stephanie London
The Rebound by Stefanie London is simply a fabulous read from start to finish. Rather than beat you over the head with cliches or the typical melodramatic vacillation that is a wearisome aspect of the genre, it presented as highly likely despite the crazy way our two heroes meet and hook up. The earthy nature of this raunchy and daring romance was an absolute winner and quite simply, it would make one incredibly entertaining film – Chris Hemsworth as Sebastian? A definite yes! I highly recommend HEA readers dim the lights, get comfy and dig into this one with abandoned gusto – you'll enjoy every second.
Top 20 List Contributors: Margie, Michele, Nish, Renee & Sara
We hope you've enjoyed reading through our Top 20 list and hopefully we've helped add on to your TBR 😉
We would love to hear what books made your Top 5 Reads of 2020 – Share in the comments below.

As we say goodbye to 2020,  we would like to say Thank You! We've loved sharing our thoughts and reviews with you in 2020 and look forward to reading and sharing a lot more reads with you in 2021! – HJ Review Team