Today it is my pleasure to Welcome author
Abigail Owen
to HJ!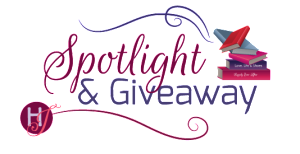 Hi Abigail and welcome to HJ! We're so excited to chat with you about your new release, Try As I Smite!

Thank you so much for having me back! I always love visiting HJ!

Please summarize the book a la Twitter style for the readers here: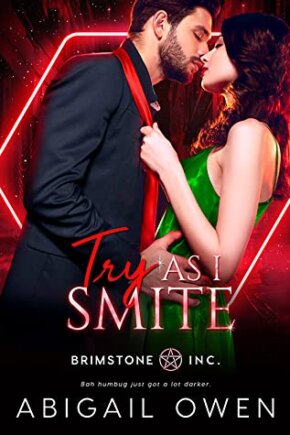 Sometimes it pays to have a little devil in you…
In a paranormal retelling of A Christmas Carol, two people usually at odds with each other have to learn from their pasts, presents, and futures in order to stop a demon uprising.

Please share the opening lines of this book:
News of a mage going mad and lashing out with magic would typically raise alarms, but today, yet another such report in his hands was the least of Alasdair Blakesley's worries.
A bigger problem had just walked into his office.
His long-time personal assistant, Agnes. She entered laden with a tray. Presumably his lunch.
"Thai today," she sang out.
Please share a few Fun facts about this book…
A mysterious solver of supernatural problems (but what is her ability?)
One of the most powerful mages alive who leads the Covens Syndicate.
A demon infestation problem solved with the help of a…demon.
Two people who think they can't stand each other (and my favorite trope).
This is the book I imagined first, before I wrote all the others.
What first attracts your Hero to the Heroine and vice versa?
Alasdair has always been reluctantly fascinated with Delilah, but when she wants to hug him after they visit his past, is when he really starts to connect. For her, it's the same moment.

Using just 5 words, how would you describe Hero and Heroine's love affair?
Enemies to lovers to friends…

The First Kiss…
Alasdair did the only thing he could think of. He brought his lips down over hers, claiming her lush mouth—something he'd fantasized about for months—in a desperate attempt to distract them both.
Beneath his touch, Delilah froze at the sudden contact. He expected her to pull away, maybe even knee him in the groin. She didn't do either. Instead, her breathing hitched, then she melted into him, opening under his mouth, letting him in.
Mother goddess. He hardly noticed the sudden silence that surrounded them, too absorbed by the woman in his arms.
The kiss changed from hard possession, softening, slowing. The taste of cherries—sweet and tart—only added to the need growing within him. He savored her flavor and her small sighs. Sliding his hands down her arms, he wrapped his own around her, bringing her body up against his more fully, the scent of flowers surrounding him.
And she was there with him every step along the way, wrapping her arms around his neck, trying to get closer, sighs changing to whimpers. Not close enough.
This isn't about me, a small voice whispered, bringing with it guilt on wings of forbearance This was about her. Protecting her from her past.
Without revealing too much, what is your favorite scene in the book?
Actually, their first kiss might be my favorite moment. Because that's the moment they put aside trying to keep away from each other and start to work together. First by comforting, and then it becomes more on so many levels.
If your book was optioned for a movie, what scene would be absolutely crucial to include?
The best movie scene would definitely be the different demon fight scenes. I can picture the special effects and visuals so clearly.
She lifted her hands, ready to unleash.
"Get off him!" the boy demanded, voice deeper than one would expect from a teenager. More than a hint of the man to come.
Carefully, trying not to draw attention to herself, Delilah stepped back into the shadows.
The windigo, still unaware of her presence, rose from the human it was gnawing on, and the boy's startlingly blue eyes tracked it up and up and up. Over twelve feet of towering beast. The thing had the head of a deer, antlers spreading wide from the top, but all bone, like staring at a skull bleached white by the sun. Black sockets where the eyes and nose should be. But what made her flinch, a rare bout of revulsion bubbling up inside her, was the fact that it had no skin anywhere. Its bones and the red sinews of its muscles were exposed.
Legend had it, a windigo lived in constant agony in this form.
It relied on human flesh to skin itself. To see. The longer it went between meals, the more of its body rotted away. The putrid scent of it filled the alley, overwhelming the already sour scent of the trash.
Suddenly Delilah caught it—not Delilah from the original moment, but herself now. The faint glow of the demon's mark on Alasdair's forehead. She jerked her focus to the creature. Without eyes, it was impossible to tell. Was the thing possessed?
It must be, because that mark would glow like that only around the demon who'd marked Alasdair. It had come for him again. This time in the body of a monster. A supernatural creature who was pure instinct. No reasoning, just killing. Demons loved to possess creatures such as those.
Except, if the demon had marked him, he was out to possess him, not kill him. She jerked her head around, searching.
There.
In the darkest recesses of the alley, a column of smoke the size of a man lurked in the shadows. Waiting. How many other demon attacks had he survived? And why were they so intent on taking Alasdair?
Shit. We're in trouble.
Readers should read this book …
If you love both Halloween and Christmas as much as I do. If you want a quick, hot, supernatural read with two stubborn, powerful people learning to trust each other as they experience each others' pasts, presents, and futures. Bah humbug just got a little darker…
What are you currently working on? What other releases do you have planned?
I am in the middle of the first draft of "The Traitor" which will be book #5 in my dragon shifters Fire's Edge series. Book #4, "The Protector," comes out this Decemer. And the third book from the crossover Inferno Rising series, 'The Warrior" comes out in March!
Thanks for blogging at HJ!
Giveaway:

$15 Amazon gift card
To enter Giveaway: Please complete the Rafflecopter form and Post a comment to this Q:

What is your favorite holiday for romances?
Excerpt from Try As I Smite:
"I need your help."
Delilah paused with her ass halfway to the couch. He did not just say that. The Alasdair Blakesley, who despised her involvement in anything magic related, had not just said those words.
She straightened. "You need my help?" she repeated, deadpan.
"Yes."
"You need my help," she said again, just to be certain.
"Let's not make a big deal of it."
Like she'd pass up this opportunity. "Naiobe," she raised her voice and called out. "Definitely bring the popcorn. You're never going to believe this…"
He crossed his arms with a baleful glare. "Hilarious. I've never laughed so hard."
"Really?" She blinked, all wide-eyed innocence. "That's a surprise. I didn't think you knew how to laugh."
He clamped his lips shut.
Score one for her. Because there was no way she believed this request was real. This had to be a test, or his version of some gods-awful joke. But she'd play along for a minute. This night was her most despised of the year, so even a round or two with Alasdair was welcome distraction.
Seating herself without waiting for him when he didn't bother to join her, she slipped her shoes onto her feet, smoothed her cream-colored skirt over her thighs, then crossed her ankles and settled her hands primly in her lap, fingers laced in a subtle steepling.
Based on the way his gaze flicked to the movement followed by a tightening of his lips, he got the message. She was in charge here.
"So…you need my help?" She couldn't help saying it one more time.
"I knew this was a bad idea," he muttered.
"It wasn't mine."
"Gods above, will you please listen," Alasdair snapped.
Whoa. Delilah stilled, taking a closer look.
On the outside he appeared his usual impeccable self. Conservative black custom suit tailored to his broad shoulders, trim hips, and powerful legs to perfection. Jet black hair cropped short, though slightly longer on top, swept to the side, not a follicle out of place. Cleanly shaven jaw which, already sharply angled, appeared closer to the set of granite today.
A tell. She doubted many ever got to see the man this riled.
When she sat quietly and waited, Alasdair's eyes narrowed as though he didn't quite trust her. In a casual move at odds with the tension riding his body, he slipped his hands in his pockets and stared at her with bright blue eyes.
Delilah mentally sorted through a list of her recent clients in her head, along with a quick rehash of her last few encounters with this man. What in heavens name had brought him to her in such a state?
Granted, kicking him out of the dance club in Miami where she'd been helping a particularly troubled mermaid, she might've gone a teensy bit overboard making her point. No doubt he hadn't appreciated finding himself teleported to Siberia.
That had been over a week ago.
Thank the powers that Alasdair didn't know why she'd done that. He'd touched her arm. A casual move, only her body had lit up like fireworks at the new year. From that one tiny, ridiculous contact. Sending him away had been an act of sheer desperation.
The most frustrating part was, she couldn't See him. See his future or how it impacted hers. See where this troubling wanting when it came to him was going to end. Her most secret and precious gift, her ability as a Seer, allowed her to help her clients in ways no one else ever could.
But Alasdair Blakely was a blank. A black hole of nothing. That never happened except around vampires and ghosts, because, technically, they were dead. He wasn't one of those.
Meanwhile, he stood statue-still, continuing to stare at her.
Delilah sighed. "Alasdair. I can't do anything if you don't tell me why you've come—"
"I have a demon problem." He practically bit each word off.
Excerpts. © Reprinted by permission. All rights reserved.


Book Info:
Alasdair Blakesley is the head of the Covens Syndicate. He shouldn't need to look beyond the witches and warlocks he governs, or his own abilities, to solve any problem. But a demon infestation means he can't trust anyone who may be possessed. The last person he wants to ask for help is also the only person who can fix this, so he sucks up his pride and storms into her office.
And she turns him down cold.
As the owner of Brimstone Inc., Delilah's passion is helping others with their supernatural problems. But Alasdair is the last man Delilah wants to tangle with. The infuriating man sees too much and demands even more. And did she mention the way he sets her body on fire?
Not that it matters—demons are the only things with which she cannot interfere. Too bad a higher power steps in and sends them both on a crash course of each others' pasts, presents, and futures.
How is a Christmas Carol nightmare supposed to solve his demon problem without breaking the rules she's bound by?
Book Links: Amazon | B&N | iTunes | Goodreads |


Meet the Author:
Multi-award-winning author, Abigail Owen, writes paranormal romance & upper YA/new adult fantasy romance. She loves plots that move hot and fast, feisty heroines with sass, heroes with heart, a dash of snark, and oodles of HEAs! Other titles include wife, mother, Star Wars geek, ex-competitive skydiver, spreadsheet lover, Dr. Seuss quoter, eMBA, organizational guru, Texan, Aggie, and chocoholic.
Abigail grew up consuming books and exploring the world through her writing. She attempted to find a practical career related to her favorite pastime by earning a degree in English Rhetoric (Technical Writing) and an MBA. However, she swiftly discovered that writing without imagination is not nearly as fun as writing with it.
Abigail currently resides in Austin, Texas, with her own swoon-worthy hero, their angelic (mostly) kids, who are growing up way too fast, and 2 adorable fur babies.
Website | Facebook | Twitter |  Instagram |