His Scandalous Christmas Princess by Caitlin Crews November is November 2020 Harlequin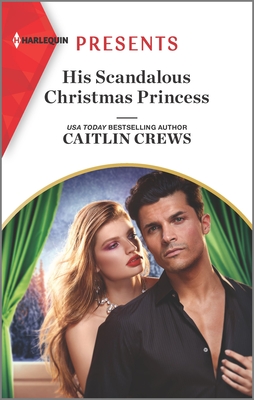 Presents and Book #2 of her Royal Christmas Weddings duet.
Promising his King and brother he'll cause no more scandals; Prince Griffin marries the tiny and defenceless Melody, a marriage of convenience designed to save both her and help the kingdom of Idylla. Usually so sure of himself Griffin is certain he's looking after the world's most fragile creature but completely underestimating Melody, Griffin is knocked for a 6 when he discovers she's not so defenceless after all. Then it's all on!
I loved Melody's character. She was so out of the norm and thoroughly enjoyable to read. I loved how Caitlin Crews made her a person of substance and glimpse by glimpse showed me her hidden reality. Little things like her not wanting to get out of bed and telling the maids to go away was brilliant humour. I loved her honesty, her clever and imaginative mind, her sassy nature and her all-round brilliance. The perfect match for Prince Griffin.
Concentrating on digging deep into Melody's character and exploring what drives Griffin, I thought Caitlin Crews has delivered a beautifully written and emotional book. The descriptiveness which is a necessity to deliver Melody is brilliant. I don't think I've read a heroine in the Presents world quite like Melody and understanding her and feeling what she feels by the power of descriptive words is quite remarkable.
A wonderful story which kept me briskly page-turning. Book #2 can be read alone but is very enjoyable with the extra layers if you've read book #1. A brilliant epilogue concludes the Duet and I would recommend to anyone who loves the passionate emotion, exciting drama and swirling heart stopping moments that is always present in all books by the super talented Caitlin Crews.

Book Info:

Publication: November 2020 | Harlequin Presents | Royal Christmas Weddings #2
His Christmas bride: his ruin or his redemption?
Melody Skyros lives in the shadows of her notorious family. But now it's her turn to step into the spotlight—as Prince Griffin of Idylla's convenient princess. The only problem? He's a walking scandal! And she finds him obnoxiously, outrageously tempting…
Griffin's reputation for misbehaviour is legendary—marrying Melody could never make an honest man of him…could it? But as the electricity between them ignites, the stakes in this royal game of vows couldn't be higher. Because despite their scandalous start, Griffin is suddenly imagining a very different ending…
From Harlequin Presents: Escape to exotic locations where passion knows no bounds.
Read both books in Caitlin Crews's Royal Christmas Weddings duet:
Book 1 — Christmas in the King's Bed
Book 2 — His Scandalous Christmas Princess