Today it is my pleasure to Welcome author
Olivia Drake
to HJ!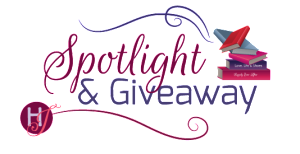 Hi Olivia and welcome to HJ! We're so excited to chat with you about your new release, When a Duke Loves A Governess!

Greetings to my beloved readers!

Please summarize the book for the readers here: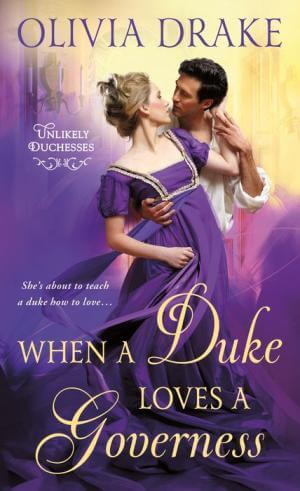 Set in Regency England, WHEN A DUKE LOVES A GOVERNESS is the story of a hatmaker named Tessa James who hopes to open her own millinery shop by getting a loan from the nobleman who fathered and abandoned her. In order to find him, she enters the aristocratic world by pretending to be a governess. Meanwhile, Guy Whitby, the new Duke of Carlin, returns from a long trip abroad to discover that his naughty four-year-old daughter has scared away half a dozen governesses. He hires Tessa in desperation despite his suspicions that the lovely young governess may be fibbing about her qualifications.

Please share the opening lines of this book:
"Wait until you hear the news," Lady Farnsworth said to a friend who had just entered the millinery shop. "The Duke of Carlin has lost yet another governess."
Mrs. Ludington gasped. "Why, this one cannot have been in his employ beyond a week."
Please share a few Fun facts about this book…
In Regency England, people adhered to a rigid class structure. It was utterly unthinkable for a servant to marry into the aristocracy. Intrigued by that challenge, I created a heroine who's a member of the lower class and paired her with the highest noble of all, a duke. The forbidden relationship of servant/duke adds a delicious edge of fun to their romance – especially since Tessa has more important plans for her future than wedding a lord!
After years of laboring long hours in the back room of a millinery shop, she'll do whatever it takes to open her own hat-making business, even if it means hiding her background from her new employer, the sexy, delectable Duke of Carlin. She especially doesn't want him to find out that her true purpose in taking the job is to track down her missing father. As she tackles the difficult task of helping Carlin reconnect with his motherless daughter, Tessa's secret weighs on her. And as they begin to fall in love, she longs to confess the truth, but how can she?
Please tell us a little about the characters in your book. As you wrote your protagonist was there anything about them that surprised you?
After the death of his wife in childbirth, Guy Whitby left England on a round-the-world voyage to pursue his dream of studying botany. Never did I imagine that his passion for plants would serve to bring Guy and Tessa closer together. While writing the book, I came to realize that her love of hat-making and his interest in science made these characters similar in a way – because they're both independent misfits who scorn the empty pursuits of society. In other words, despite the disparity in their backgrounds, they are the perfect match!
Now, it's every girl's fantasy to marry a duke, right? Yet when Guy proposes marriage, Tessa surprised me with the vehemence of her refusal. And I realized that as duchess, she'd be propelled from the bottom rung of the social ladder all the way to the pinnacle. She knows nothing of running a ducal household, planning dinner parties, or making chit-chat with noble visitors. But most of all is her fear of losing her dream, as shown in this excerpt:
A career of any sort was forbidden to a duchess. The swells despised even a whiff of trade among its exalted members. Yet all she had ever wanted was to design hats, to own her own millinery, and as the wife of a duke, she would be barred from doing so.
If your book was optioned for a movie, what scene would you use for the audition of the main characters and why?
When Guy and Tessa first meet, she mistakes his male secretary for the duke. Once that mortifying error is corrected, Tessa must convince Guy to take a chance on her. She doesn't dare reveal that she grew up in a foundling home, that she's been employed as a shopgirl, or that she hopes to find the aristocratic father who'd abandoned her at birth. The scene is fun for the viewer, who knows that Tessa is fudging the truth about her past:
Miss James studied him with such arrested interest that he wondered if his cravat was askew. The bewitching blue of her eyes matched the ribbons that were jauntily tied beneath her chin. A dainty dab of a woman, she radiated a subtle allure despite the concealment of that modest, high-necked gown.
Guy yanked his mind back to the purpose of the meeting. Her feminine charms were irrelevant. This was an employment interview, not a ballroom flirtation. Miss James was utterly unlike the string of previous governesses – and that was not a point in her favor. She was far too green for the position.
"I'm afraid you were sent here in error," Guy said bluntly. "I requested someone older, someone with decades of experience as a governess."
She took a step closer. "Oh, but I do have the proper qualifications, sir. I've looked after young children for much of my life, and I've a particular knack for handling difficult cases. Please, won't you at least hear me out?"
Much of her life couldn't mean more than half a dozen years if that. Yet it was clear from her tense pose that she had a keen interest in this post. She stood before him with her slim shoulders squared and her gloved fingers clutched tightly around her reticule. Guy knew what it was like to face opposition, and he grudgingly conceded that it would be cruel to dash her hopes without even conducting an interview.
"All right, then. I'll grant you five minutes to make your case."
What do you want people to take away from reading this book?
My hope is that readers will laugh and love along with Guy and Tessa as their romance unfolds. WHEN A DUKE LOVES A GOVERNESS is a Cinderella story with a dash of adventure, a sprinkle of mystery, and an abundance of sexy fun.
What are you currently working on? What other releases do you have planned?
I recently turned in a synopsis for a book about a governess who receives the unexpected inheritance of a property that borders a duke's estate. The prime piece of land had been promised to the duke by his great-uncle, and he's none too pleased to see the heroine turn it into a home for destitute women. Add in a missing necklace once owned by Queen Marie Antoinette, and the stage is set for lots of excitement and romance. Fingers crossed that my editor likes it!

Thanks for blogging at HJ!
Giveaway:

A print copy of WHEN A DUKE LOVES A GOVERNESS
To enter Giveaway: Please complete the Rafflecopter form and Post a comment to this Q:

What are the advantages of a society based on equality like America vs. the aristocratic structure of England? And if we value equality, why are we as readers so drawn to Cinderella stories?
Excerpt from When a Duke Loves A Governess:
Keeping Tessa glued to his side, he guided her to the partially open door of the study. He must ensure she made her way back upstairs without being seen. It had been unpardonably reckless of him to have engaged in that steamy embrace when anyone might have walked in.
"Oh, no! It seems Cinderella has lost her slippers." Tessa twirled away from him and lifted the hem of her gown to allow a provocative view of slim ankles and toes clad in only white stockings. In the doing, she bumped into the door, shutting it with a click. "Perhaps you'd be so kind as to walk me back over to the chaise. I must don my magic slippers before the clock strikes twelve. Otherwise, you might turn into a frog."
Guy was so much taken with this flirtatious side of her that they were halfway across the study again before he realized he ought to have just fetched the shoes for her. "I believe you're mixing your fairytales."
She tapped a finger to her cheek. "That may be so since they're all new to me," she said. "I've read any number of wonderful stories to Sophy these past few weeks. Did you know that in Mother Goose's Tales, there are children who live in a shoe?"
As Tessa seated herself, he knelt before her and picked up one of her plain leather slippers, so much more practical than a lady's satin heels. "I daresay it was a bigger shoe than this one."
"Perhaps like the ones worn by the giants in Gulliver's Travels. Have I thanked you for sending that book up to the nursery?"
"I'm pleased to hear you enjoyed it."
Those inadequate words couldn't begin to describe how much Guy wanted to give her all the books that she hungered to read, all the knowledge that she had been denied, all the experiences that a woman of her keen intellect craved to learn. Though he knew it wasn't his place to provide a governess with an education, his desire to do so persisted nonetheless.
Then he made the mistake of glancing up at her.
Forgetting about the shoe he was chivalrously restoring to her foot, he found himself riveted by the way the firelight gilded her smooth skin and buttercream hair. A few curls had sprung loose to give her the enticing look of a woman who had just arisen from bed. Most captivating of all was the soft, sensual smile on her lips.
She leaned closer and glided her fingertips over his cheek, and that gossamer touch sent another dart of heat through him. "Please don't ever turn into a frog, Carlin. I like you much better as a man."
He liked her too damn much as a woman. Therein lay the problem. He needed to view her dispassionately as just another one of his servants.
But her forward movement had offered him a better view of her bosom, and what red-blooded man could resist such a sight?
Excerpt. © Reprinted by permission. All rights reserved.


Book Info:
Tessa James has worked and planned tirelessly to open her own millinery shop. All she needs now is a loan from the lord who sired and abandoned her. The only problem is, she doesn't even know his name. What's a woman to do to find him but enter the aristocratic world by becoming a governess?
Guy Whitby, the new Duke of Carlin, has returned to London after years abroad to discover that his young daughter Sophy has become a wild-child known for scaring away every governess who's crossed his doorstep. When Tessa James applies for the job, he hires her in desperation despite his misgivings that she's too bold and beautiful–and that she might be fibbing about her qualifications.
Their blooming attraction leads them on a completely unexpected path to love that neither wants to deny. But when an old enemy threatens Guy's family, their forbidden romance goes up in flames. Can they still learn to love and trust each other as forces try to tear them apart?
WHEN A DUKE LOVES A GOVERNESS is the third book in the "Unlikely Duchesses" series by Olivia Drake.
Book Links: Amazon | B&N | iTunes | Kobo | Google |


Meet the Author:
Olivia Drake is the author of 35 romance novels. Shortly after graduating from Michigan State University with a degree in journalism, she sold her first novel two weeks after sending it to a publisher. She now lives in Texas in a cozy cottage with two feisty cats and a photographer husband. Her two daughters have flown the nest, but still come back whenever they want a home-cooked meal.
Her most recent series is 'Unlikely Duchesses' which includes THE DUKE I ONCE KNEW and FOREVER MY DUKE. Her latest release is WHEN A DUKE LOVES A GOVERNESS, available in late July 2021.
Website | Facebook | Twitter | Instagram | GoodReads |