Fake Engagement, Nashville Style by Jules Bennett: I am a big fan of second chance romances. There is something special about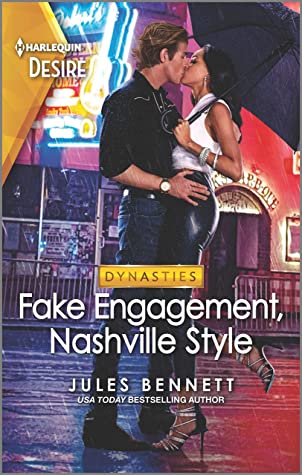 couples reuniting after a long time apart that is absolutely heartwarming and renews faith in love. This tale of Cassandra and and Luke doesn't disappointment.
Both Cassandra and Luke blame each other for their split eight years ago. To the reader it feels like a lack of communication that affect many people. Luke worked so hard at building a business with special bars and bringing in the music scene from Nashville that Cassandra always felt she was a distant second in his life. Luke was mad with her because she just moved away. He wanted to establish himself before advancing their relationship.
Cassandra comes back to Beaumont Bay, the booming suburb of Nashville, to ask Luke a favor. She has just gone out on her own as a wedding planner and wants him to get her into seeing his brother's fiancee', a famous country music star. Cassandra believes if she can land this celebrity wedding, her business will take off. Luke asks Cassandra for a favor. He is being hounded by women after appearing in a hot photo lauding him as a most eligible bachelor. If she could just pretend to be his fiancee' until after his brother's wedding, it will take the heat off him.
The trope of fake engagement is a favorite of mine. It can lead to lots of sparks and steam. I enjoy recent romances lately that have heroes and heroines who are in their thirties. They may have their issues and flaws, as we all do, but they know more about who they are than those in their twenties. To me it makes for a more interesting and compelling story.
I also like the author subtlety showed that the heroine was a woman of color, but that was not the emphasis. The emphasis was on forgiveness and love.
This is the third in the series, Dynasties: Beaumont Bay. I read a previous novel in this collection that is being written by two authors. The continuity and development of the characters is great. The secondary characters are well developed and the Sutherland brothers are so supportive.
I would have given this novel an even higher rating, but was disappointed by a little too much rehashing of some details. That seems to slow the pace down a little. Fake Engagement, Nashville Style is a fast, easy read. It will leave you with a smile on your face.
Book Info:

Publication: June 29, 2021 | Harlequin Desire | Dynasties: Beaumont Bay
A fake engagement with her former fiancé?
Saying yes should be strictly business…
Since it's only pretend, not a second chance.
Cassandra Taylor's ex-fiancé owes her—big-time. Luke Sutherland shattered her dreams of happily-ever-after, and now she wants his help landing the wedding planning event of the year: his brother's celebrity nuptials. But Luke demands her help in return—pretend to be in love with him so he's no longer Country Beat's most eligible bachelor. As their fake engagement rekindles real passion, will Cassie get her own fairy-tale wedding…or only more heartbreak?