Today, HJ is pleased to share with you

Catherine Bybee's

new release: 

When it Falls Apart

From New York Times and USA Today bestselling author Catherine Bybee comes a bittersweet romance about the power of love in the face of heartbreak and loss.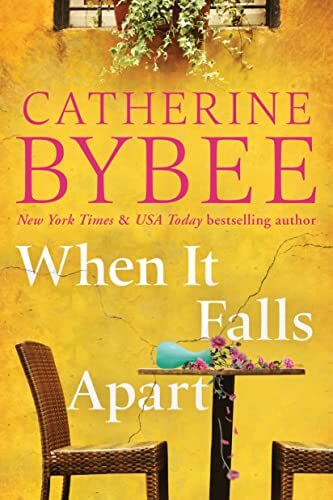 Brooke Turner has always had a complicated relationship with her father. But when his health takes a turn for the worse, she drops everything to care for him. He's her dad, after all, and he needs her. What Brooke doesn't anticipate is the unraveling of her long-term relationship and a cross-country move to San Diego's Little Italy.
Luca D'Angelo is the oldest of three children and a single father to a young daughter. When his mother rents the top floor of their house to Brooke, he's angry. Who is this beautiful stranger with no ties to the neighborhood? Can she be trusted in such close proximity to his family?
As Luca learns of Brooke's difficult journey with her ailing father, his heart softens. And Brooke, who witnesses Luca's struggle as a single parent, develops feelings for him, too. But when it all falls apart, will love heal their wounded hearts?
Enjoy an exclusive excerpt from When it Falls Apart 
CHAPTER FIVE

"Today was better. Finally, things are looking up."
Luca glanced at his mother from the other side of the table. It wasn't often they shared a meal with receipts of the day between them, but business had been in a tailspin for what felt like forever. Between restrictions that were implemented off and on for years, and employee shortages, it was only recently that things were getting consistently normal.
"What's this?" Mari held a receipt in her hand.
Luca narrowed his gaze, saw his signature for the comped meal.
He thought of the kind eyes behind her smile.
Silence stretched for a moment too long, he caught it, cleared his throat. "Your granddaughter thought it best to run through the kitchen during the height of lunch. This patron intercepted and kept everyone from unnecessary trips to an urgent care."
"Hmm." His mother stared over the receipt as if reading his mind. "Was she pretty, this patron?"
Luca turned his attention back to the inventory sheet to avoid his mother's eyes. "I don't believe I said it was a woman."
"I'll take that as a yes."
"Mama. Stop."
She put the paper to the side. "What? A mother can't ask her hand­ some single son about a pretty girl?"
"Why don't you put that energy into schooling your granddaughter to not use the kitchen as a playground?"
Mari clicked her tongue as she did anytime she was dismissing someone's suggestion. "Poor child needs siblings. Her playmates are the employees. It's wrong."
Much as Luca wanted to disagree, he couldn't. But he wasn't about to give Franny a brother or a sister without the required mother to go with it. And that was too much effort.
Luca finished his notes on the inventory and pushed the paperwork aside. He reached for the bread and broke off a generous piece. "Maybe tomorrow you can take Franny to the park."
"Maybe."
Giovanni made his way to the back of the restaurant where they were sitting and tossed his apron on a chair. "We need to hire more waiters."
Luca moaned.
Mari clicked her tongue.
Chloe came in with Franny at her side.
How had his daughter gotten so big? "Shouldn't you be in bed?" he asked with a smile.
Franny took his grin as an invitation and ran to him and jumped in his lap.
"What did I say about running in the restaurant?"
"No one is here," she argued.
"She has a point," Gio said, reaching for the lobster ravioli Luca had prepared for the daily special. It was their mother's recipe, but she didn't spend as many hours behind the stove as he did. Not when Francesca needed supervision.
Sergio raised his voice from behind the bar. I'm leaving."
"Are you hungry?" Mari asked.
"I ate earlier," he said with a wave of his hand. "Ciao, ciao."
A chorus of the same followed his goodbye.
Chloe walked behind him, locked the restaurant door. I'm not here until after three tomorrow," she said as she approached the table.
"Which is perfect since I'm leaving at four. You'll have to wait tables," Gio informed her.
"I can wait tables," Francesca announced.
Her willingness to help had Luca hugging her tight. "In a few years, my sweet."
"Nonna says she waited tables when she was my age. Right, Nonna?"
All eyes moved to Mari. "It was a different time."
Gio was shoving food in his mouth and talking. "Labor laws would bury us, but if we don't hire some staff soon, we might have to dress Franny up and see what she can do."
That had Francesca giggling.
"It will work out," Luca found himself saying.
Franny's mouth opened wide for a lion-size yawn. Luca smiled and said, "Okay, kiss Nonna. Time for bed."
"But … "
He placed a finger on her nose, and she stopped her argument and slid off of his lap. Luca watched as his pride and joy moved around the table kissing everyone goodnight and returned to his side. He lifted her into his arms, even though she was getting way too big to do this much longer. "You've been eating Santorini's gelato," he teased.
"Only a little."
He walked to the back of the building and through the family door to the stairway. The floor directly above the restaurant was where his mother, Giovanni, and Chloe lived. He and Francesca had the one above that, although it was common that his daughter wanted to sleep with her aunt or grandmother, and Luca never stopped her.
She needed the women in her life, considering her mother wasn't a part of it.
"Papa?"
Franny's head rested on his shoulder as he walked into her bedroom.
"Yes?"
"Can you take me to school tomorrow?" she asked when he set her down on her bed.
"I can, but Nonna will pick you up."
That seemed to make her happy by the smile on her face. She snug­ gled into the blankets and reached for the tattered stuffed llama she'd yet to give up when she slept.
"Go eat, Papa."
He kissed her forehead and tucked the blankets around her. "Sweet dreams."
Her eyes were already closing.
He backed out of the room, leaving the doors open on his way downstairs.
This was his life, every day, and he wouldn't change it for the world.

"How much do you want for this?"
Brooke looked over her shoulder at the man hollering from the other side of the driveway. It was eight in the morning, and the yard sale was busier than the sale rack at Walmart during the holidays. "Fifty."
The man narrowed his eyes, shook the power tool in his hand. "It's not worth that."
"You're right, it's worth a hundred, but I want it to go today." Power tools were the only thing of value her father had. And since she'd already danced on this stage once before, after his stroke, she knew how to price the items he'd decided to keep. And now that he no longer needed them, and she had no intention of using them herself … "Fifty-five for you."
"I'll give you sixty," another man said.
Brooke smiled. "My dad's in a nursing home. Highest bidder gets the tool."
The first man set it down and moved on. "All yours, dude."
By nine, all the tools were gone, and the bulk of the money she would make was in her pocket. Garden tools were the next to go. She planned on finding an apartment, and the extent of yard work would be a potted plant for him and maybe an herb garden for her. Rakes and shovels had no room in her life.
The minimum of furniture was staying in the condo up until it was sold.
Her father would only need a bed, a small sofa, TV, and side table for the space in the assisted living facility. She'd been combing through his things, without him, and choosing what he would keep and what was going to someone else forever.
The conversation about going into a home had been one of the hardest she'd ever had.
Her father's confusion was completely gone, but his physical self wasn't bouncing back like it had before.
"We have to think about what comes next," she'd started when it became apparent that he wasn't going to be able to care for himself once he was discharged from the nursing home. "Living alone isn't an option any longer."
Her father blinked several times before he released a long-suffering sigh. "I know. But you're here now."
She swallowed … hard. "I can't be your nurse."
He placed his hands over his protruding stomach. She could only imagine what he thought of in that moment. The wound that was slowly healing. The diaper he was wearing since getting to the bathroom in time was a struggle.
"We can hire a nurse."
Brooke hated to dash his hopes. "That's an expense we can't afford. Medicare doesn't pay for it."
"What if I get better?"
"What if you don't?" She sat forward, placed a hand over his arm. "Dad, listen, I can't live in Upland. Even if the condo was an option, I can't stay there. And as much as I love you, I don't see me cleaning your bottom."
"I'll wheel myself off a cliff before I … I let my daughter wipe my a-ass."
They were on the same page there. "I've looked into assisted living homes."
He narrowed his gaze, opened his mouth …
She cut him off before he uttered a word.
"It's your own apartment, Dad. Yes, there is help there, someone to keep you clean," she said as delicately as possible. "They do your laundry, keep the place tidy. Someone else is making your meals three times a day. You have a small space for your own food if you want it."
"O-old folks' home."
"Assisted living. And here is the bottom line. You can't afford to hire help, and I can't hire any help without selling the condo."
"Wh-where will you live?"
"Let's move to San Diego," she said with a smile. "It's close, but a compromise."
He shook his head.
"Dad. I'm doing everything I can here. I packed up and moved to California. You have to wiggle a little. You can't stay alone in the condo, and I cannot … I won't live there." Tears filled her eyes without invitation. "How fair is it for me to give up everything and you give up nothing?"
"I'm the one-one in the bed."
"And I'm trying to keep you as comfortable as I can. My work is suffering. My personal life is gone." She hated the emotion rolling down her cheeks.
"Assisted living."
"It's the best option. Please, Dad. I've crunched the numbers. Your savings will keep you there for a while, and the condo sale will make up the rest when it's needed."
He wasn't shaking his head anymore.
He covered her hand with his own. "You're not wiping my a-ass."
The decision had been made.
Now it was all about how to pay for it.
She needed the money from the condo to make it work, and even­ tually she'd spend time with a financial planner. If in fact her father didn't have any other issues and lived another twenty years, she needed a map on how she was going to provide for him.
His social security helped but didn't cover even half of what his bill would be. But he would have food and care with people available all day and night should he need it. And that was huge.
The compromise was San Diego.
He was going to a town outside of the city, and once he was there and the condo was in escrow, she'd find a small place and make it work.
Carmen was right.
Moving to San Diego was the best possible solution to the crappiest hand delivered to both her and her father.
Only once had her dad said that he didn't know anyone in San Diego.
Brooke looked him in the eye, not willing to cave. "Good friends will make the drive. Acquaintances won't. And when you're up for it, we can come back to visit. It's not a prison. It's senior living where you can come and go as you please, so long as your memory is intact."
Her father had smiled. "I don't r-remember my jokes."
"And I'm thankful for it," she teased. His jokes were awful. He thought they were hilarious.
At the end of the day, the hard decisions had been made, and now it was all about making it happen. She'd found her father's forever home and a real estate agent that insisted she'd get multiple offers on day one and likely be able to close escrow within thirty.
All she was waiting for was a discharge date for her dad and she'd hit the green light.
Then she'd look for her own place. Though she had considered looking sooner. Swinging rent, and the mortgage, and the down payment for her dad's place, and, and, and … It made her nauseous.
While the temperature rose, and the stragglers meandered in and out, Brooke sifted through the hordes of files her father hadn't bothered with in forty years. Birthday and Christmas cards, letters from his long­ gone mother back when he'd moved from the East Coast to California. While one or two were interesting to read, they all said the same thing.
And the Dear John letters.
Her father, in addition to his failed marriages, had racked up quite a few pissed-off women in his time.
Why keep the letters?
After two or three, Brooke determined that her father wasn't a trusting man. Which she already knew. That lack of trust bred insecurity and jealousy, which was the downfall of every relationship.
And now he was alone. Yes, he had her, but it wasn't the same and Brooke knew that.
For a brief moment, she thought of Marshall. Realized that her thoughts hadn't traveled to him in over a week.
She missed the security of the relationship but didn't find herself pining for the man.
He hadn't reached out to her. Never truly tried to change her mind.
If he'd really loved her, wouldn't he have tried?
Brooke shook off the impending melancholy and glanced around at the bits and pieces of yard-sale leftovers.
She opened the trunk of her father's car, the one she'd decided to drive until everything was sold and they'd moved to San Diego. Then she'd stop payment on the damn thing and give it back to the dealership that sold it to her dad in the first place. She bagged up the clothing that didn't sell, the miscellaneous household items collected by an old man, and tossed the yard-sale sign in the trash.
Three trips to the Goodwill later and she was ready for a shower, dinner, and bed.
Her phone rang while she was chopping vegetables for her salad.
"Miss Turner?"
"This is her."
"This is Simone." The social worker and Brooke had spoken many times.
"Do you have a discharge order yet?"
"Sure do. A week from Thursday. The wound should be good enough for a simple dressing, and the assisted living facility has agreed to accept."
Brooke stopped cutting the food and rescheduled her week in her head. "Okay. Thank you. Let me know if something changes."
She hung up the phone, growing tired just thinking about the work ahead of her. A quick call to her real estate agent put a deadline on when she needed to get the condo ready to show. She could use the garage for the piles of crap that would take a long time to get through while the place was on the market. Four days to pack and clean. Then a trip to San Diego to finalize her dad's space at Autumn Senior Living. She'd drop off a few boxes on what would be several back-and-forth trips for the small things. After mapping out the new space for her father, she had decided it made no sense for her to rent a truck and lug any of his furniture into the new place. None of it would fir. He needed a twin bed and a tiny love seat. The condo furniture wouldn't work, and sadly, it was trashed anyway. It was more cost effective to shop and have it delivered before her father arrived. She'd use familiar lamps and pictures to make the place feel like home the best she could.
It's all she could do.
Brooke finished her dinner, cleaned the mess she'd made, and car­ ried her second glass of wine to the living room.
It was strange to sit in a home she owned and yet feel like a stranger in it.
She and Marshall were always fluid, and home was wherever they landed. It worked, for a while. But she wasn't happy with Marshall. There was no safety. No security.
Brooke needed something different. She wasn't sure if San Diego was it, but it was the right place to start looking.
Excerpted from When It Falls Apart by Catherine Bybee with permission from the publisher, Montlake. Copyright © 2022 by Catherine Kimmer. All rights reserved.


Giveaway:

One finished copy of WHEN IT FALLS APART (US only)
To enter Giveaway: Please complete the Rafflecopter form and post a comment to this Q:

What did you think of the excerpt spotlighted here? Leave a comment with your thoughts on the book…
Meet the Author:
New York Times, Wall Street Journal, and USA Today bestselling author Catherine Bybee has written thirty-eight books that have collectively sold more than ten million copies and have been translated into more than twenty languages. Raised in Washington State, Bybee moved to Southern California in the hope of becoming a movie star. After growing bored with waiting tables, she returned to school and became a registered nurse, spending most of her career in urban emergency rooms. She now writes full time and has penned the Not Quite series, the Weekday Brides series, the Most Likely To series, and the First Wives series.
Buy: https://www.amazon.com/When-Falls-Apart-DAngelos-Book-ebook/dp/B09J4QTC8J