Lucy King has taken inspiration from Goldilocks & The Three bears for her latest release, Undone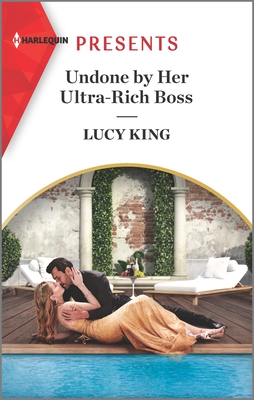 by her Ultra-Rich Boss. Featuring a grumpy bear of a man and a delightful girl with beautiful golden hair, I adored this story.
Finding a beautiful woman in his bed does not please Duarte one little bit. Firing Orla on the spot, Orla negotiates for her life. If she can secure a rare bottle of wine she knows Duarte wants; she gets to keep her job. Not only does she keep her job Orla sets out to impress the socks off Duarte. The mutual attraction builds and unable deny it any longer the two enter into an affair. The rules are no falling in love and it only lasts until the conference Orla was hired for is completed. Piece of cake, right?
Duarte and Orla practically combust around each other and the more time they spend together the closer they emotionally become. Haunted by his wife and son's death, Duarte is convinced his guilt means he's not allowed to love or be loved. Orla is all he thinks about morning, noon and night so, of course, he brings the affair to an abrupt halt.
I was glued to this story. It was brilliant reading about two characters who were no holds barred with each other, that was until Duarte figured out emotions WERE getting in the way. Duarte is as stubborn as a bear and Orla is a hopeful romantic despite going into the affair with both eyes open. Both are very likeable characters and it was heart breaking when Duarte pulled the red card just as Orla stepped up her braveness levels to suggest they continue their affair past the expiry date. The story was face paced and emotional. It was exciting and it was clear from the start this book was going to be a scorcher!
Very, very much enjoyed.
Book Info:

Publication: July 2022 | Harlequin Presents | Passionately Ever After #7
There's someone sleeping…
In the boss's bed!
As the CEO of a high-end concierge business, Orla Garrett makes sure she gets everything just right. She works herself to exhaustion readying billionaire Duarte's Portuguese vineyard for an event. But he's not impressed to find her asleep between his luxurious sheets!
Convincing ridiculously sexy Duarte she can do her job is easy. Resisting his invitation to something more personal certainly isn't! Orla knows that she's bad at relationships, and she refuses to be bad at anything. But the scorching heat between them could be hot enough to burn away her inhibitions…