In When It Falls Apart (The D'Angelos #1) by Catherine Bybee (6/21), When Brooke Turner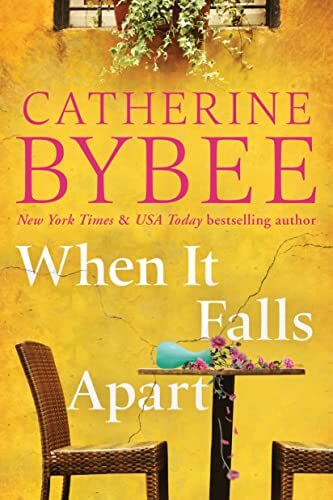 gets the call in the middle of the night that her estranged father has been rushed to the hospital, she has a feeling that even though she's been down this road before with him, this time might be different. Not only is Brooke going to have to move him into an assisted living facility, but she's going to have to move–at least temporarily–to California. Leaving behind a going-nowhere relationship in Seattle with her selfish live-in boyfriend, she focuses on her father's health. But funds are low and every day adds some new stress to her life. Part of Brooke's worries are diminished when she finds an apartment to rent in San Diego's Little Italy. Only, she didn't realize how much the owners, the D'Angelos, would lift her up. Or how completely she would fall for single father Luca and his beloved daughter, Franny.
Luca eased their kiss…
"Whoa."
"Bad?" he asked, knowing it wasn't. She laughed. Any tension that might have been, broke.
"Awful. We might need to do that again to see if it gets any better."
Luca grasped the back of her head. "Challenge accepted."
Luca D'Angelo might have been attracted to Brooke at first sight, but that doesn't mean he wants her to rent the top floor apartment in his family's building. He knows he's a wee bit overprotective. But Luca's mother, Mari, his two siblings, Chloe and Gio, and most especially his eight-year-old daughter Franny are his world. It becomes clear right away, though, that Brooke isn't about to hurt them in any way. Instead, she fits seamlessly into their world and offers them her personal blend of calm and care that brings them closer. Luca can see a future with Brooke featured prominently in it. Even Franny adores her. But first they will have to traverse issues from Luca's past and with Brooke's father before they can settle in.
"There's a weight that has lifted knowing you care and that you're here."
"That's what relationships are supposed to be, right?"
He kissed the side of her head. "That doesn't mean it's ever happened in my life."
Brooke rolled onto her back, looked up at him with a soft smile. "Me either."
An absolutely epic, highly emotional start to a new series by Catherine Bybee, When It Falls Apart was filled with charming characters, sensual romance, and led readers on an unforgettable trek through daily life in San Diego's Little Italy.
Brooke melted into his gaze. "My whole world had to fall apart in order for us to meet and land here. Now I have a partner and someone who truly loves me."
"With all my heart, amore."
My heart is so full after reading When It Falls Apart. Catherine Bybee always captivates me with her lovely stories, but this particular one truly hit home for me. As a former caregiver to my father-in-law for eight years, it was easy to tell that Bybee wrote Brooke's experience with her ailing father from personal experience. The raw emotions she navigated through during the ups and downs. The burnout she suffered. The longing for even just some small bit of a social life–and for a love of her own. Brooke was utterly incredible. And I have to think that a lot of her compassion and strength came directly from the author herself.
The other part that I adored was the D'Angelos themselves. The quintessential Italian-American family, they loved each other deeply. Even if they sometimes drove each other a little nuts with the way they butted into each person's life. (lol) Mari, Luca, Chloe, and Gio might have been loud and, ahem, spoke passionately about their feelings, but there was no doubting they were a solid family unit. Watching them take Brooke into their fold was amazing. Especially since she'd never had that kind of love and support before. It meant the world to Brooke to be included so fully in their lives. The same as it was important for the D'Angelos to help Luca, the single dad who did so much for his family, to find a woman who would love him unconditionally. Sigh…
With the type of hero every woman deserves in her corner and a heroine you'll want to befriend for life, When It Falls Apart is a must-read. I have a feeling that whether this is your first Catherine Bybee book or if you're a diehard fan, you'll find yourself completely smitten with The D'Angelos.
QOTD: Have you (or would you) change your life around to care for a family member or loved one, even if you have a strained relationship with them, like Brooke did with her dad?
Book Info:

Publication: June 21st 2022 | Montlake | The D'Angelos #1
From New York Times and USA Today bestselling author Catherine Bybee comes a bittersweet romance about the power of love in the face of heartbreak and loss.
Brooke Turner has always had a complicated relationship with her father. But when his health takes a turn for the worse, she drops everything to care for him. He's her dad, after all, and he needs her. What Brooke doesn't anticipate is the unraveling of her long-term relationship and a cross-country move to San Diego's Little Italy.
Luca D'Angelo is the oldest of three children and a single father to a young daughter. When his mother rents the top floor of their house to Brooke, he's angry. Who is this beautiful stranger with no ties to the neighborhood? Can she be trusted in such close proximity to his family?
As Luca learns of Brooke's difficult journey with her ailing father, his heart softens. And Brooke, who witnesses Luca's struggle as a single parent, develops feelings for him too. But when it all falls apart, will love heal their wounded hearts?