The Secret That Can't Be Hidden by Caitlin Crews won't be everyone's cup of tea but to me it was the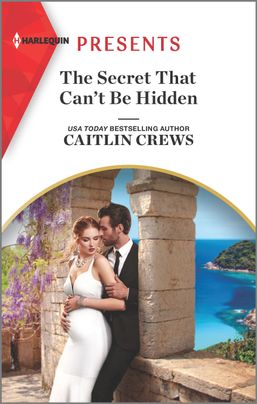 perfectly dark and driven Presents which delivered punch after punch of emotion and angst. I.Could.Not put this book down and read it in one go till fin!
Not really sure where to start I'll start with the ending. The moment Balthazar sees the light internally and realises the life he's allowed himself to lead is not for him. The moment he gives himself completely to Kendra, his pregnant revenge wife, is worth all the drama, angst and hostility that bubbles away in the background. I'm glad the closing chapter shines a light on Bhlthazar's loving husband side because there's not a lot of it in the book.
Caitlin Crews has hit the nail on the head in the Greek hero madly driven by revenge. It's what drives Balthazar and determines how he treats Kendra and it's heart-breaking when she realises this is only how he treats her. He's the best piece of work I've read in a while, he really gets my emotions up. Kendra has a huge battle on her hands to win over Balthazar and I think the author did a great job with her and I particularly loved the part where she made him do what he did to her in his office. The full confession of why Bhlthazar is a as is he is a surprise, I thought it was just his father that made him who he is but the confession was a brilliant touch and completely explained the whole story.
I am very much looking forward to book 2 which must be about Balthazar's brother… who although was only featured very briefly; it was enough to know his story will be fun!
There isn't a lot of romance in this one, it's dark, the families are well OTT with drama and the Hero's all horrible and growly while Kendra is the complete opposite. It's quite fierce, dark and emotionally driven so if that's not your cup of tea this one isn't for you.
QOTD: Do you like the dark Presents or would you prefer the lighter, more romance driven Presents?
Book Info:

Publication: April 2021 | Harlequin Presents | Rich, Ruthless & Greek #1
The powerful Greek billonaire meets his match in this thrilling secret pregnancy story from USA TODAY bestselling author Caitlin Crews.
Their desire cannot be concealed…
And neither can her baby bump!
Kendra Connolly has never forgotten her first, fleeting encounter with billionaire Balthazar Skalas. When they meet again, she gives in to temptation—completely. It's a decision made in the heat of the moment that has life-changing consequences…
Balthazar didn't expand his empire by being weak. The need he feels for Kendra is a liability, and the discovery that she's carrying his heir merely increases her power over him. Can this ruthless Greek be strong enough to let himself love her?
From Harlequin Presents: Escape to exotic locations where passion knows no bounds.
Read all the Rich, Ruthless & Greek books:
Book 1: The Secret That Can't Be Hidden
Book 2: Her Deal with the Greek Devil