Today, HJ is pleased to share with you

P. Dangelico's

new release: 

You Can Have Manhattan

You are cordially invited to the worst wedding of the century.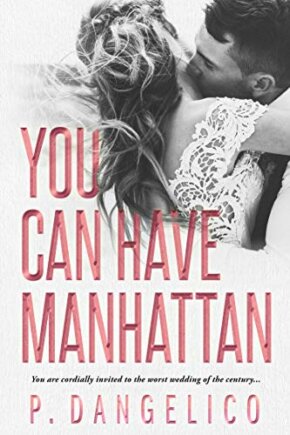 Sydney Evans is no stranger to hard work. It's the one constant in her life. And with no family or friends to speak of it's been easy to pour everything she has into her career as general counsel for Blackstone Holdings.

She wants for nothing. Until her boss offers her a once-in-a-lifetime opportunity. All she has to do in return is marry his good-for-nothing son.

Scott Blackstone used be a party whore. Pardon, party animal. He hasn't been that guy in a long time though. Not since he moved to Wyoming, bought a failing cattle ranch, and turned it into a profitable business.

All is good. Until a phone call from his father threatens the quiet, simple life Scott's built. Marry or lose everything. And to a woman who can't stand him, no less. Well, Scott is not going down without a fight. He's never going back to Manhattan. Not if he can help it.
Enjoy an exclusive excerpt from You Can Have Manhattan 
Scott
It turns out I was a lot more conventional than I thought I was, the blame resting entirely on my parents' shoulders. I didn't agree with them on much, but their marriage was something to be admired. They were a team, partners-in-crime, loyal to each other above all and anyone else. Even their children. I was a married man now and whether that was by choice or not didn't factor. I felt married down to the marrow of my bones. The thought of cheating on my wife turned my stomach. The thought of her cheating on me made me want to break things, specifically the other guy's skull.
In the distance, a flash of color caught my eye. The image sharpened into a familiar pair of red running tights and my foot fell heavier on the accelerator, an unfamiliar proprietary feeling rising up. Go figure.
I pulled a U-turn when I passed her and coasted alongside, the pickup keeping pace as she jogged with her earbuds in. Rolling the window down, I waited a bit, determined she was going to purposely ignore me, and decided I didn't like being ignored. "Can you please turn down the music?"
No answer. She refused to acknowledge my presence. Nor did her brisk jog break rhythm. Interesting. Maybe she wasn't as down with my extracurricular activities as she'd suggested. Warmth spread in my chest.
"What are you doing?" I tried again.
"What does it look like I'm doing?"
Yep, she was mad. Satisfaction joined the warmth. My mood improved markedly. "Trying to become lunch meat for any of the black or grizzly bears that routinely step out of the park. There are still a few around that haven't gone to bed yet."
Sydney stopped cold in her tracks and pulled her earbuds out, and I hit the brakes on the rust bucket Ford. She wiped the sweat beaded on her brow with the sleeve of her black jacket and tilted her head as she inspected my face.
"Are you kidding?"
"No, babydoll. I am not. And as much as I don't want to be married, I want to be a widower even less." All this with a straight face. Her already flushed face turned beet red.
"Would you stop calling me that––sweet nuts!"
Sweet nuts? A chuckle broke out of me. Somebody had finally lost her cool and it was about damn time. A genuine grin split my face. It must've disoriented her because hers went blank for a moment, but only for a moment because almost immediately she shook the stars out of her eyes and a killer glare took its place. "Stop what you're doing at once."
"What am I doing?" My grin automatically grew bigger.
"Your mental warfare is not going to work with me."
"I have no idea––"
"One minute you're on your period––the next you're trying to charm me with a pair of dimples and those damn eyelashes."
This had me legitimately confused. The fuck did eyelashes have to do with anything? "Again, I don't––"
"So unfair!" Her arms flailed as she paced in circles.
This was too much fun. Even more than I'd hoped for and vowed to redouble my efforts to make her lose her cool more often. I was trying to sort out why she took issue with my eyelashes when she started ranting again.
"I've worked my ass off my entire life for this and I won't allow you to spoil it for me!" She was really steaming now. The new Mrs. Blackstone went savage when she was angry. "I'm not one of your groupies, Scott. I'm not a clown! I'm a first-rate negotiator and a damn good lawyer!"
A clown? The last thing I would ever consider Sydney was a clown. Reminding me she was a bloodsucking lawyer, however, did put a dent in my amusement.
"Don't remind me."
"Apparently, I have to!" She stopped pacing, stared. "You know what, I'm done being patient with you."
As I watched her take off down the road at a hard run, her blonde ponytail swinging back and forth, a feeling of helplessness wiped away my amusement. She might very well be the next CEO of Blackstone, but out here I was the expert. It was my job to keep her safe and I'd be damned if she was going to get herself hurt on my watch. It needed to be made crystal clear to her that I was in charge, and I was just the guy to do it. Jumping back in the truck, I tore down the street and cut her off.
"Go away, Scott." A moment later she was in my arms. "Have you lost your––ahhhh!! Put me down!" Hauling her over my shoulder like a sack of feed, I walked around to the passenger side, opened the door, and gingerly placed her on the bench seat.
"I wasn't kidding." I wedged my body between the passenger door and the open road to block her escape while she glared at me. "If something happens to you out here, no one is coming to the rescue." And I meant it. Mother Nature was fierce and had to be respected. A cavalier attitude out here could get you killed.
She straightened in her seat and stared out the windshield, face smooth, the subtle tightness of her jaw the only indication of her temper tantrum. "Take me back to the cabin please."
She was back to doing her favorite impersonation of an ice sculpture. So be it. I slammed her door shut and climbed behind the wheel of the pickup. I was in the right. I knew I was, and yet I couldn't shake this feeling that once again I was being framed as the bad guy. Still, amends needed to be made for my behavior lately.
"Don't run at dusk. Bears are more active then, and with the warm spell we're having, more are hibernating late. Late morning is safer. Don't run without your phone, keep the music on low volume, and have bear spray with you at all times."
I reached over her legs, popped open the glove compartment, and my arm inadvertently brushed the top of Sydney's thigh. She exhaled sharply and moved her legs aside. Not fast enough for me to miss the reaction though. Briefly, I entertained the possibility that she wasn't as immune to me as she'd led me to believe.
"You're crowding me."
Maybe not. Wishful thinking. The ice princess was about as likely to be sexually attracted to me as I was to Bigfoot Jojo––one of the ranch hands. Jojo was called Bigfoot not for his size but rather his abundance of body hair. So yeah, zero chance.
Excerpt. ©P. Dangelico. Posted by arrangement with the publisher. All rights reserved.


Giveaway:

1 Signed paperback copy of You Can Have Manhattan by P. Dangelico
To enter Giveaway: Please complete the Rafflecopter form and post a comment to this Q:

What did you think of the excerpt spotlighted here? Leave a comment with your thoughts on the book…
Meet the Author:
P. Dangelico loves romance in all forms, cuddly creatures (four legged and two), really bloody sexy pulp, the NY Jets (although she's reconsidering after this season), and to while away the day at the barn (apparently she does her best thinking shoveling horse crap). What she's not enamored with is referring to herself in the third person and social media so don't expect her to get on Twitter anytime soon. Oh, and although she was born in Italy, she's been Jersey Strong since she turned six.
Connect with P. Dangelico:
Facebook: https://www.facebook.com/p.dangelico/
Twitter: https://twitter.com/PDanAuthor
Instagram: https://www.instagram.com/pdangelicoauthor/
Goodreads: http://bit.ly/2C91Fv7
Website: http://www.pdangelico.com/
Stay up to date with all things P. Dangelico. Join her mailing list, today: https://www.pdangelico.com/contact

Buy links:
Amazon: https://amzn.to/2y2H2QF
Amazon Worldwide: http://mybook.to/YouCanHaveManhattanPD
Nook: http://bit.ly/YouCanHaveManhattanPDBN
Apple Books: http://bit.ly/YouCanHaveManhattanPDAB
Kobo: http://bit.ly/YouCanHaveManhattanPDKOBO
Goodreads: http://bit.ly/2Yr813e