Today, HJ is pleased to share with you

Jill Childs's

new release: 

Gracie's Secret

My dearest daughter, I will never forget the day I nearly lost you. The day you learned the secrets that would tear our lives apart…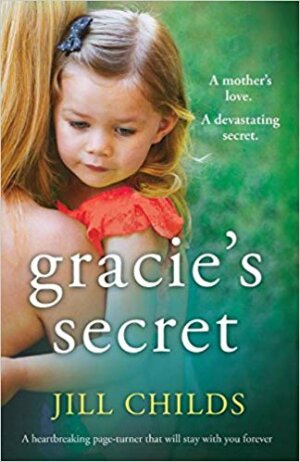 Time stops for Jen when her beloved daughter, Gracie, is involved in a terrible car crash. Pronounced dead at the scene, it's a miracle when paramedics manage to then resuscitate the little girl.

The relief Jen feels at Gracie's recovery is matched only by her fury at the driver of the car – her ex-husband's new girlfriend Ella. Jen has never trusted Ella, and now her worst fears have been confirmed.

But then Gracie begins to tell strange stories about what she heard in the car that day, and what she saw in those moments near death. It's clear that there's something shocking hidden in Ella's past… but exposing it could tear all their lives apart.
Enjoy an exclusive excerpt from Gracie's Secret 
My body aches. The bed is soft and warm and I long to rest but I'm too afraid to close my eyes. Every time I do, I see her face. Hanging there, a second before the bang. Her eyes are wide, staring into mine. Her eyebrows two neat wedges. Her mouth, the lips painted deep red, parted.
Then the almighty crash, the crack of the airbag exploding in my face, thumping me in the chest, my own limpness, thrown back and forth, as helpless as one of those stuffed crash dummies catapulted to and fro in slow motion.
A moment later, utter silence. Life was suspended. Traffic stopped. A high-pitched screeching inside my ears blotted out the living world. The dead world too.
I asked one of the paramedics, "Is she all right?" My voice was a croak.
"Don't worry, flower. She's fine."
Their hands were thick and strong and worked briskly over my body, checking, assessing, easing me out, laying me flat on a stretcher. Above, the arc of a streetlight against a low cloud as I was carried away from the wreckage. I wondered at it. A perfect curve. So graceful. The bending arm of a dancer.
They thought I was asking about Gracie, still ominously silent in the back. They lied, of course. She was anything but fine. That horror was still to come. But at that moment, in the madness of the accident, when the world was still spinning and I barely knew who I was, where I was, I actually meant her, that girl whose face was lodged in my head, that complete stranger.
Later, Richard told me.
"It was instant," he said. "That's what the doctors said. She didn't suffer."
What did they know? They didn't see her eyes. The horror in them.
"Don't think about her."
How could I do anything else? I couldn't help it. I had to keep asking. All the time the doctor was examining me. How old was she? What was her name? I needed a name.
"Don't, Ella." Richard looked desolate. "Stop it. There's nothing you can do."
He was finally forced to tell me about Gracie when he put me in the taxi outside the hospital. He was all apologies, flustered as he handed the driver a bundle of notes to get me safely home.
Sorry he couldn't come with me. So sorry. He ought to be looking after me. He knew that. But Gracie—well, it wasn't looking good.
They weren't sure she'd make it. His eyes were red.
He bent low to kiss me before he closed the taxi door.
"You'll be all right?"
I didn't answer. I felt sick. Little Gracie. What if she died?
Dear God, what if?
"It's not your fault, Ella." He read the wretchedness on my face. "You do know that?"
Wasn't it?

There's a tree outside the bedroom window. Its bare branches are sharp and scrawny, a scribble of black lines on white sky. A few more months and the buds will come again, leaves will clothe it. Sunshine and nests and greenery and she, that girl—they say her name was Vanessa— she won't see any of it. All the plans she made, whatever they were, will never happen now.
Downstairs, the bang of the front door. I lie very still and listen. He goes into the kitchen and the fridge opens with a soft suck. The click and fizz of a can opening. Beer, probably. Or Coke. I wait.
His tread is steady on the stairs. When he comes in, I close my eyes and pretend to be asleep. Why? I want so much for him to hold me. I want to cry on him and tell him it's me, it's all my fault, if Gracie dies, it's because of me. I want to let it out and be comforted but I can't. Instead, I build a wall. It's what I do.
He stops moving and, in the silence, I feel him watching me from the doorway, wondering if I'm awake, unsure what to do. I hold my breath. Inside, I'm screaming: come to me, hold me, my love, please. The silence stretches, taut as skin.
Then it tears and he turns away, retreating, and it was my own doing; I'm pushing him away, and I shake, lonely for him. Why shouldn't I hurt? What right have I to be safe and whole when Gracie struggles for life and that girl, Vanessa, is already cold?
Later, much later, the mattress shifts as he lies beside me. A warm arm threads itself round my waist and I shudder and sigh. He kisses the skin between my shoulder blades. Not a sexual kiss, just tender. Just kind. I don't blame you, the kiss says. It's not your fault.
Gradually, his muscles relax and become heavy and I wonder how he can sleep, after all that's happened, knowing Gracie may not be alive in the morning.
Excerpt. ©Jill Childs. Posted by arrangement with the publisher. All rights reserved.
Giveaway:

Print copy of GRACIE'S SECRET by Jill Childs
To enter Giveaway: Please complete the Rafflecopter form and post a comment to this Q:

What did you think of the excerpt spotlighted here? Leave a comment with your thoughts on the book…
Meet the Author:
Jill has always loved stories – real and imaginary. She's spent 30 years traveling the world as a journalist, living overseas and reporting wherever the news took her. She's now made her home in London with her husband and twin girls who love stories as much as she does.
Although she's covered everything from earthquakes and floods, riots and wars, she's found some of the most extraordinary stories right here at home – in the secrets and lies she imagines behind closed doors on ordinary streets, just like yours.
Buy the Book: