Fourth of July Box-O-Books Giveaway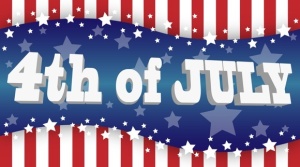 Ahhhhh…the Fourth of July. Backyard barbecues and parades. Long weekends and fireworks. It also makes me(Michele) think of lazy days in the sun reading books by my favorite authors.

Okay, everything makes me think of reading as you all probably know by now! But summertime especially has me just itching to dig out some of my all-time favorites to reread as well as diving into some new stuff I've been looking forward to.

There are so many wonderful new releases to enjoy in the next couple of months from big-name authors like Jill Shalvis, Susan Mallery, Sandra Hill, Robyn Carr, RaeAnne Thayne, and Jennifer Probst. Several of the stories are set in beautiful locations and even the book covers scream summertime to me.

And who knows? I might just dust off my old(er) favorites from Jane Austen, Nora Roberts, Georgette Heyer, and even Nicholas Sparks. What a perfect way to spend an afternoon or evening, relaxing with familiar characters who are like cherished friends.

So whether you are enjoying a relaxing long weekend with family and friends or you have to work (like me), all of us here at Harlequin Junkie wish you a happy, safe holiday!!

Michele 🙂
In honor of the holiday, we have an awesome Box-O-Books to give away with these titles: 
Held Against You by Season Vining
At His Service by Suzanne Rock
Miss Match by Laurelin McGee
Beyond the Cut by Sarah Castille
The Rodeo Man's Daughter by Barbara White Daille (Signed)
His Poor Little Rich Girl by Melanie Milburne (Signed)
For a chance to win, please let us know your favorite summertime reads. Is it a particular author? A classic book to peruse again? A certain genre? Or simply whatever is brand new and waiting on your to-be-read list?
Box-O-Books Giveaway Details:
 You 

must

 be an email subscriber of HJ blog
Leave a comment on this post
Box-O-Books Giveaway Mailing Info: 
Shipping Details: Must have a US mailing address, PO Box. or a forwarding address in the US that we can mail to.
Box-O-Books will be randomly selected. 
This contest will close on Thursday July 9, 2015 8:59 PM (PT) and the winners will be notified via email and on this Post. Winner will have 48 hours to respond to my e-mail before a new winner is selected.