Trope it Up: 
Friends-to-Lovers
If you love reading romance novels as much as we do here at HJ, you definitely have a trope or two that you love to read about.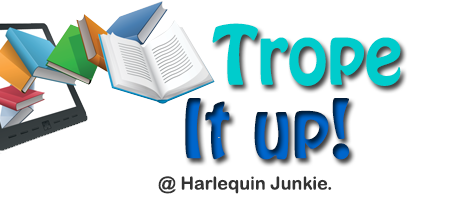 Today we are Troping up on

Friends-to-Lovers

Michele here, again, to discuss another of my favorite tropes to read: Friends-to-Lovers.

Everyone will have a different reason why they like this type of story, if they like this type of story, that is. For me, I think it's that the two friends will already have built up trust between them so there is a solid foundation in place for them to start their relationship.

I also really enjoy watching that transition from friend to something extra. Some characters fight it. Some embrace it. Some coast along until it gets to be too intense. Either way, it's fun!

I've picked out some of the books that come to mind when I thought of this trope. I know I'm forgetting some but here are ten of my favorites:
Sweetest Mistake (Sweet, Texas #2) by Candis Terry:
This was also a reunion story. Jackson & Abby started off as friends as kids so when she comes back to Sweet, TX, they try first to be friends but end up more. The story was sexy, funny, and paired two people who were champions for others in need–Jackson was a firefighter and Abby rescued animals.

Wild Iris Ridge (Hope's Crossing #7) by RaeAnne Thayne:
This was also a reunion story. Brendan & Lucy were resistant to give in to their chemistry because they didn't want to upset his two kids and they felt it might look to be in poor taste after he lost his wife, Lucy's BFF. This story detailed an intense attraction while also showing them healing after their loss. So heartfelt!

Anticipation (Brothers Ink #2) by Sarah Mayberry:
HOT!!!! Blue & Eddie…good gawd almighty! This was one of those stories where everyone around them knew they had a thing for each other, but they worked together so it was probably not a good idea, but there's no getting around the attraction. Sarah Mayberry included some scorching hot love scenes along with touching moments. Perfect balance.

Outback Dreams (Bunyip Bay #1) by Rachael Johns:
Faith & Monty were childhood best friends who didn't want to mess up their friendship by giving in to temptation. But a night filled with alcohol changed that and then there's no turning back. Tender & sweet romance, with family issues also interfering, this was one book I couldn't put down.

Snow Falling on Bluegrass (Bluegrass #3) by Molly Harper:
I had to include something from my favorite author. And Kelsey & Charlie were so much fun. There was a bit of a love triangle, a natural disaster of sorts, hilarious situations, and things were smoking hot between uber organized Kelsey and geektastic Charlie. Loved it!

Maybe This Christmas (O'Neil Brothers #3) by Sarah Morgan:
Tyler & Brenna's story…finally!! If you've followed this series, you were waiting for this one. And it was SO good. Sparks were flying all around, and not just from the fireplace! There was a lot of great involvement from secondary characters, too, which I think Sarah Morgan excels at.

Overruled (The Legal Briefs #1) by Emma Chase:
Stanton & Sofia were both alphas in the courtroom, but she loved to give up control in their friends-with-benefits arrangement. This was a complicated relationship thanks to Stanton's kid and sort-of girlfriend back home in Mississippi. It was fun, witty, and had two Drew sightings if you've read Emma's Tangled series. 😉

Always On My Mind (Lucky Harbor #8) by Jill Shalvis:
Leah & Jack. Wow. This was a pretend romance between the hunky firefighter and the talented pastry chef to appease family. Chemistry was off-the-charts, lots of funny scenes, and with family drama that was bittersweet but realistic. This story is why I absolutely adore Jill Shalvis!!

All Summer Long (Fool's Gold #9) by Susan Mallery:
Charlie & Clay's romance! Arguably my favorite in the Fool's Gold series. So far. They both help each other over some issues: Charlie's painful past, and Clay's fame interfering with becoming a fireman. They were absolutely lovely together, and this was so charming and so sweet it brought me to tears…especially the ending.

Bite Me (Pride #9) by Shelly Laurenston:
Livy & Vic's romance was both hysterical and smoldering hot. Shelly's paranormals are always comical and quirky, but this one took it to new levels. High energy with lots of fighting–both with action scenes and bickering between Livy (a honey badger shifter) and Vic (a tiger-bear shifter), this one was as wonderful as it was wacky.

 So now that I've rambled on about my top picks, what are your favorites in the Friends-to-Lovers trope? Any certain books that stand out? Any authors that have a knack for this type of story? Or are you not a big fan of the trope?
I'd love to hear what you all have to say about it.

Michele H