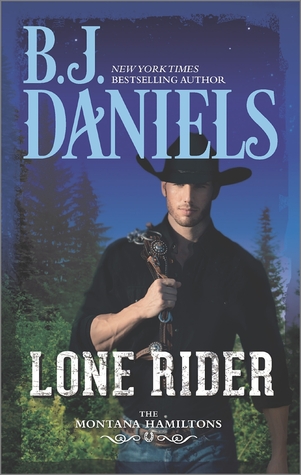 In Lone Rider (The Montana Hamiltons #2) by B.J. Daniels, Bo Hamilton took the job overseeing the foundation in her mother's name to prove to herself and her father, senator Buckmaster Hamilton, that she could be successful. But at the first sign of trouble when money goes missing, she takes off into the Crazy Mountains in her backyard. Her place of solitude and peace. Bo's problems are compounded when a fugitive finds her in the mountains and holds her captive. When she hoped someone in town would send a search team, she never expected it to be her ex-boyfriend Jace Calder.
'He dug out a roll of duct tape, ripped a piece off with his teeth and, still holding onto her hair, one-handedly bound her wrists. She had the horrifying feeling that this wasn't the first time he'd bound a woman with duct tape.'
Jace still isn't sure why he volunteered to find Bo. He's blaming it on his younger sister Emily to whom he can never say no. Bo took a chance on giving Emily a job when no one else in town would have. As far as lingering feelings for Bo, Jace refuses to acknowledge them. Until he realizes she didn't take off out of guilt over the missing money. His tracking skills tell him she's been taken captive. But getting them both safely off the mountain, especially with, yes, attraction — and bad blood — still simmering between them, plus a deranged man tailing them, will be risky. Jace is willing to see it through, though, so they can get their chance at forever.
'He had no idea what tomorrow would bring. All they had was tonight. "I never stopped loving you. I damn sure tried, but Bo, there is no one like you."
She smiled through her tears as he pulled her to him. "Promise me that we can put the past behind us when we get off this mountain," she said, drawing back to meet his eyes. "That we can start over, no regrets?"
This Western romance had it all: suspense, betrayal, a second chance at romance, and redemption. With a plot that kept me on my toes the entire time, Lone Rider was a riveting story.
Now this is book two in The Montana Hamiltons series and I haven't yet read book one, Wild Horses, but with some perseverance you can read this as a standalone. There was a good breakdown of the continuing storyline threading through this series. And boy was it complex! Lots of characters and so many mysteries to solve. But B.J. Daniels wrote it in such a way that it wasn't confusing so much as it was intriguing. Even at the end of this book, Bo and Jace get a happily-for-now, but the ongoing drama with Bo's mother and father, as well as Jace's sister Emily's problems were still not resolved. Can't wait for the next installment to find out more…
Jace and Bo's reunion portion of the story was a little bittersweet to me. They had to get through a lot of animosity over the way things ended between them before they could heal and move forward. There wasn't much trust left so that of course had to be built back up. I liked how that happened little-by-little as they worked together to get away from Bo's captor and make it to safety. Like I said, Jace and Bo did get a happy ending and it was one of the sweetest, most heartfelt scenes I've read in a while. Truly magical. *dreamy sigh*
There was certainly more to Lone Rider than the book synopsis indicated. This turned out to be an engrossing storyline with compelling characters whose lives were so intricately twined together that it's anyone's guess how this series will end up.
Book Info:

 July 28th 2015 | by HQN Books | The Montana Hamiltons #2
When danger claims her, rescue comes from the one man she least expects…
A cowgirl at heart, Bo Hamilton does her best thinking in wide-open spaces. So when money goes missing from the family foundation she runs—meaning one of her trusted, ragtag employees is a thief—Bo rides into the Crazy Mountains to figure things out. But a killer hiding among the sawtooth ridges takes her captive…and isn't planning on ever letting her go.
Bo's disappearance gets folks thinking she's the guilty one run off with the money, but Jace Calder would bet his ranch that she's innocent. Not that he has any reason to trust the beautiful, spoiled senator's daughter. But she also gave his troubled sister a job when no one else would. For his sibling's sake, Jace is going after Bo and bringing her home to face the truth. But in the wild, rugged Crazy Mountains, he finds Bo at the mercy of a suspected murderer. As her only hope, Jace is about to find out what they're both made of.