Trope it Up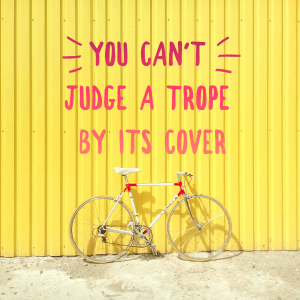 Love, Laughter and Happy Ever Afters
Here at the Harlequin Junkie, the motto is Shamelessly addicted to Love, Laughter and Happy Ever Afters; a motto that rings true for many romance readers and stands for everything I adore about romance novels. Such as the love that grows between the main characters; the range of emotion or playful banter an author delivers within a story that can lead to tears of joy or plenty of smiling and laughing for me as a reader; and the happy ever after the characters achieve once they've overcome tough obstacles to be together.

All the sub-genres of romance incorporate these key elements superbly, but with contemporary romance being the sub-genre of romance I read the most of, I'm going to have to say that these books do it best. Really, there's nothing better than a feisty heroine challenging a hero or an arrogant, playboy hero thinking his charm will work and being shot down at every turn in a modern setting whether it be a small town or a big city. Talk about a laugh and a half when said playboy realizes his charm doesn't work on every female.

Now, I'm going to list a few of the contemporary romances I've read this year below, of which I loved or that made me laugh and where I was left completely satisfied by the couple's happy ever after long after I finished the story.

Hot Asset by Lauren Layne – Ms. Layne provides quite a compelling, addictive and humor-filled read in this book where arrogant playboy hero Ian Bradley doesn't know what hit him until he comes face-to-face with the woman that could turn his life upside down in more ways than one. Who knew investigating him for insider trading could be so fun?

Don't Call Me Cupcake by Tara Sheets – This is a brilliant enemy to lovers read where magic is real, love is the ultimate reward once the main characters overcome the tough obstacles keeping them apart, and the heroine challenges the hero with her feistiness and determination to drive him away from the town. Who will win their battle?

Can't Stand the Heat by Peggy Jaeger – If you haven't read the Will Cook for Love series by Ms. Jaeger then you are missing out on some delightful and captivating writing, as the Laine family of women are very interesting, feisty and certainly provide quite the challenge for the heroes of the books. The heroine in this story, Stacy, faces her toughest challenge yet in having to work alongside notoriously difficult director Dominic Stamp. Will she be able to make sure things go smoothly on set in order to get her dream of being at the helm of her own show?

Then There Was You by Miranda Liasson – This is the first book in a new small town series for Ms. Liasson, and it's a story I loved and was filled with moments where I laughed and smiled and couldn't wait for the hero and heroine to admit that they had feelings for each other. Why continue to fight their chemistry, even though they have a past that has made the heroine see the hero as the enemy?

Under a Storm Swept Sky by Beth Anne Miller – Ms. Miller delivers a superbly-crafted and captivating read in this book, which took me on an emotional rollercoaster, but had me absolutely loving the growing relationship between the hero and the heroine. Rory and Amelia are total opposites and start off as enemies, but this story has some really interesting twists and ends with a wonderful happy ever after that had me smiling long after I finished the book.

Honor on the Cape by MK Meredith – Ms. Meredith is such a fabulous writer that knows how to bring plenty of emotion to her stories, and delivers a wonderful second chance romance in this second book of her On the Cape, Cape Van Buren series. The heroine, Blayne, blames the hero for what happened between them years ago, and there's no way she can forgive him. But with the pair forced to work together, anything can happen. Will James be able to win Blayne back?

If you love the Harlequin Junkie motto as much as I do, tell me why. What is it about romance novels that you love? Are there any books that you've read lately that you'd love to tell me about?
Bec
Connect:
Blog: https://bookmagic-underaspellwitheverypage.blogspot.com/
Facebook: https://www.facebook.com/BookMagicBlog/
Twitter: https://twitter.com/BookMagicReview
Instagram: https://www.instagram.com/bec_bookmagicreviews/