The Love Child by Catherine Mann: Control…sometimes it's all that keeps us from the animals and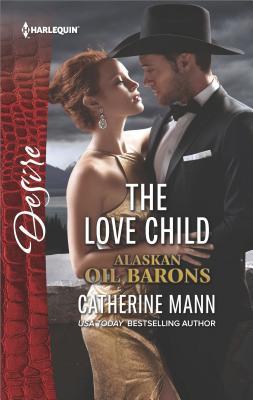 sometimes it's the animal that helps bring it to us.
For Isabeau Waters that is certainly the truth. Her service dog Paige helps her maintain control as well as her physical and mental health. Isabeau's fairly focused on her career right now though, she is a PR pro helping people to fix and create their images and right now that is what the Alaskan Oil Barons need, not someone overwhelmed by the sheer animal magnetism they exude.
Trystan Mikkelson wasn't sure about the animal magnetism, but he was sure he never had to work so hard for a woman. Nor did he ever really have this much riding on the outcome. He owed his family, he owed his mom and it was for her that he would do this. However he wasn't sure he could get through a month without acting on this crazy attraction to Isabeau.
One month, two people, one dog and a VERY overwhelming attraction, add in two merging family and who knows what is going to happen. One thing is for sure though and that is that the outcome will affect everyone.
This is book three in a series that will leave you aching for more. These two families are merging and to say they are having growing pains is to be leaving things out. However Ms. Mann has done something twisted. She takes these families and weaves them into the fabric so much so that you can't leave them. The warning that should come with this book and in fact this series is don't read them. – Not yet anyway. Wait until they are all out get them all and then sit down for a date. Otherwise you will be left starving for more.
Book Info:

Publication: Published April 3rd 2018 | Harlequin Desire | Alaskan Oil Barons #3
USA TODAY bestselling authorHer job is to turn a reclusive rancher into a charming oil tycoon…Having his baby isn't part of the deal!With his family's company at stake, Trystan reluctantly agrees to a makeover. But the media consultant hired to smooth out his rough edges has him aching. When passion leads to pregnancy, the only honorable choice is a proposal. But Isabeau won't say yes without his love…