You Can't Judge A Trope By Its Cover:
Enemies to Lovers Edition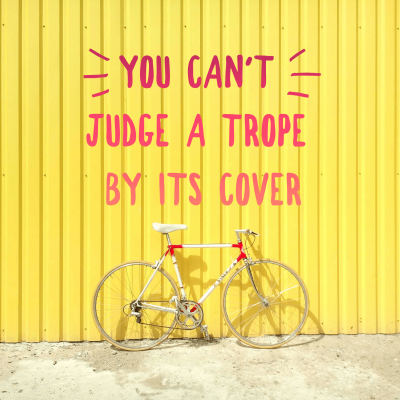 Enemies to Lovers Edition
There is something so delicious about the enemies to lovers trope. I don't know what it is exactly, but some combination of sexual tension and snarky exchanges just makes it so much sweeter when our heroines and heroes finally end up together. Honestly, I find it delightful watching two people fight a battle we know they are going to lose. This HEA is a great one because it really feels earned. And better yet? They had to earn it from each other.

Another amazing aspect of the enemies to lovers trope can be combined with just about any other trope. Marriage of convenience? Check. Best friend's little sister? Check. Secret Romance? Check. Military? Check. It just never ends!  

Some of my all-time favourite enemies to lovers tropes are listed below!

Asking for Trouble by Tessa Bailey. Tessa Bailey is the Queen of Dirty Talk. So we know that any enemies to lovers romance she writes is going to be off the charts steam. Hayden and Brent have been sniping at each other for a long time, while watching all of their friends fall in love and get married. There is definitely some heat hidden behind all that bickering!

Degrees of Control by Eve Dangerfield. This is enemies to lovers lite. A brief initial encounter has Charlie telling James exactly what he can do with his disrespectful and cocky attitude. But there is something about the yoga teacher who doesn't drink or eat meat that has James coming back to her again and again. Jame and Charlie manage to turn their snarking and bickering into a fun, sexy game that they both love.

Seducing the Bridesmaid by Katee Robert. Reagan is a woman with a plan. No one and nothing is going to stop her from getting Best Man Logan, except for groomsmen Brock. Somehow Brock keeps riling her up in the most delicious ways imaginable. Brock knows that Reagan is it and he's going to have a ton of fun getting under her skin and making her see the truth, one snarky comment and orgasm at a time.

Capture Me by Anna Zaires. Dark Romance and Enemies to Lovers. This one is not for the faint of heart. Yulia is responsible for almost killing Lucas' boss. One of the most fear arms dealers in the world. Her options are to stick with Lucas for protection or fend for herself. Being captive doesn't stop her from hurling insults as often as she can. If only Lucas didn't find it quite so endearing and cute he might let her go.

Playing with Fire by Kate Meader. Female firefighter trying to make it in a male dominated profession? A mayor who is up for re-election and making sexist comments while he's at it? Check and check. Eli and Alex can only stop bickering long enough to kiss, but somewhere along the lines things start to get serious.

Burn for You by GT Geissinger. This was my most recent and current favourite enemies to lovers trope. Jackson "the beast" Boudreaux is a rude, condescending, and grumpy man. And Bianca would rather "douse herself in hot sauce" than cook for this man ever again. But fate has a funny way of being and Bianca and the Beast find themselves in need of a quickie marriage to save both of them. What could go wrong?

Tell me, how do you feel about the Enemies to Lovers Trope? Comment below! What are your favourite books in this trope?  
Katharine