A Rake By Any Other Name by Mia Marlowe: Few men would be upset by having to choose between two lovely young women as his future bride.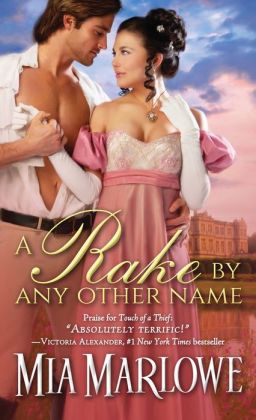 For Richard Barrett, Lord Hartley, the handsome but somewhat socially awkward young lord, it's not really a choice he wants to make. However, when given the choice between following his heart, and saving his estate and the livelihoods of the people who depend on the land, he is forced to make a choice. And that is the dilemma that is the center of "A Rake by Any Other Name" which is the first book in Mia Marlowe's new Somerfield Park series.
Richard, is abruptly called home due to a family crisis, and needs to take over the reins of his father's money-deficient estate. Sophie Goodnight, daughter of a wealthy man who made his money in India, is Richard's family's solution to their financial crisis—marry Sophie, marry the buckets of money that her father is willing to settle on her. However, Richard has a near engagement with Lady Antonia Pruett (whose family is also name-proud but money-poor) who he met in France and is deeply enthralled with. So therein lies Richard's quandary; marry the proper and class-appropriate Lady Antonia who wants him, or the forthright and highly appealing commoner Sophie who doesn't?
Sophie and Richard are both very young, Richard only twenty-one, but both are largely wiser than their years. Sophie knows what she wants out of life, and that isn't being sold to the poorest peer with the best pedigree. Sophie is also not going to pretend to be what she isn't; she doesn't put on airs, worry to much about her wardrobe, and speaks her mind. Richard is shocked by her, by the fact that she doesn't want him, and that she is so very refreshingly different from the other women he has met. Also, although he has nearly pledged himself to Antonia, he finds himself irresistibly attracted to Sophie.
Then the kiss changed. Yielded. Her breath poured into him, warm and sweet. Trusting. She made a soft sound, as if she were melting, like sugar in a saucepan. The little sigh went straight to his groin.… He was shocked to his soul at what he'd done. He was devoted to Antonia. Besides, no matter how sorely he was provoked, he wasn't the sort to ravish a young lady he's just met as if she were a common trollop. What had gotten into him?
This book also has great secondary characters. Richard's best friend Lawrence Seymour is a rake of the highest order, but charming and loyal. Richard's grandmother Phillippa, the Dowager Marchioness of Somerset, seems to be the master puppeteer, surreptitiously guiding the people around her. There is a whole host of servants whose lives are explored also, and who have their own little subplots, including the budding romance between Sophie's lady's maid Eliza and Richard's valet David. This romance wasn't resolved; I hope we will learn more about them in future books in the series!
With interesting, well drawn characters, a bit of a mystery, and an entertaining love triangle, "A Rake By Any Other Name" is a solid, well-crafted romance. I recommend it, and look forward to the future books in this series.
Book Info:

Published November 4th 2014 by Sourcebooks Casablanca
When his father, Lord Somerset, tumbles off the roof, Richard Barrett, Lord Hartley, is called home from his Grand Tour to take the reins of the estate while the marquess recuperates. Somerset is in serious financial difficulty, which can only be remedied by marriage to an heiress, Miss Sophie Goodnight, lately arrived from India with her nabob father.
Unfortunately, Richard believes he has already lost his heart to Lady Antonia Pruett. And Miss Goodnight isn't too keen on becoming Somerset's purse with feet, so she foils their families' attempts to throw her and Richard together at every turn. To make matters worse, the reason Lord Somerset fell off the roof in the first place is a secret that threatens to upend all their lives.