A Wedding At Two Love Lane by Kieran Kramer: Greer is the practical and pragmatic tech expert at Two Love Lane, a popular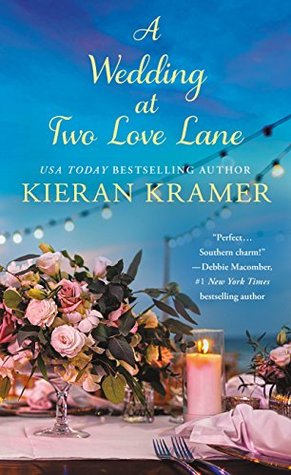 matchmaking company. She's marked by growing up on a farm with her practical parents, while she yearns for love and passion. She's managing the business while her partners are off on a grand adventure in California.
Ford is looking for inspiration. While he's technically a Baron, he prefers to just be a regular person while he's staying in Charleston. He loves art and needs to find a subject so he has a painting for his next showing back in England. After a disastrous close call with his cheating ex, he's more than happy to focus on his art.
Greer is surprised when she finds herself bidding on a wedding gown in an auction. She's not dating anyone and has no plans to get married in the near future, but the special dress just calls to her. She's also surprised to feel a connection to the very attractive Ford, who just happens to be sitting by her during the auction.
He laughed. "Just this morning, you were a stranger in a coffee house."
"And you were a man in a plaid jacket who was highly distracting at an auction."
"What are we going to be to each other now?" he asked her softly.
Both are looking for something in their lives and they end up striking a deal; Greer will pose for Ford's painting while Ford will help Greer to win the wedding dress of her dreams. It's out of character for both of them to act on their instincts and move their relationship forward so quickly with a fake engagement. There is a strong pull and bond there, beyond just their chemistry. Ford brings out a more spontaneous side of Greer, while she helps him think differently about his art. They try to keep their relationship in perspective since Ford is only visiting.
"I thought we weren't supposed to fool around. You texted me. You told me to forget it. You said you had to look for the real thing. Love with a capital L."
"I never mentioned love," she flung over her shoulder.
"You might as well have," he said. "You said you needed to find a real partner."
A Wedding at Two Love Lane is a magical whirlwind. Kiernan Kramer created a strong, diverse, and entertaining cast of characters in their friends, family, and other contestants. Ms. Kramer created an engaging storyline while also developing the characters and relationships. A Wedding at Two Love Lane can be read as a standalone. Fans of Jamie Beck and Julia London will enjoy A Wedding at Two Love Lane.

Book Info:

Publication: January 2nd 2018 | St. Martin's Paperbacks | Two Love Lane #2
Never say never when it comes to love.
Greer Jones has made a real name for herself at the elegant matchmaking agency Two Love Lane. For a lot of reasons—including a past engagement she broke off—practical tech expert Greer is more interested in the business of love than the experience of it, but she can't help but covet a gorgeous wedding gown that's the prize in an upcoming cocktail-party contest. In a moment of brazen inspiration, Greer asks a handsome Brit she's only just met to accompany her to the party. He agrees—and Greer believes her date is a starving artist. Little does she know the truth. . .
Ford Smith, as he calls himself, is actually Stanford Elliott Wentworth Smythe, the Eighth Baron of Wickshire. Fresh off a breakup with a money-grubbing siren who deceived him all the way to the altar, Ford has no desire to fall in love—especially with Greer who, like the desired wedding gown, is beautiful but only skin-deep. But soon Ford realizes that there's more to Greer than meets the eye. Her professionalism is matched only by her passion for life and love. . .and, best of all, she has no idea that he's to the manor born. Could it be that true love is priceless after all?