All Bets Are On by Charlotte Phillips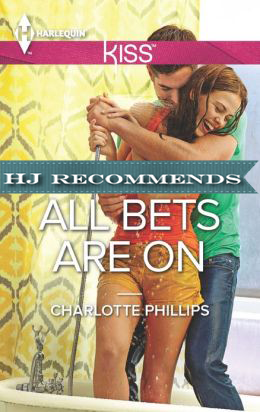 "The Official Nail-Ice-Queen-Ford Betting Ring."
When Alice Ford ran across the document while answering phones at someone else's amazingly messy desk, she couldn't believe it. It was like history repeating itself, only this time, it managed to do so despite being on guard about it. She left things like that behind when she ditched her ex and moved to the big city – concentrated on work, and kept her head down. Now, even though she found success at Innova, she couldn't escape the feeling that everyone would continue to laugh at her expense.
Off to the ladies' to sob her eyes out, the elevator doors open and the biggest player in the office gets a glimpse of her. Not what she needed right then. Harry Stephens is exactly the kind of man she tried to avoid. A serial dater, and all the while leaving a string of heartbroken co-workers behind him – no regard to the fallout he strews along the way. To her horror, he walks into the women's room and tries to comfort her. Reluctantly, she has to admit – his proposal has merit.
So here's the deal: go out with Harry. Let him ease back into the dating pool. If they have fun, so be it. Everything up-front, out in the open, and no strings attached. Alice has to admit, it's not a horrible idea, but she can do one better. While she might learn a little about letting her hair down, she'll also be seeing behind the scenes in the "player's" playbook. She'll learn what the warning signs are, when the guy will bolt, how he manages to 'love 'em and leave 'em' over and over again.
Unfortunately for both of them, they get a LOT more than they bargained for. She's not the regular needy limpet he's used to, and he's not following his script the way she figured he would. But the truth is bound to come out, and when it does – it's gonna be a whopping storm.
All Bets Are On is another KISS title, and I really have to say – I like this line a lot. This story was the squeakiest of squeaky clean, but it read like a fairly classic Rom-Com plot. The banter was snappy, and I enjoyed the turns the couple took before making it to their HEA. Super quick, super fun read.
Book Info:

Published July 23rd 2013 by Harlequin KISS #27
The stakes are high, but the prize is worth it! Ask Alice Ford to shine in the boardroom and it's a done deal. Ask her to go on a first date, however, and she's a quivering mess! So, when she discovers that she's the target of an office bet-to get her into bed-it's her professional nightmare!
Office legend Harry Stephens is her unlikely saviour. He even volunteers to teach her just how to avoid a heartbreaker. After all, it takes one to know one….
But what is Harry really after? And when his kisses throw a curveball into the situation, is Alice ready to gamble everything for love?