In Bought to Carry his Heir by Jane Porter, Georgia Nielson would do anything to create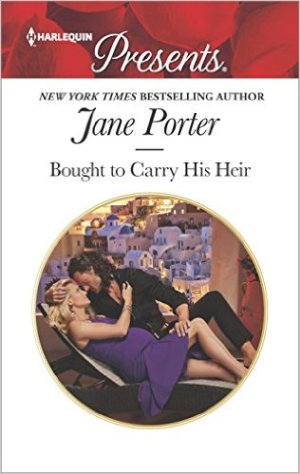 a better life for her and her sister, especially if the money she's receiving to be a surrogate for Nikos Panos affords her to pay her way through medical school. However, she never realized how hard it would be to have to adhere to Nikos's plan for her last trimester. Will the pair find a way to compromise, or will Georgia fight him every step of the way?
Georgia made a soft, rough sound, and when she spoke again, her voice was husky. "It's your son, not mine."
"Your egg, your womb."
Her lips curved faintly, but the smile didn't reach her eyes. "I am little more than a fertile garden. The soil doesn't weep when you sow or reap."
An interesting answer, he thought. She was an interesting woman. "The soil isn't a young female, either. Nurturing…maternal—"
Having read a few of Ms. Porter's books, I really enjoy any chance I get to read a book of hers, because I know without a doubt that I'm going to be entertained from start to finish. This book took me – as a reader – on a bit of an emotional rollercoaster, as Georgia is doing something worthwhile in being a surrogate to help make a better life for her and her sister while helping a man overcome his past, if she can get him to open up about the reason why he decided on a surrogate instead of finding a woman to settle down with.
The dialogue was well-written and intense due to the main characters back stories. Georgia and her sister have only had each other since the loss of the rest of their family, and it's understandable why Georgia decided to become a surrogate, even if things become complicated the closer she gets to her delivery date. And furthermore, then there's the reason Nikos chose Georgia to be the woman to carry his baby. Will Georgia be able to overcome her shock when she learns the truth, of how much she resembles his ex? Will Nikos surprise her by admitting something she never believed possible when it comes to relationships? The situation with his ex wasn't easy to admit, because the woman was a total manipulator. However, he realizes how completely different Georgia is and that's a good thing, since he needs someone like the heroine in his life to make him whole again.
As for the main characters, I loved both of them. Nikos is a man used to getting what he wants, and Georgia does not make things easy for him. She's independent and determined to make him see that he can't always have things the way he wants them. To make him see that he needs to compromise, otherwise they'll never be able to handle being in the same room together without one of them saying something they will regret. While Nikos, he's been a loner ever since what happened with his ex, so Georgia is good for him. She challenges him to start living life again. To show the people that dislike him because of what happened with his ex that he has just as much right to be out in public that they do.
"We know I've had a great time," Georgia said. "But have you?"
"I have, actually. I enjoyed the day."
"And you don't resent me for forcing you to have an adventure? I know how much you cherish your time on Kamari."
"And now I think you're trying to provoke me."
"Keeping it exciting," she said.
"Mmm. A rebel, aren't you?"
Overall, this was another really good book by Ms. Porter, which provided romance that stayed on a little on the sweet side, but illustrated the strong chemistry these two characters had wonderfully. The way this story ended brought tears to my eyes, because of what happens to one of the main characters, yet it was the epilogue that wrapped this story up nicely because of the words exchanged between Nikos and Georgia. She definitely tamed the beast. I would recommend Bought to Carry his Heir by Jane Porter, if you like the surprise pregnancy trope or a story encompassing a billionaire hero that needs a strong heroine to show him that happy ever after is a good thing.

Book Info:

Publication: December 20th, 2016 | Harlequin Presents |
Held captive…
When Georgia Nielson is asked to be the surrogate for an enigmatic tycoon, she can't afford to say no. Before she realizes that she's struck a deal with the devil, she's trapped on his isolated Greek island, with no escape from the brooding master who stalks its shores!
Carrying his child!
Scarred by the loss of his wife, Nikos Panos's future rests on leaving behind a legacy. But Georgia's constant presence threatens to unleash the powerful hunger he's kept caged for so long. If he wants defiant Georgia to submit, he must confront the demons that haunt him…