In Bound to Be Dirty by Savanna Fox, Lily and Dax have been married for 10 years. Despite the connection they had for each other, the love and how well they work physically together, they have grown far apart over the years. Between Dax currently being gone for months at a time for his job as a bush pilot, and Lily's extreme dedication to her work as a family Doctor, they have drifted apart, the relationship is strained, sex is routine, and both are fearful the other is cheating. In fact, as Dax says "They have never really shared lives".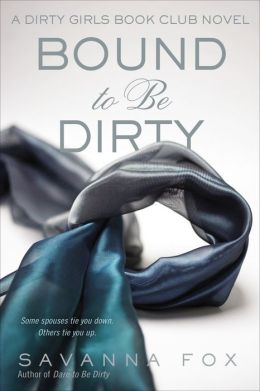 They come from very different backgrounds, his parents are extremely distant and hers are over bearing and controlling, and Dax and Lily are struggling with what a family looks like and what their futures will look like. Because of a significant lack of communication between Lily and Dax, neither are aware of how the other feels about their marriage at this time, but there are a lot of assumptions. Neither of them are happy and they feel as if they don't know each other anymore.
Lily's one connection with friends outside of work is through her book club. They read erotic romance…and their latest book is BDSM. Lily's not sure about that, but is willing to give the book a try. Thanks to her books and Dax's curiosity about them, when he's home from work over Christmas, the sexual part of their marriage is sure spiced up. They both know that it will take more than that to fix their marriage. As they discover each other all over, the future is still questionable for their marriage…and in some ways they are miles apart. Will Lily and Dax fight for their marriage? Can they save it?
Bound to Be Dirty by Savanna Fox is much more than an story about eroticism enhancing Lily and Dax's marriage. It is about two people who have drifted apart over time and are now struggling to find their way back to each other. I really liked that Savanna writes about a married couple in a somewhat established relationship, the trials they are facing, and how (or if) they are coping.
I liked how Savanna gave us excerpts from the book the book club was reading…the emotional aspects of that book really resonated with Lily's life and this was a fun way to use the book, the book club, and get to know Lily a bit better. Savanna gives us great background on Lily and her family, making it easy to see where she's coming from. Savanna writes Lily's character so well I found myself getting quite frustrated at times with Lily and her clinical, controlled, black and white outlook on life. Dax seemed much more down to earth, more colorful. He has always been Lily's 'bad boy'. I could really feel for Dax, he never feels like he comes first for anyone – ever – and I found myself really hoping that for once Lily would prove that he does come first.
I was never really sure why Lily and Dax have drifted so far apart that their marriage is about to fall apart, except that it seems like they have never really been together.
Bound to Be Dirty is about relationships, opening yourself up and risking things you never thought you'd have to or want to. Savanna writes smoothly and manages to pull you in to a story that doesn't want to let you go. The secondary characters, the book club ladies are a necessary part of Bound to Be Dirty but they are not overwhelming. Bound to Be Dirty is part of a series. I have not read the other books in this series and honestly can say this one can be read alone.
I'd recommend Bound to Be Dirty to any romance reader who will enjoy a hot love story involving an existing relationship that will find out new truths … with some kink in the mix to spice things up.
Book Info:

Published February 4th 2014 by Berkley Trade
As the women in the Dirty Girls Book Club open each new selection of erotica, they also open up their minds to sexual adventure…
Lily Nyland married sexy bad boy Dax Xavier because he made her dreams come true—in bed and out. But after a decade of marriage, her helicopter bush pilot husband spends more time in the remote wilderness than heating things up in her bedroom. The best sex she's enjoyed recently comes from the Dirty Girls Book Club's erotic selections.
Still, when the club chooses Bound to Be Dirty, Lily's skeptical. As a family practice doctor and a fiercely independent woman, the theme doesn't exactly resonate with her. But then Dax, home for the Christmas holiday, startles her by spicing up their sex life with naughty tricks that make her wonder if he snuck a peek at her book. Even more shocking, Lily finds herself turned on by their erotic experimentation. Kinky sex may be enough to rekindle the passion in their marriage, but can it restore the deeper bonds of love and trust?