In Cake by Lauren Dane, extremely talented art student Wren Davis is a young woman that goes after what she desires with a gentle vengeance. Presently, she wants to finish art school, become a successful artist and eventually be the significant other of Gregori Ivanov, Seattle artist extraordinaire.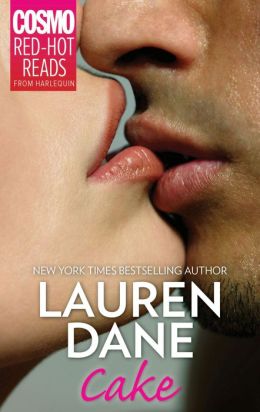 Gregori's art is very profitable. Everything he paints, sculpts or designs turns to gold. His appearance is quite striking; a bright red mohawk, with a sinewy body covered in ink and a few piercings. Gregori has the look of a bad boy and the public persona to match, which only enhances the appeal of his art to others. His outer shell serves as a barrier to those that only want him for his wealth, power and contacts. However, he is actually a smart, warmhearted man that takes care of the people in his life that truly care about him. Wren just happens to be one of those people.
Wren works as a bike messenger in order to keep her schedule flexible and pay her bills. Her cousin Kelsey is Gregori's personal assistant and she handles the business side of his art, which requires tons of correspondence to be couriered between her office and Gregori's art studio. Consequently, Wren and Gregori have gotten to know each other quite well, since she first began her job about a year ago. They are flirty friends that enjoy discussing art and sharing a sweet treat on a regular basis. Wren has become somewhat of a muse for Gregori and he has become her biggest supporter. They both know there is something more than friendship between them.
The first time Gregori and Wren kiss it is quick but swoon worthy. Their second kiss has them both seeing stars. Naturally the kisses evolve into mind-blowing sex and happiness. Wren is floating on air because her art has been submitted to an agent for representation, she is almost done with her classes and she is in love. Gregori is happy as well, for the first time in his life someone likes him for him, not for what he can do for them. Unfortunately, Gregori is unable to handle his feelings and breaks up with Wren via Kelsey. However, Wren knows that he is just scared and does everything in her power to make him see the light, so that they can share each others lives and a yummy piece of cake once again.
Cake is Mmm, Mmm, Good. It is a sweet love story blended with some spicy goodness. If you prefer a novella that packs some erotic heat, taste a little Cake.
Book Info

Publisher: Cosmo Red Hot Reads from Harlequin (September 15, 2013)
From New York Times bestselling author Lauren Dane comes the latest release from Cosmo Red-Hot Reads from Harlequin.
She won't be satisfied with just one bite….
Art student-slash-bike messenger Wren Davis pursues what she wants. And what she wants now is Gregori Ivanov, rock star of the Seattle art scene. With his tattoos, piercings and sensual sneer, Gregori is the ultimate bad boy. Wren's gotten to know the man beneath the body art, too–and it only makes her crave him more.
But Gregori loves women like he loves cake and champagne–intensely, but only for the moment. And after Wren experiences just how scorching sex with Gregori is, she's determined to show him that just one taste won't be enough…