I will warn you now, Chaos Bound (Sinner's Tribe Motorcycle Club #4) by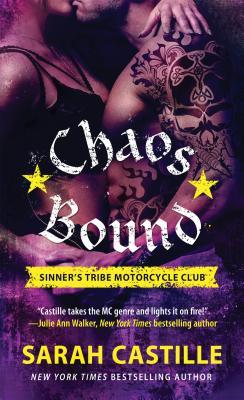 Sarah Castille (June 28)is not for the faint of heart. This book deals with a large number of very serious, very sensitive subjects, rape, torture, kidnapping, addition, and death. I will tell you that the way that this author dealt with the sensitive nature of these subjects is amazing. This is the first book that I can remember reading by this author and in this series. The book was able to be read as a stand alone book without leaving me lost. This is the story of Holt (T-Rex) and Naiya.
Naiya Kelly had a terrible and traumatic childhood. Raised with her grandmother until her death, at the age of 9 she was sent back to live with her mother, a drug addicted, MC club chick who was a favorite of the Black Jacks club president, the vicious, terrifying, sadistic, Viper. On her fifteenth birthday, she was raped and marked by Viper, being claimed as his. With no one to turn to, Naiya ran and has spent the last 8 years trying to hide and make a life for herself, putting herself through college, but always looking over her shoulder, waiting for the day that Viper comes back to claim her again.
Holt "T-Rex" Savage is a member of a rival MC, Sinner's Tribe , and has been a prisoner in Viper dungeon for the last 3 months, enduring every type of torture imaginable, and some that are not. Feeling abandoned by his MC, the only thing that keeps Holt going is the thought that one day he will be able to get free and exact his revenge on Viper and on the Sinner's Tribe MC.
When a twist of fate bring Holt and Naiya together, they will work together to get themselves out of Vipers clutches. While Holt will give his own life to protect Naiya and keep her safe, Naiya will do whatever it takes to save Holt from exacting his revenge on the wrong people. When Holt and Naiya are betrayed and their lives put in danger, it will be the Sinner's Tribe, along with Holt and Naiya who will need to pull out all the stops to put an end to Viper and his reign of terror.
I will tell you that I enjoyed this book. It is a fast paced, no holds bar, MC book. If you have ever read a MC book, you will know that bikers do what they need to and offer no apology. That is what makes a great MC book.
I loved the dynamic between Holt, his MC brothers, and especially his best friend in the club, Tank. Holt is not the same person he was before the torture that he received at the hands of Viper. He has a hard time believing the truth, that his club did not leave him for dead, that they moved mountains to try and get him back, but they were tricked. I loved the connection between Tank and Holt. They were more than MC brother, they were best friends, they had always had each others backs, always stood up for one another, and it is a testament to that friendship and brotherly love that, Tank, after months and months of searching and everyone telling him that Holt was gone, NEVER stopped looking for his friend, never gave up hope that they would find him, save him, bring him home.
The relationship between Holt and Naiya is amazing. They both needed something from the other but they could not be more different, and in some ways, more the same. Naiya sees herself as a geeky girl, a soon to be forensic scientist, a lover of sci-fi. She is not sure how she will ever fit into Holt's world. Holt sees strength, and courage in Naiya, even when she does not see it in herself. While Naiya accepts Holt for the man that he, not the old MC biker Holt, not the broken man who almost lost his mind and his life in Vipers's dungeon, but a combination of both parts. She does not judge him, but tries to help him realized where is revenge should be focused, saving him from himself.
I look forward to more in this series, as it look like Tank might just be the next MC brother book, or at least I hope so. If you enjoy a rough, tough biker books, with take no prisoners action, this is the book for you.

Book Info:

Publication: June 28th 2016 | St. Martin's Paperbacks | Sinner's Tribe Motorcycle Club #4
LOVE IS A WILD RIDE.
After enduring months of torture at the hands of the Black Jacks MC, and betrayed by his own club, Holt "T-Rex" Savage, a junior member of the Sinner's Tribe Motorcycle Club, will stop at nothing to get revenge. But falling for a beautiful woman with dangerous ties to his sworn enemy was never part of the plan…
Raised by the Black Jacks, Naiya Kelly grew up fast, furiously, and with little to lose. But now that she's put her MC days behind her, she is free to do what she wants—until she meets a man who imprisons her, body and soul. She swore she'd never give her heart to a biker, but Holt is the most passionate, protective man she's ever known. But will Holt be forced to betray his one true love to exact his revenge?